Where to Stay in Savannah – A Guide to This City of Georgia
Savannah is a coastal city in Georgia. Located on the border with South Carolina, Savannah is the fifth-most populated city in the state. Savannah is known for its historic architecture, manicured parks, and beaches. In this post, we will explore the best areas to stay in Savannah, GA.
The main cultural attractions in the center of Savannah include the Savannah Historic District, Forsyth Park, Cathedral Basilica of St. John the Baptist, Owens-Thomas House & Slave Quarters, Telfair Academy, City Market, and River Street. See accommodation in Downtown Savannah.
Other attractions in Savannah include Wormsloe Historic Site, Bonaventure Cemetery, Savannah African Art Museum, and Old Fort Jackson.
Due to its coastal location, Savannah has a humid subtropical climate with long warm summers and short, mild winters. In the winter, temperatures typically range between 39°F and 60ºF (4 – 16 °C). Meanwhile, in the summer, average temperatures hover around 72 – 90 °F (22 – 33 °C). The best time to visit Savannah is during the spring and early summer (March – June) and again during autumn (September – December), during these seasons temperatures are still pleasant enough to enjoy outdoor activities without the oppressive heat.
To get to Savannah by air, the city is served by the Savannah/Hilton Head International Airport. Located 10 miles northwest of downtown Savannah, this airport offers domestic connections to several places in the US and a handful of seasonal flights to Canada and the Caribbean.
Amtrak also provides direct train services from many major Atlantic Coast cities, including Charleston, Orlando, Miami, and Washington, DC. See train routes, schedules & fares.
A network of long-distance buses also connects savannah to Georgia, Florida, South Carolina, and other cities in the US South and the East Coast. See bus routes, schedules & fares.
When it comes to moving around the city, Savannah has a multi-modal transportation system consisting of buses and ferries. Downtown Additionally, Savannah's city center is very pedestrian-friendly. The city's also served by Uber and Lyft services and can choose to rent a car during your stay.
The best area to stay in Savannah, GA, is Downtown. This lively district is home to the city's historic neighborhoods, antebellum mansions, main cultural attractions, nightlife, restaurants, and accommodation options. See accommodation in Downtown Savannah, GA.
Another great area to keep in mind when choosing the best location in Savannah, GA is Pooler.
Keep reading to find more about the best areas to stay in Savannah, GA.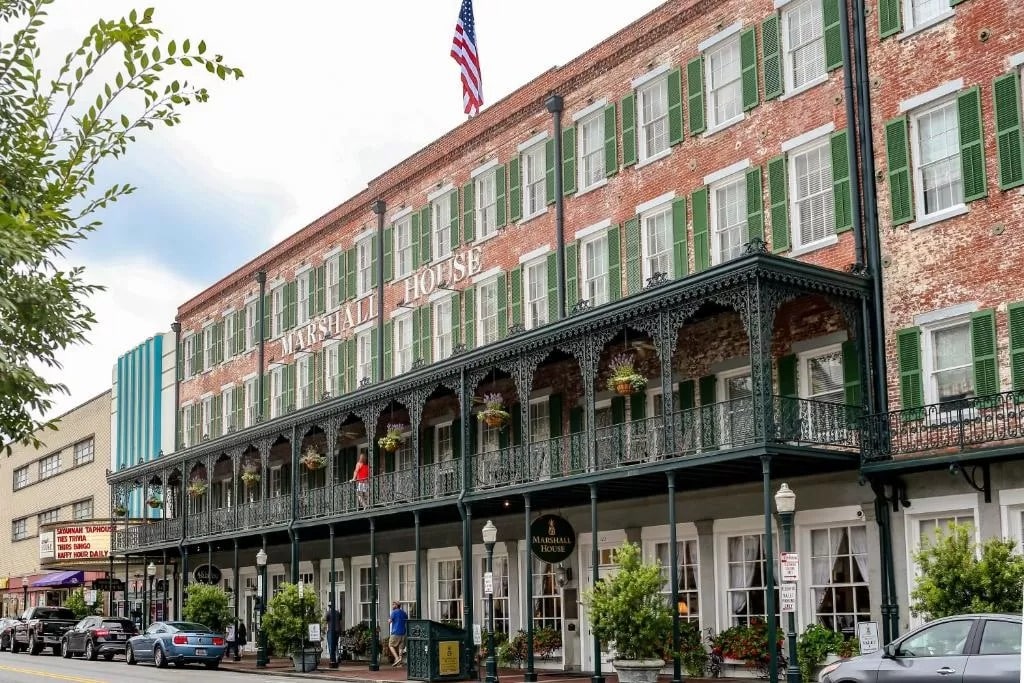 The Best Areas to Stay in Savannah, Georgia
1. Recommended area: Downtown Savannah
Downtown Savannah is located on the south bank of the Savannah River.
This lively area is home to the city's oldest neighborhoods, including the Savannah Historic District.
The Savannah Historic District features 18th and 19th-century architecture and scenic public spaces.
The City Market is an open-air space with shopping, dining, and galleries, set in restored warehouses.
Downtown Savannah serves as the setting for many annual festivals and events such as Savannah Stopover Music Festival and the Tybee Island.
River Street, one of the main streets in the area, it's filled with food places, shops, and nightlife venues.
Downtown Savannah is well-connected by the city's public transportation system. Additionally, this area can be easily explored on foot.
The downtown area is also home to Savannah's top places to stay. The accommodation options here include everything from mid-range hotels to the most luxurious boutique properties.
---
2. Pooler
Pooler is a beautiful community located west of Savannah.
This area is home to the Air Force Museum and many green spaces, ideal for outdoor activities.
Historic Pooler houses places of interest such as Tom Triplett Community Park, ideal for cycling and long walks.
The travelers who usually stay in Pooler are those who seek tranquility, away from the hustle and bustle of the Downtown area and the big cities.
Getting around the Pooler area is easy thanks to the different buses that cross it, but it is advisable to have a car when staying here.
Pooler accommodation is comfortable and affordable.
The Mighty 8th Air Force Museum preserves and exhibits a history of patriotism of women and men who served from World War II to date.
Pooler is one of the best areas to stay in Savannah, a good neighborhood where you can enjoy calm and get familiar with the culture and history of the city.
---
Read this in other languages