Where to Stay in Baltimore – A Guide to This City in Maryland
Baltimore is an important city of Maryland State, in the United States.
Its promenade, monuments, museums, stadiums, and its aquarium, one of the largest in the world, make this city on the East Coast more popular every year.

However, it should be noted that it rains a lot in Baltimore, so even if you travel in the summer, it is advisable to take clothing suitable for rainy days.
When traveling to this destination, keep in mind that summer is the best time to visit Baltimore, tour its different areas and enjoy outdoor activities, as this season is not as hot as in other areas of the United States.
Baltimore is close to cities like Washington, so by staying in this city, it is also possible to visit the American capital and return to the hotel at the end of the day.
Baltimore – Washington International Airport is the city's main air terminal and is located a half-hour drive from downtown Baltimore.
In addition, Baltimore has a good public transportation system to move between its different areas. You can choose between buses, electric trains and metro, all with stops in Downtown, as well as a rental car since the city has many parking spaces.
Also, the Water Taxi allows rides through Inner Harbor, Little Italy, Point Fells, Canton, and McHenry Harbor.
This city (nicknamed "Charm City") is known for its passion for art and architecture, historic neighborhoods and attractions for all kinds of audiences.
Inner Harbor is the best area to stay in Baltimore for its hotels with views, tourist attractions and for being pedestrian-friendly. (See accommodation in Inner Harbor).
Here's a guide with the best areas to stay in Baltimore, Maryland
The Best Areas to Stay in Baltimore, Maryland
1. Our Favorite Area: Inner Harbor
Inner Harbor is the most touristic area of ​​Baltimore, where the Maryland Science Center is located, with a planetarium, an observatory, and the National Aquarium, one of the largest in the world.
Another place to visit in Inner Harbor is the Power Plant entertainment area, a complex of restaurants, bars, and music venues.
Inner Harbor is one of the oldest seaports in the United States, from where you get stunning views in the sunset.
Inner Harbor is an area of ​​museums and cultural centers, including the Museum of American Visionary Art, the Museum of Industry in Baltimore, the Jewish Museum of Maryland, and more.
In Inner Harbor, travelers can board historic ships to take pictures and learn about the city's past.
Inner Harbor is one of the best areas to stay in Baltimore for its many luxury hotels with great views, good transport connections, and pedestrian-friendly streets.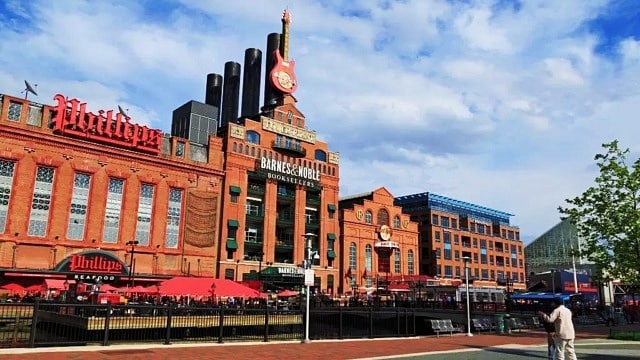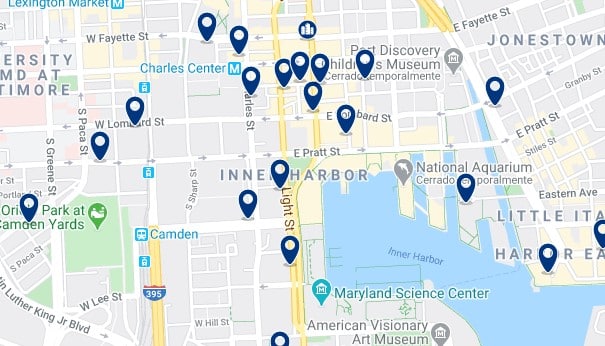 Why is this a recommended area to stay in Baltimore Maryland:
Best area for sightseeing
Hotels with views
Baltimore Aquarium
Museums
Pedestrian-friendly
Great food
---
2. Downtown Baltimore
Downtown Baltimore is the city's business area par excellence.
Downtown Baltimore is a pedestrian-friendly area featuring some budget and comfortable hotels with a very central location.
This district connects to the rest of the city by public transport and is home to stadiums and a theater, as well as monuments including Lady Baltimore and the Battle Monument.
Although it is not a very safe neighborhood at night, Downtown Baltimore is one of the best areas to stay in Baltimore for its cheap hotels that fit the budget of any traveler. Plus, there are plenty of business-type hotels and convention centers here that make this the best area to stay in Baltimore for business travelers.
Similarly, Downtown is very close to Inner Harbor and its great nightlife.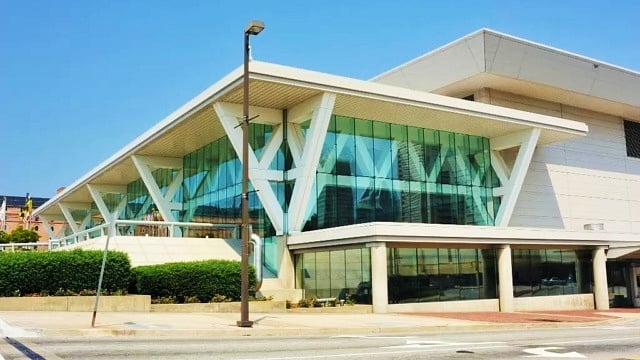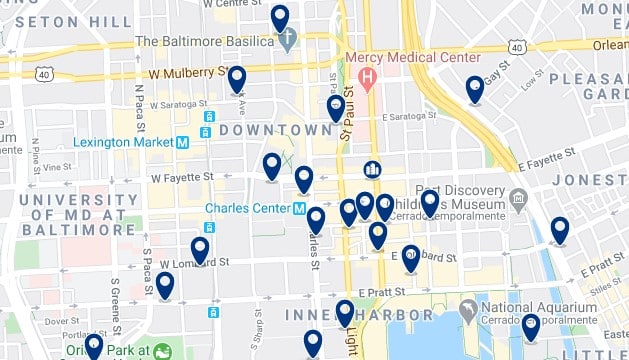 Why is this a recommended area to stay in Baltimore, MD:
Cheap hotels to stay in Baltimore
Best area for business travelers
Connected by public transport
---
3. Mount Vernon
Mount Vernon is one of the most interesting areas of Baltimore for its historical legacy, which sets it apart from other neighborhoods like Downtown or Inner Harbor.
Mount Vernon brings together some of Baltimore's top attractions such as the Walters Art Museum, the Washington Monument, and the George Peabody Library.
But Mount Vernon is much more than history, it also has some of the most elegant and exclusive bars and clubs in Baltimore.
Mount Vernon is easily explored on foot and connects to the rest of Baltimore via bus, with stops on its main streets.
This is one of the best areas to stay in Baltimore for its parks and theaters.
Also, Mount Vernon is very close to Downtown, just a few minutes north.
---
4. Canton
Canton is a neighborhood located by the Baltimore Harbor and is home to O'Donnell Square Park, with tapas bars, patisseries, and seafood restaurants that specialize in crab.
As well as being a good area to eat in Baltimore, it is also a neighborhood for drinking and enjoying live entertainment, thanks to its summer food, wine, and concert festivals.
Additionally, Canton connects to Inner Harbor and Downtown Baltimore via electric train and buses.
This is a recommended area to stay in Baltimore for nightlife, as well as for those who want to go shopping in this Maryland city
Canton has among its attractions the Patterson Park and the Korean War Memorial.
---
5. Near Penn Station
Penn Station is the main transport station in Baltimore and is located north of Downtown, about a 13-minute drive away.
Near Penn Station is the Midtown district, where there are some theaters, art galleries, breweries, and cocktail bars in historic buildings.
The Joseph Meyerhoff Symphony Hall is also located around the Penn Station and is a venue where you can enjoy symphony orchestra concerts, opera, and ballet shows.
Penn Station is also close to University of Baltimore, so the area is often full of students.
As it is the main train (AMTRAK) station, public transport in this area is abundant, so it is not a problem to move to nearby neighborhoods such as Downtown and even move to the outskirts of Baltimore.
Near Penn Station are comfortable, business-style hotels, making it a recommended area to stay in Baltimore for a short visit.
---
Read this in other languages