Where to Stay in Pittsburgh – A Guide to the City of Bridges
Pittsburgh is the second-largest city in Pennsylvania and the most populous in the Appalachia region. Known by the names Steel City and City of Bridges, this important town is famous for its industrial heritage, its +400 bridges, and its vibrant cultural life. In this post, we will discover the best areas to stay in Pittsburgh, Pennsylvania.
Most of Pittsburgh's top cultural attractions are located in the city center and include The Andy Warhol Museum, Carnegie Science Center, Children's Museum of Pittsburgh, The Mattress Factory Museum of Contemporary Art, and Fort Pitt Museum. See accommodation in Pittsburgh.
Pittsburg is also home to numerous urban parks such as the Phipps Conservatory and Botanical Gardens, the National Aviary, the Pittsburg Zoo, Riverview Park, and Point State Park.
Much of Pittsburg's charm lies in its vast industrial heritage. This important city has been one of the manufacturing epicenters of the United States since its founding and many of the neighborhoods in its central area are a clear reflection of its industrial power and wealth during the 19th and 20th centuries. These areas include the South Side Flats and Lawrenceville.
For visitors interested in the industrial history of Pittsburgh, this city offers the Rivers of Steel initiative. Rivers of Steel attractions include three former factories declared a National Historic Landmarks, as well as the Riverboat Explorer, which offers heritage river sightseeing tours. See tours and activities in Pittsburgh.
Due to its location in the Appalachian region, Pittsburgh has a humid continental climate. Summers in Pittsburgh are placid, with moderate temperatures ranging from 63 – 68 ºF (16-28ºC) and with frequent rains. On the other hand, winters are cold, with minimum temperatures that can reach 21ºF (-6 ºC) and lots of snow. The best time to visit Pittsburgh is from May to October when temperatures are pleasant and allow for outdoor activities.
To get to Pittsburgh by air, the city is served by Pittsburgh International Airport. Located about 10 miles (15 km) west of the city center. This important hub offers a wide range of connections to many domestic destinations in the United States, as well as international routes to Canada and the Caribbean.
Pittsburgh's geographic location, midway between the industrial centers of the Midwest and the large cities of the East Coast, makes the city a major rail hub, with train connections to Cleveland, Chicago, New York, and Washington DC. See train schedules, routes and fares. Likewise, Pittsburgh has excellent long-distance bus connections to many destinations in Pennsylvania, the Atlantic Coast, and the Midwest. See bus schedules, routes and fares.
To get around the city, Pittsburgh offers several public transportation options including three light rail lines (T Light-Rail System) and nearly a hundred city bus routes. Additionally, Pittsburgh has local taxis, mobile applications, and car rental offices.
The best area to stay in Pittsburgh is Downtown and in the Cultural District. This lively district is close to most of the city's attractions and offers excellent accommodation options, the best restaurants, and nightlife. See accommodation in Downtown Pittsburgh.
Other areas to take into account when choosing between the best locations in Pittsburg are the district of North Shore, which also offers culture and museums, the lively South Side, Uptown, and the neighborhoods of Oakland, Squirrel Hill, and Shadyside.
Read on to find out more about our selection of the best areas to stay in Pittsburgh, PA.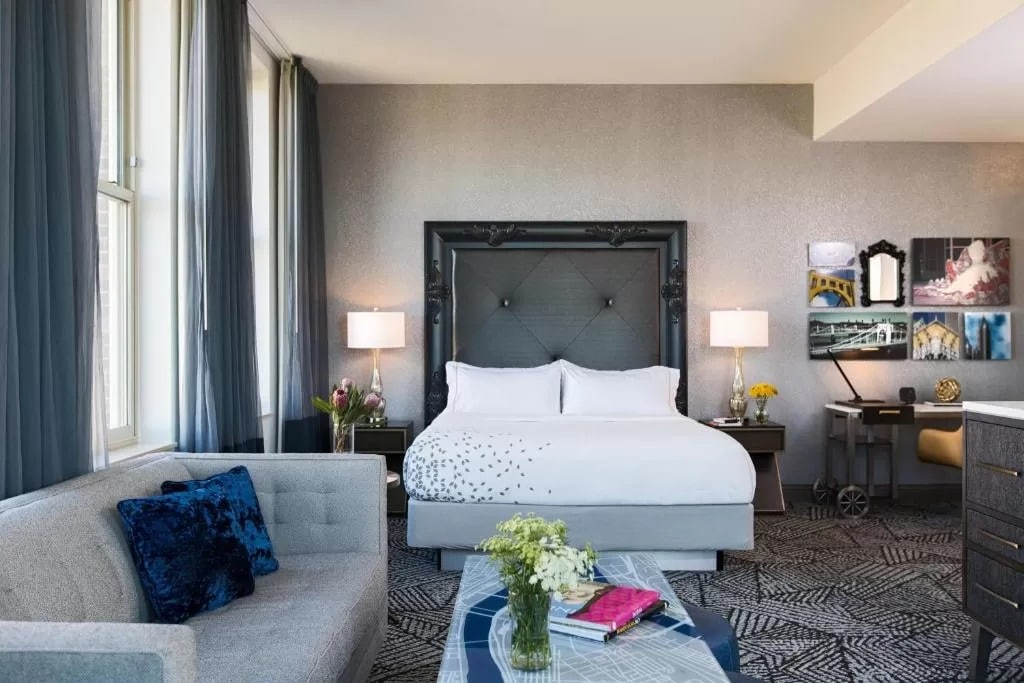 The Best Areas to Stay in Pittsburgh, PA
1. Recommended area: Downtown Pittsburgh & Cultural District
Locally, the downtown area is known as The Golden Triangle or Central Business District.
This lively area is located at the confluence of the Allegheny and Monongahela rivers and is the heart of Pittsburgh.
Downtown Pittsburgh contains a wealth of historical, cultural, and entertainment sites.
This large district includes some of the most iconic neighborhoods in the city.
At the confluence of the two rivers is Point State Park, with its giant fountain and the Fort Pitt Museum. This park was the original site of Fort Duquesne, founded by the French, and the later Fort Pitt, built by the British.
The cultural district along Penn and Liberty avenues on the Allegheny River includes numerous theaters, galleries, and concert halls, including Heinz Hall, Byham Theater, O'Reilly Theater, Benedum Center, and Wood Street Galleries, as well as restaurants and residential buildings.
The Fifth and Forbes Corridor is the city's quintessential business district and includes the historic Market Square.
Downtown Pittsburgh is also the best-connected district in the city. All the metro lines and most of the urban bus routes converge in this area.
Downtown is also home to a large number of hotels of all categories and is the best area to stay in Pittsburgh, whether you visit the city for sightseeing or business.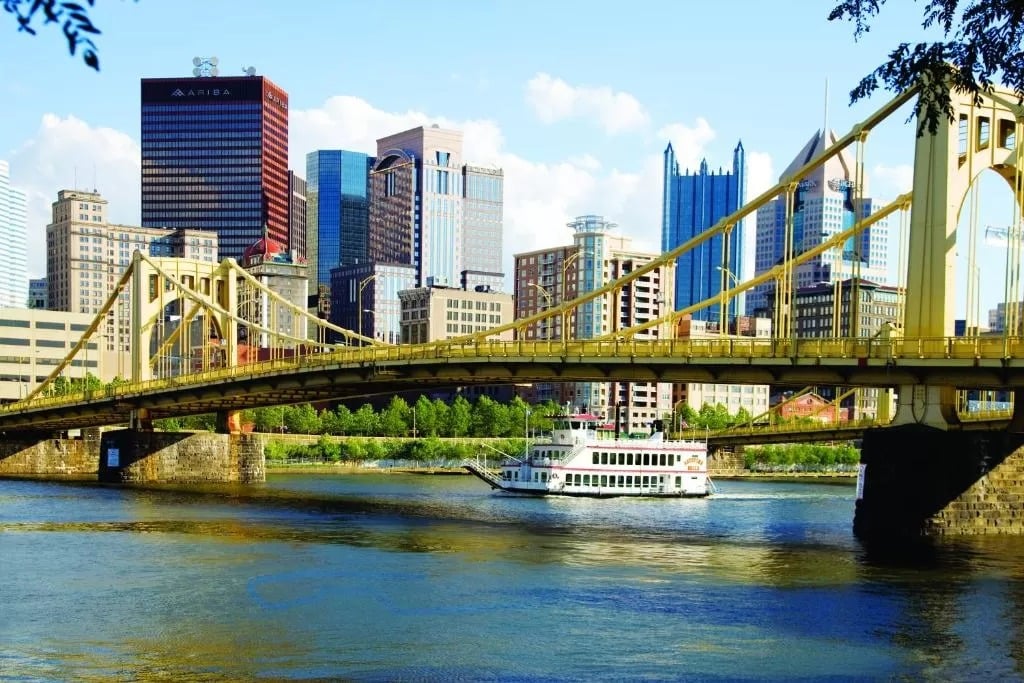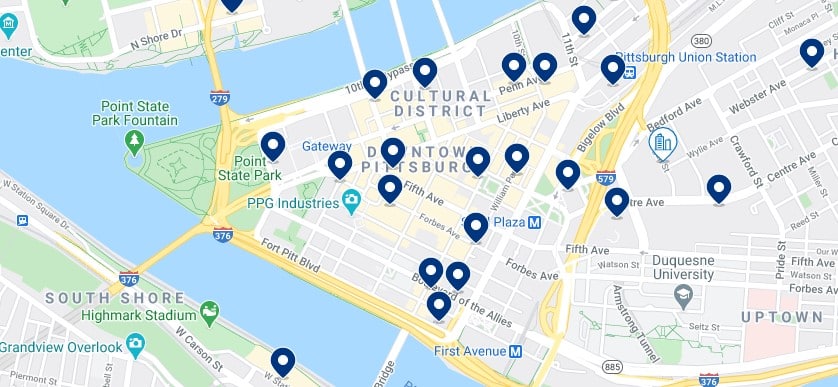 Why is this a recommended area to stay in Pittsburgh, PA:
Cultural attractions
Parks and green areas
Great area to walk around
Best area for tourists
Best area for business travelers
Best area to stay without a car
---
2. North Shore
North Shore is located north of Downtown Pittsburgh.
This neighborhood is home to the city's two main stadiums, PNC Park and Heinz Field.
The area is well-served by public transportation and the light rail system, with stations next to PNC Park and near the Allegheny River tunnel.
North Shore is a recommended area to stay in Pittsburgh thanks to its cultural offerings and the views it offers of Downtown.
However, North Shore is not all about stadiums and sports, the area also offers renowned museums such as the famous artist, Andy Warhol.
Other museums in the district include the Children's Museum of Pittsburgh and the Carnegie Science Center.
North Shore in Pittsburgh is one of the best areas to stay for a short trip.
---
3. South Side
The South Side District is known for its incline railways connecting the area to Mount Washington and offering spectacular views of the city.
The South Side is located on the south shore of the Monongahela River and is one of the best areas to stay in Pittsburgh if you are looking to party.
South Side stands out for its multitude of restaurants and bars.
Staying on the South Side of Pittsburgh allows you to explore one of its main streets, East Carson Street, where most of the nightlife and food scene are located.
In the past, the South Side neighborhood was home to many immigrants who worked in the city's steel mills and factories.
As a consequence, today this area has a multicultural atmosphere with lovely townhouses, bars, shops and a commercial and alternative atmosphere.
Among the tourist attractions on the South Side is Mount Washington, with lots of tourist sights.
In terms of public transport, the light rail system connects Downtown to the South Side, making it an convenient area to stay in Pittsburgh.
The South Side is one of the best areas to stay in Pittsburgh if you want to party.
---
4. Squirrel Hill
Squirrel Hill es un distrito residencial y comercial en el East End de Pittsburgh.
Oficialmente, Squirrel Hill está dividido en dos barrios, Squirrel Hill North y Squirrel Hill South.
El barrio es el epicentro de la cultura judía de Pittsburgh, con carnicerías kosher, delicatessen, restaurantes judíos, librerías y boutiques.
Además de ser el barrio judío de la ciudad, Squirrel Hill es la zona hipster por excelencia en Pittsburgh, con multitud de cafeterías, tiendas, restaurantes étnicos y pizzerías.
La zona comercial de Squirrel Hill, a lo largo de las avenidas Forbes y Murray se conoce como "upstreet" (una contracción de "up the street").
Squirrel Hill acoge la Biblioteca Carnegie de Pittsburgh y el Centro Comunitario Judío de Greater Pittsburgh, el Servicio para Niños.
Para los amantes de la naturaleza, Squirrel Hill se encuentra ubicado entre Frick Park y el Schenley Park, con fácil acceso a los principales pulmones verdes de la ciudad.
Squirrel Hill es la mejor zona donde alojarse en Pittsburgh para viajeros jóvenes y alternativos.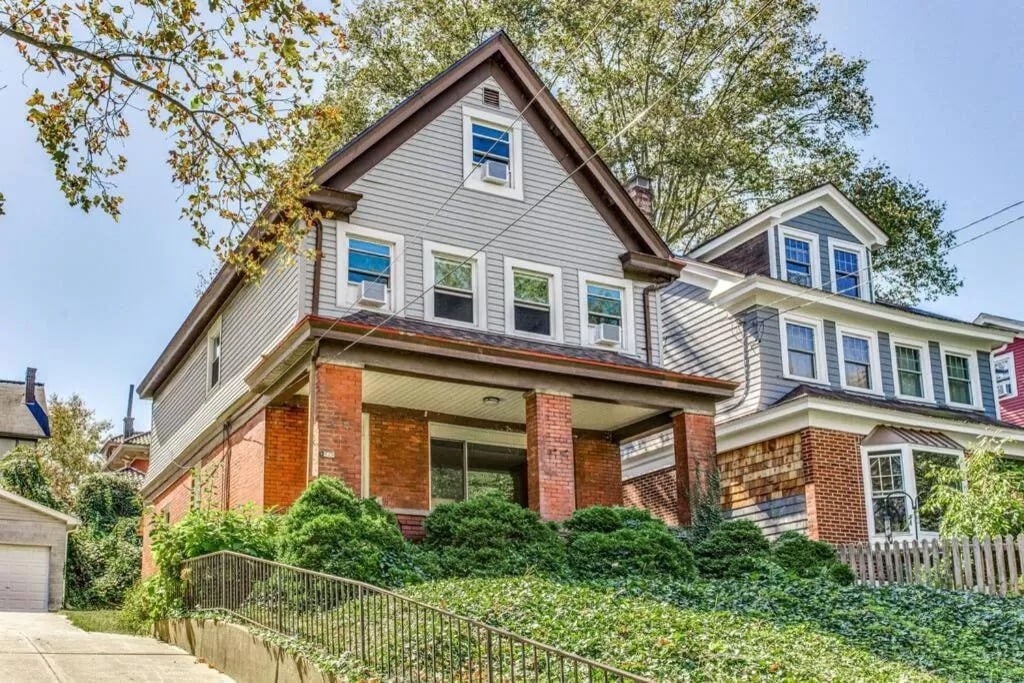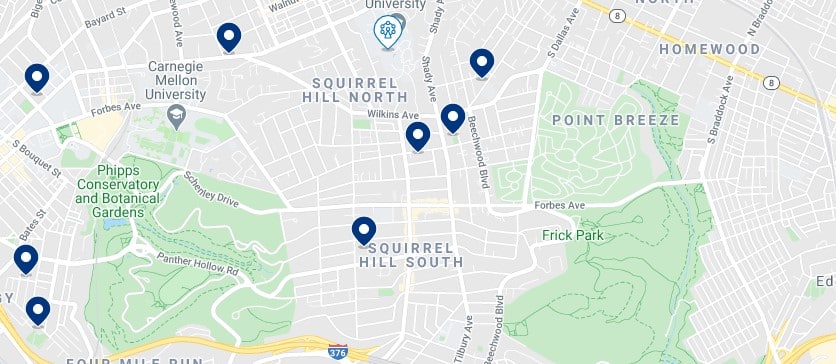 Why is this a recommended area to stay:
Pittsburgh hipster neighborhood
Jewish quarter
Parks and green areas
---
5. Oakland
Oakland is one of Pittsburgh's academic, health, and cultural districts.
This area is located about 3 mi east of downtown Pittsburgh.
It is officially divided into four neighborhoods: North Oakland, West Oakland, Central Oakland, and South Oakland. Each area has a unique identity and in terms of attractions and leisure.
Oakland is home to three universities, several museums, and hospitals, as well as a host of shops, restaurants, and recreational activities.
Oakland is also home to three historic neighborhoods: Schenley Farms National Historic District, Oakland Civic Center Historic District, and Oakland Square.
Among the main attractions and things to see in Oakland, the Carnegie Cultural Complex stands out. This large cultural complex includes the Carnegie Museum of Natural History, the Carnegie Museum of Art, the Library and the Carnegie Music Hall.
Oakland is also in close proximity to other Pittsburgh attractions such as the Carnegie Mellon University campus, Schenley Park, the Phipps Conservatory and Botanical Gardens, and Flagstaff Hill.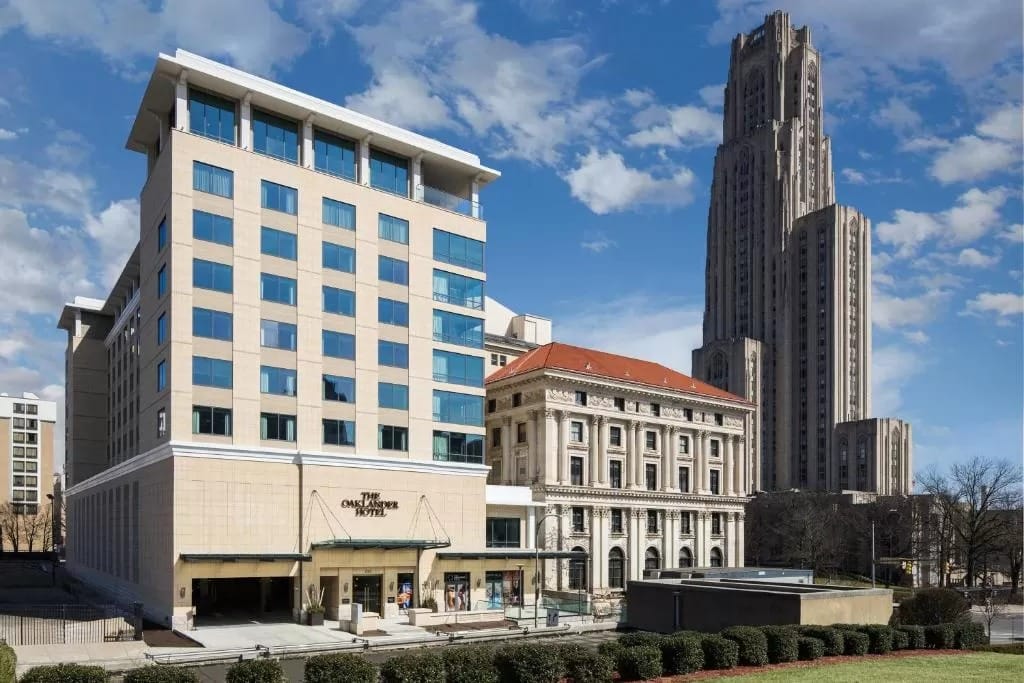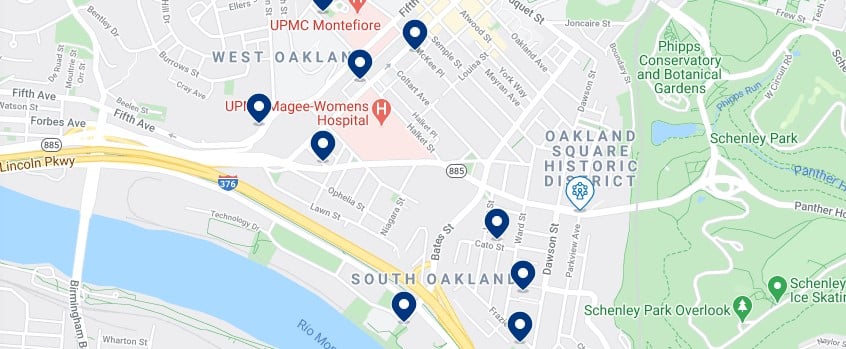 Why is this a recommended area to stay:
Historic neighborhoods
Carnegie Cultural Complex
Phipps Conservatory and Botanical Garden
---
6. Uptown / The Bluff
Known by the names Uptown, The Bluff, and Soho, this neighborhood located east of Downtown and near Oakland.
It is home to Duquesne University and offers a quiet environment to stay.
Uptown borders Downtown Pittsburgh to the west, the Hill District to the north and Oakland to the east. It is also located across the Monongahela River from South Side.
Uptown is home to the most striking set of city steps in Pittsburgh. The 170 steps flight connects Bluff Street and Second Avenue.
---
7. Shadyside
Shadyside is located in the East End of Pittsburgh.
This laid-back area is a popular area among young people and university students. It is considered best neighborhood in Pittsburgh for millennials.
Shadyside is home to an eclectic mix of upper-class families, young professionals, artists, musicians, and university students. This area displays several Victorian mansions, as well as modern apartments and condominiums.
Shadyside is also home to Pittsburgh's high end stores and boutiques. The area's main commercial corridors are Walnut Street, Ellsworth Avenue, and S. Highland Avenue.
Chatham University is located just across the southern edge of the neighborhood in the Squirrel Hill district. Other nearby attractions include the Pittsburgh Center for the Arts.
---
Read this in other languages