Where to Stay in Córdoba – A guide to this city in Argentina
Córdoba is the second most populated city in Argentina after Buenos Aires and is located in the center of the country, on the banks of the Suquía River. In addition, with 576 km², Cordoba is also the largest city in the nation of tango and one of its main cultural and financial hubs.
Córdoba is known for being "the city of bells" due to the different buildings of religious type present in its streets, with the Cathedral of Cordoba being the most popular, located right in front of the iconic Plaza San Martín (San Martín Square).
Other architectural monuments representative of Córdoba are the Jesuit Block, declared a World Heritage Site by UNESCO and located in the heart of the city. This block contains the old headquarters of the National University of Córdoba, the National School of Monserrat and the Domestic Chapel, making it one of the most popular tourist attractions.
Due to its location in the southern hemisphere, the best times to visit Cordoba are usually summer (from December to March), since the weather in spring is very unstable. Similarly, autumn/fall (from March to June), offers more pleasant temperatures to walk through the city.
As far as transportation options are concerned, Córdoba does not have a metro system yet, but it is possible to move from one neighborhood to another using one of its buses or trolleybus.
Córdoba also has a lively nightlife that includes bars, clubs, museums, restaurants and different types of entertainment for all ages, ensuring that there is always something to see and do.
Deciding where to stay in Córdoba depends on many factors, the most important being your particular interests and hobbies. If you are looking to discover the alternative movement of the city, Güemes is the ideal place for you (See accommodation in Güemes).
On the other hand, to know the historical heritage of , it is advisable to stay in the city's center (See hotels in Córdoba City Center).
This is a guide with the best areas to stay in Cordoba, Argentina.
The best areas to stay in Córdoba, Argentina
1. Our Favorite Area: Güemes
Güemes (also known as Pueblo Nuevo) is the bohemian neighborhood of Córdoba par excellence and is located to the southwest of the center, less than two kilometers away, to be exact.
This lively area of Cordoba includes the Paseo de las Artes, a craft fair with Art Deco architecture and souvenirs ranging from flowers and plants to gastronomy and toys.
Barrio Güemes has stood out in recent years for its growing, alternative nightlife that rivals the typical boliches (clubs) of Nueva Córdoba. Its bars and discos are beloved by hipsters, artists and visitors who seek to know the alternative scene of Córdoba.
In addition to being a safe and very friendly place for pedestrians, Güemes connects with the rest of Córdoba by bus.
Güemes is one of the best areas to stay in Cordoba, Argentina, if you want to remain close to the important attractions, but without the chaos of the center and, at the same time, enjoy different entertainment options that are not as mainstream.
---
2. Córdoba City Center
Cordoba City Center is, similarly to most cities of the world, the historic center of this Latin American city, with buildings, monuments and attractions of great importance for its cultural heritage.
In this district, you'll find the main square of Cordoba (Plaza San Martín) and, in its surroundings, the Cathedral and the Cabildo de Córdoba, all with beautiful structures that catch the eye from any distance.
This part of Córdoba also includes the Jesuit Block and its surroundings of colonial architecture that transport you to another era and offer you excellent backgrounds for your selfies. In addition, because it is such a well-located area, it has many transportation options.
Córdoba City Center is one of the best areas to stay in Córdoba (Argentina) to know its history in depth, since every corner and every street has much to tell and show.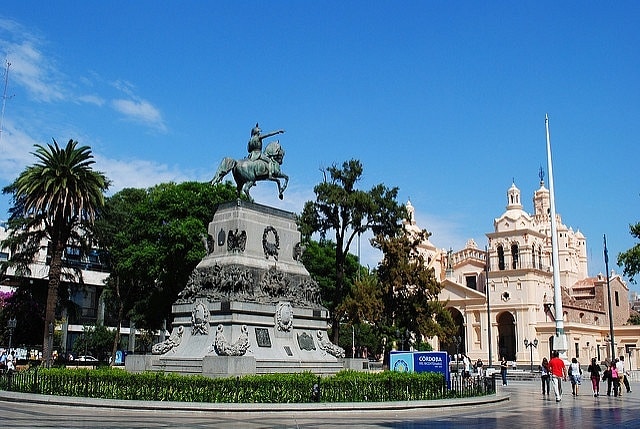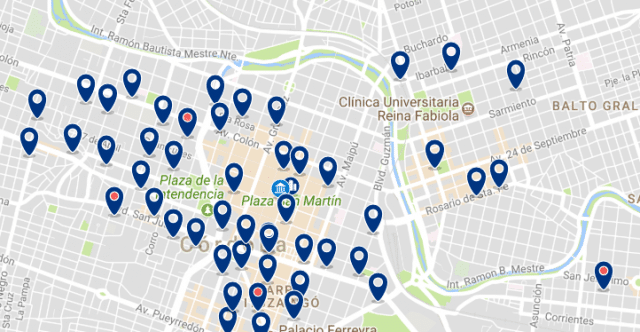 Why is this a recommended area to stay in Córdoba, Argentina:
Historic area
Jesuit Block
Cordoba's Cathedral
Pedestrian-friendly
San Martín Square
Connected through public transport
---
3. Nueva Córdoba
Nueva Córdoba is the most modern district of the city, famous for its wide range of cuisine, culture and shopping that make it the favorite area of many of its inhabitants and visitors.
This district is located very close to the city's center and includes several museums in its perimeter, including the Ferreyra Palace or "Museum of Evita" dedicated to the Fine Arts and the Emilio Caraffa Museum, which exhibits classic and contemporary art.
In addition, Nueva Córdoba is also home to the Paseo del Buen Pastor, an artistic and cultural complex where outdoor events and recitals with different themes are held regularly.
Nueva Córdoba is, like most of this beautiful city, very friendly and safe for pedestrians. Its nightlife is also another reason to stay in this area of Cordoba.
Nueva Córdoba is one of the best areas to stay in Córdoba, Argentina, to stay at the center of events, as it guarantees something new to see and do every day (or night).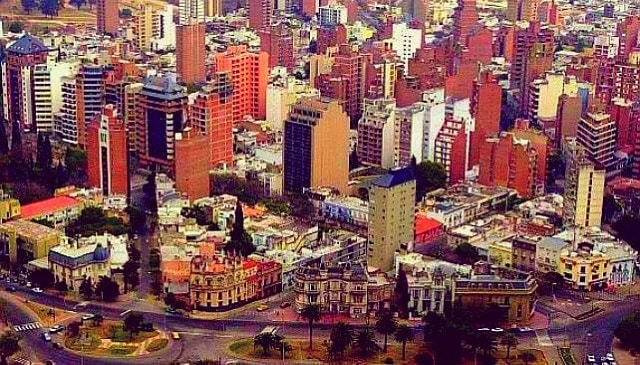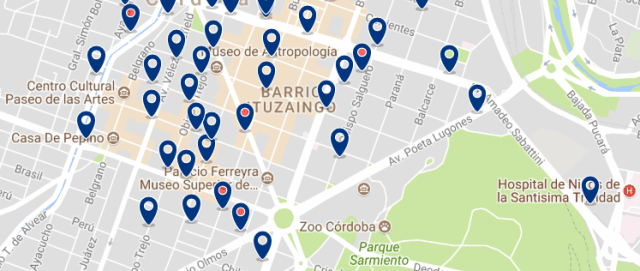 Why is this a recommended area to stay in Córdoba, Argentina:
Museums
Patio Olmos Shopping
Great nightlife
Connected to public transport
Paseo del Buen Pastor
Pedestrian-friendly
---
4. Alberdi
Alberdi is one of the most traditional neighborhoods in the Argentine city of Córdoba and is located west of downtown, with the Arroyo La Cañada in between, specifically.
This area has several sites of tourist interest, such as Hospital de Clínicas (National Hospital of Clinics), a Historical Monument that currently functions as the headquarters of the Faculty of Medicine of the University of Córdoba. It is for this hospital that Alberdi is called "the doctors' neighborhood" and, in its facilities, there is also the Dr. Pedro Ara Anatomical Museum.
Likewise, Plaza Colón (Colón Square) is another of its important buildings and a striking green area of Cordoba. In front of the square, there is the María Auxiliadora Church, with its neogothic style architecture, filling the district with beauty.
When it comes to transport, Alberdi connects with the rest of Córdoba via bus, and remains close enough to the attraction to make it possible to move by foot.
Alberdi is one of the best areas to stay in Cordoba (Argentina) if you want to be close to its historical heritage but avoiding the typical noise of the city center.
---
Read this in other languages