Where to Stay in Fredericton – A Guide to the Capital of New Brunswick
Fredericton is the capital of the province of New Brunswick, in eastern Canada. Located on the St. John River, this city is famous for its historical architecture and the Harvest Jazz & Blues Festival. In this post, we will explore the best area to stay in Fredericton.
The main tourist attractions in the centre of Fredericton include the Beaverbrook Art Gallery, the Fredericton Region Museum, Government House, Science East Museum and the Fredericton Boyce Farmers Market. See accommodation in Fredericton's City Centre.
Other unmissable sights in Fredericton are Odell Park and the Hyla Park Nature Preserve.
Because of its inland location, Fredericton has a humid continental climate with four distinct seasons. Summers are warm and humid, with temperatures typically ranging from 13 to 26 ºC. Meanwhile, winters in Fredericton are extremely cold and snowy. December can see temperatures drop to -14 ºC and stay at subzero levels until spring. The best time to visit Federicton is from late spring to early autumn (May through September), when temperatures are comfortable and allow outdoor activities.
To get to Fredericton by air, the city is served by Fredericton International Airport. Despite its name, this is a small airport with only a handful of destinations (Ottawa, Montreal and Toronto).
At present, Fredericton is not connected by any passenger train services, instead. However, long-distance bus services operated by Maritime Bus connect the city to other destinations in New Brunswick and beyond. See long-distance bus routes, schedules & fares.
To move around the city, the City of Fredericton Transit Division operates a dozen bus routes connecting the city's different neighbourhoods and outlying towns. There are also taxis and mobile apps available and, of course, you can always choose to rent a car during your stay.
The best area to stay in Fredericton is the City Centre. This lively district offers the widest selection of hotels, as well as nightlife and dining options. See accommodation in Fredericton's City Centre.
Keep reading to find out more about the best location in Fredericton, NB.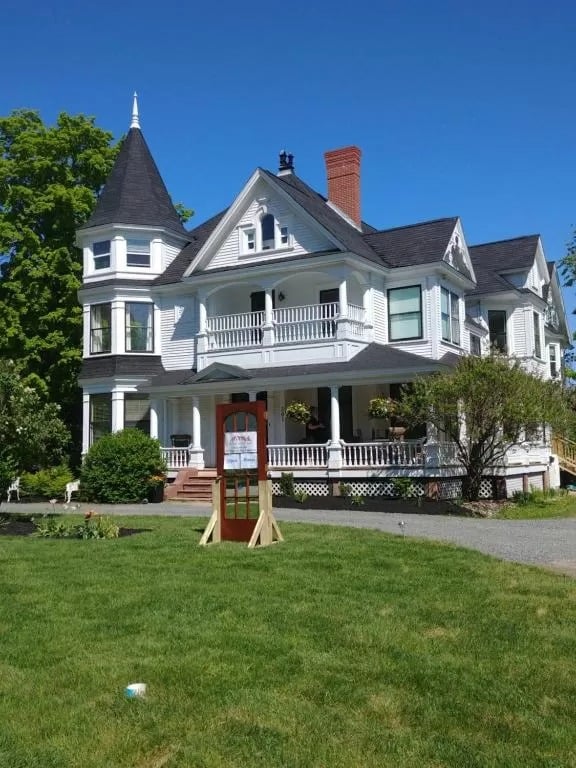 The Best Areas to Stay in Fredericton, NB
1. Recommended area: Fredericton City Centre
Fredericton City Centre is the ideal starting point to explore the city's attractions.
The city centre is a district where you can admire the natural beauty of the St. John River, dive into the city's culture and taste the rich local cuisine.
The City Centre is home to the Historic Garrison District, an 18th-century British army base and is Fredericton's premier heritage and festival centre.
Fredericton's City Centre displays an eclectic mix of architectural styles ranging from classic Victorian to modern constructions.
The city's heart is home to many high-end restaurants and fast-food chains, bars, and some pubs.
This very pedestrian-friendly area can also be explored by bicycle. It is also possible to cross the river by kayak or move to other neighbourhoods using public transport.
Fredericton's City Centre is also home to the city's best accommodations.
---
Read this in other languages