Where to stay in Macon – A guide to this city of Georgia
Macon, Georgia is a small city full of cherry trees, craft beer, outdoor activities, museums, and architecture.
Macon is located in the center of Georgia. Its historical and natural attractions make it a city worth visiting.
The climate in this city is divided into hot summers and short, rainy winters. Therefore, the best time to travel to Macon goes from April to the beginning of June and from September to the end of October.
On the other hand, public transport is not very effective in Macon, so it is recommended to visit the city with a car or rent one, although the Downtown area can easily be explored on foot.
When choosing what to do in Macon, you can decide between visiting art galleries or shopping in its many stores and boutiques.
With an exciting nightlife, charming houses and exciting festivals held every year, Macon is a city that deserves to be known.
The best area to stay in Macon is the Downtown since it gathers most of the popular restaurants and attractions of the city. See accommodation in Downtown Macon.
Here's a guide with the best areas to stay in Macon, Georgia.
The best areas to stay in Macon, Georgia
1. Our favorite area: Downtown Macon
Downtown Macon is the heart of the city since it houses most of its shops, restaurants, historical museums, and parks.
Within this area, there are attractions such as The Allman Brothers Band Museum, in honor of one of the most famous bands in the city.
This museum is a Tudor-style house in which the members of the group lived with their family and friends, where you can see a large collection of guitars and souvenirs.
Other sites to see include the Tubman Museum, named after the American icon Harriet Tubman. The museum exhibits art, history, and part of African-American culture.
Despite being the main area in the city, Downtown Macon has few buses to move to other neighborhoods, so it is recommended to have a car when staying in this area.
Downtown is not only full of history, but it also has many bars where Mercer University students meet, so this is one of the best areas to stay in Macon for nightlife.
Downtown Macon is one of the best areas to stay in Macon as it hosts the attractions of the city, as well and many entertainment options.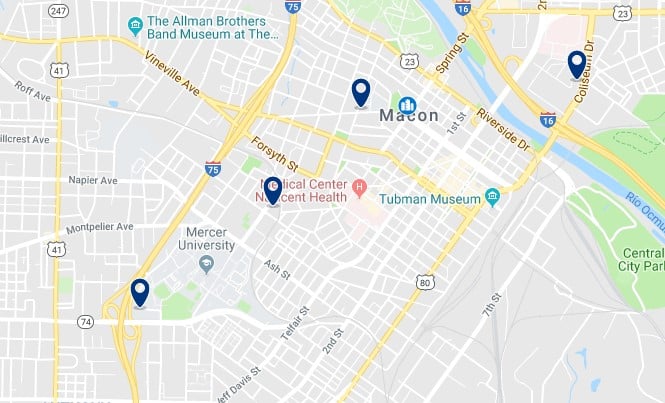 Why is this a recommended area to stay:
Heart of the city
Near the attractions
Best area for shopping
Best area for sightseeing
Best area for nightlife
Best area for business travelers
---
Read this in other languages