Where to Stay in Galway – A Guide to the City of the Tribes
Galway is a city located in the province of Connacht, in the west of Ireland and about 185 km / 65 mi from Dublin. It is the sixth-most populous urban area and one of the most visited places in the country. It is famous for being the epicentre of Irish language, culture, music and traditions, as well as for its young, vibrant lifestyle, a wealth of festivals, and world-class academic institutions. No wonder it was named the 2020 European Capital of Culture. In this post, we will unveil the best areas to stay in Galway.
This Irish city has several tourist attractions and places of interest, the main ones within the city itself are Eyre Square, Lynch's Castle, the Spanish Arch, the Cathedral of Our Lady and St Nicholas, the University of Ireland, Eglinton Canal, The Hardiman Hotel, the Galway City Museum and Galway Atlantaquaria (National Aquarium of Ireland).
However, Galway's best sights are arguably in the little villages, parks and natural preserves around it. For lovers of nature and the outdoors, this region is home to the Barna Woods, Moycullen Bogs, Lough Corrib, the Aran Islands, and Connemara National Park.
Other unmissable attractions in Galway include Menlo Castle, located just outside the city, Oranmore Castle, and Dunguaire Castle.
In order to reach Galway by air, Shannon Airport is located 90 km away and offers domestic connections and flights to Europe and a few North American destinations. If you wish to arrive in the city by train, Galway's main railway terminal (Ceannt Station) is located right on Eyre Square, in the City Centre and offers frequent services from/to Dublin and Limerick, among other cities. Various bus companies also provide links throughout County Galway and nationwide. See train and bus schedules and fares.
When it comes to public transport, Galway is served by buses run by Bus Éireann and City Direct. It is a fairly comprehensive network, however, in order to reach the outlying suburbs or the natural sights around the city, you may choose to rent a car for your stay in Galway.
When it comes to the best areas to stay in, Galway City Centre offers the widest selection of accommodation, sights, and nightlife, as well as the best transport options. See accommodation in Galway City Centre.
Alternatively, if you wish to stay near the best castles in County Galway, you may choose to stay in Kinvara (for Dunguaire Castle), or Oranmore (for Oranmore Castle).
Keep reading to find out more about the best areas to stay in Galway, Ireland.
The Best Areas to Stay in Galway, Ireland
1. Recommended Area: Galway City Centre
Galway City Centre revolves around Eyre Square and extends west towards (and beyond) the River Corrib.
As is to be expected, this area is the liveliest part of town and is home to several of the main attractions and things to do, as well as the most important medieval sights in the city, such as St. Nicholas's Church, Kirwan's Lane, Blake's Castle, or the Spanish Arch.
Eyre Square is really close to William Street and Shop Street, the main shopping areas in town. Additionally, it's home to Eyre Square Shopping Centre, so it is safe to say that if you like shopping, this is your district.
The City Centre is also a very well-connected area in Galway: Eyre Square is the departure and terminus for almost all urban bus lines, and it's also home to Galway railway station, which is located on its southeast end. Galway Coach Station (for long-distance bus services) is one block away.
As you move west, towards the River Corrib you find Galway's Latin Quarter. This lively part of town, centred around Cross Street, hosts many festivals and it's also home to several cultural institutions (including the Galway City Museum), as well as many theatres, restaurants, bars and pubs. It is the best area to stay in Galway for nightlife and a great quarter for foodies.
Not too far, on the other side of the Corrib lies The Claddagh. This free-spirited and colourful corner of town used to be a fishing village and it's considered Galway's most traditional area where Irish language and traditions are very much alive.
Needless to say, the City Centre is also where most accommodation options in Galway are located. This area is home to all kinds of lodging, from cheap and cheerful hostels to the most exclusive 5-star establishments and tourist apartments.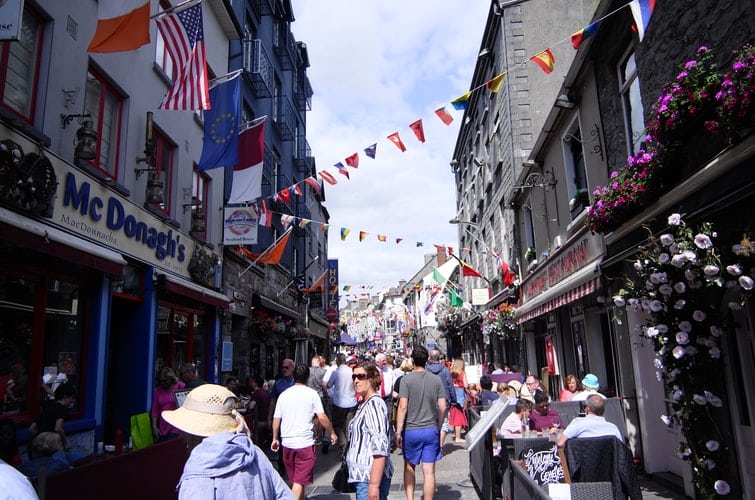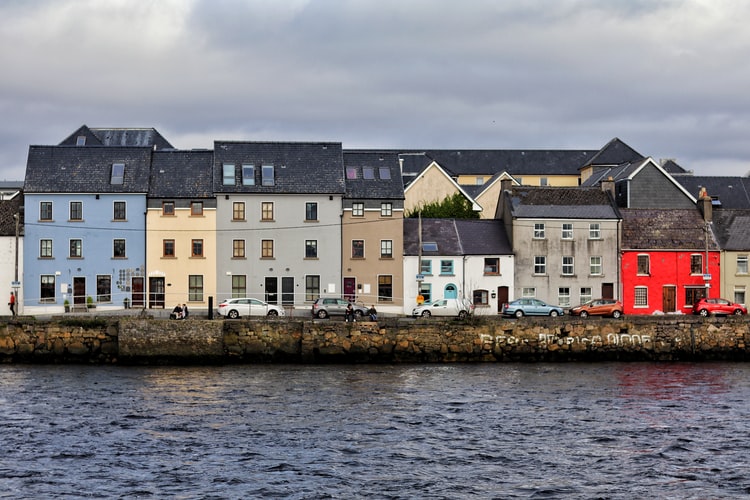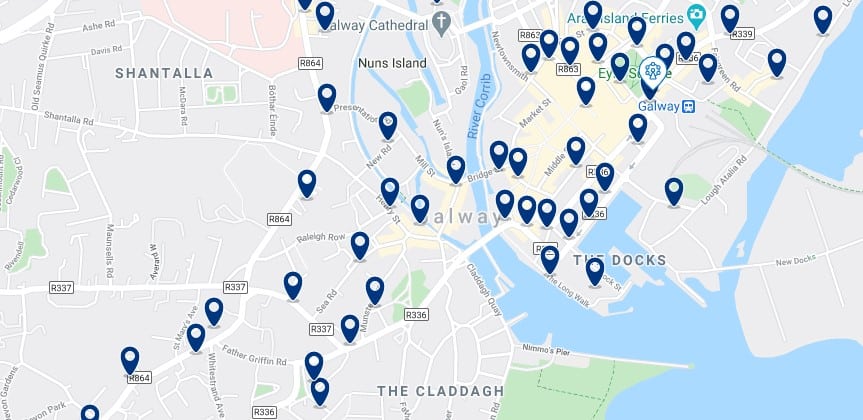 Why is this a recommended area to stay in Galway:
Heart of the city
Medieval landmarks
Latin Quarter
Best area for nightlife
Bus stops and train station
---
2. Salthill
Salthill is Galway's seaside resort. It's located 2 km west of the city centre, on the northern shore of Galway Bay.
Salthill Promenade is the main thoroughfare in the area. Located right on the coast, it offers views of the nearby harbour city of Galway and the Aran Islands.
Salthill is the best area to stay in Galway for families.
This seaside district is known for its beaches, a series of sandy stretches separated by rocky outcrops. Salthill beaches get really crowded on sunny summer days. Another of its main attractions is Galway Atlantaquaria, Ireland's largest native species aquarium.
Also in this district is Galway Golf Club. Founded in 1895 and located by Blackrock Beach, it offers a Championship Standard 18-hole course and views of the bay.
This beachside area of Galway is served by bus line 401 and offers a wide range of hotels, B&Bs and resorts.
---
3. Around the National University of Ireland – Galway
The National University of Ireland Galway is a third-level teaching and research institution ranked among the top 1 per cent of universities in the world.
This world-class institution was founded in 1845 and is located very close to Galway City Centre, along the River Corrib. Its Quadrangle Building, a replica of one of the colleges at Oxford University, is one of the city's landmarks.
Around 17,000 students attend NUIG and many live in the adyacent neighbourhoods, which gives this part of Galway a youthful and bohemian atmosphere.
The nearby districts of Newcastle, Westside and Shantalla offer a typical Irish suburban vibe, with a few B&Bs and several student residences.
South of the University you come across James Mitchell Geology Museum. Nicknamed Galway's 'hidden museum', it displays a large collection of rare rocks, ancient fossils and precious gems.
The area around the university is very well-connected by bus to the City Centre and other Galway districts.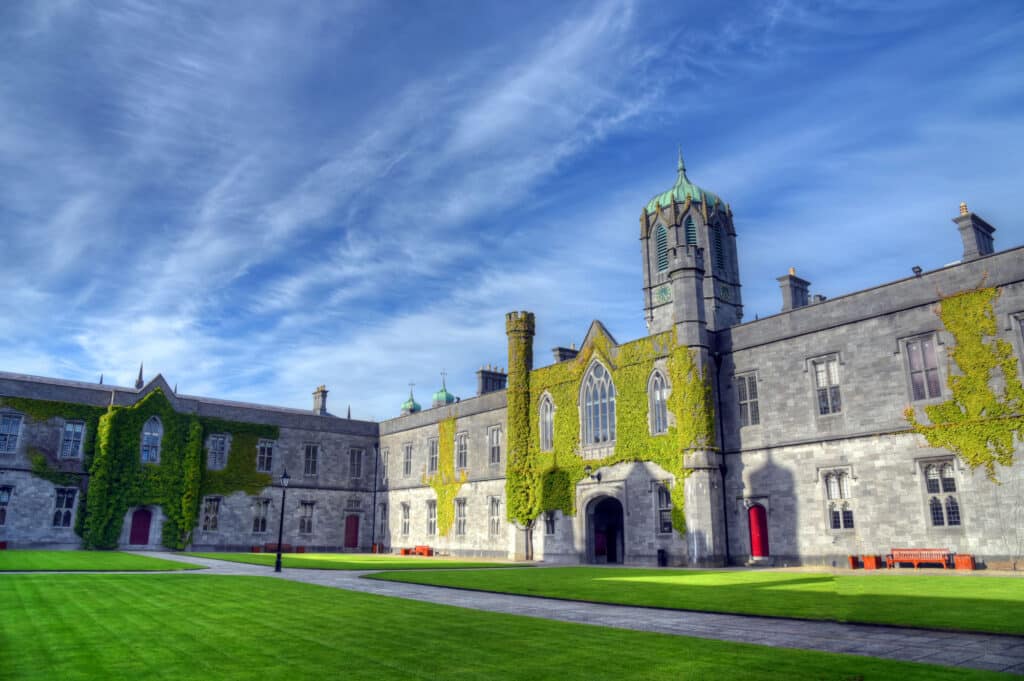 Why is this a recommended area to stay in Galway:
National University of Ireland, Galway
Very central
Connected by bus
---
4. Ballybane & East Galway
The Ballybane area is located on the east side of Galway, roughly 3 km from the City Centre.
Ballybane is mainly a suburban district, with shady streets, single-family houses and some commercial areas.
This district grew around Dublin Road, the main road linking Galway with the Irish capital.
Being far from the hustle and bustle of the city centre, Ballybane offers a quieter, more local alternative to stay in Galway.
This area is known for being home to the Galway/Mayo Institute of Technology, another internationally-recognised education institution headquartered in Galway.
Being a university area, Ballybane has no shortage of pubs, restaurants B&Bs and student accommodation.
This area is also connected to the city centre through buses.
---
5. Kinvara
If you have little time in the area, you may choose to skip Galway City altogether and stay in Kinvara instead.
Kinvara, sometimes spelt Kinvarra, is a seaside village located in the southwest of County Galway, about 16 km south from Eyre Square.
The village lies at the head of Kinvara Bay, an inlet in the south-eastern corner of Galway Bay.
This gorgeous typical coastal Irish town not only has a rural, peaceful atmosphere, but it is also home to one of County Galway's most recognisable landmarks: Dunguaire Castle.
Built in 1520 by the O'Hynes clan, this magnificently restored tower house is located on a rocky outcrop on the shores of Galway Bay.
Other than the castle, the lovely village of Kinvara offers a few restaurants, pubs and some of the nicest B&Bs and luxury guest houses in all of West Ireland.
The best part? Far from being an isolated place, Kinvara is connected to central Galway by bus. Route 423 links this little village with Galway City Centre in under 25 minutes.
---
6. Oranmore
Oranmore is a town on the outskirts of Galway.
This town lies 9 km east of Galway City Centre, on the edge of Oranmore Bay, an inlet of Galway Bay. It is mostly famous for its 15th-century castle.
Oranmore Castle is a fortified tower house associated with the Norman Clanricarde family. It is one of the top attractions in the Galway metropolitan area.
This town is connected to Galway via train. Oranmore station, located 1.4 km west of the town's centre also offers direct connections to Athenry, Athlone, Portarlington, Kildare and Dublin Heuston, as well as on the Western Rail Corridor to Ennis and Limerick. Additionally, Galway's bus system also covers this area.
---
Read in other languages: