Where to Stay in Killarney – A Guide to this Irish Town
Killarney is a town in County Kerry. It is located in the southwest of Ireland, a one-and-half hour drive from Cork. Situated on the shores of Lough Leane, this town is famous for being the gateway to Killarney National Park and the start and finishing point of the 200-km Kerry Way walking trail. In this post, we will explore the best areas to stay in Killarney.
This town main sights mix exuberant green nature with lovely medieval and 19th-century buildings. The top attractions in the town centre include St. Mary's Cathedral, the Killarney House and Gardens, or the Killarney Brewing Company.
However, it is it's natural sites, along with the stunning buildings located in and around 100 km2 Killarney National Park that drive thousands of visitors to this corner of Ireland. Within the Park sits the impressive 15th-century tower house Ross Castle, located on the shores of Lough Leane. Meanwhile, Muckross, located 6 kilometres south of Killarney holds gorgeous estates and traditional farms. The best-known sights in the area are Muckross House, a Tudor style mansion built in the 19th century, and Muckross Abbey, a religious site with a violent history that has been damaged and rebuilt several times. A few miles south lies Torc Waterfall, an easily accessible waterfall in a scenic, wooded area with hiking trails.
Killarney does not have its own airport. However, its location, close to Cork means you can reach the airport in little more than one hour and a half. To get there via train, Killarney Station is located 3 minutes from the town centre. This station offers direct services to Dublin Heuston Station.
When it comes to the best areas to stay, Killarney Town Centre concentrates most of the shopping, dining and accommodation options in town. However, Muckross offers an incomparable rural and historic setting and it is closer to the attractions you probably intend to visit while in Killarney.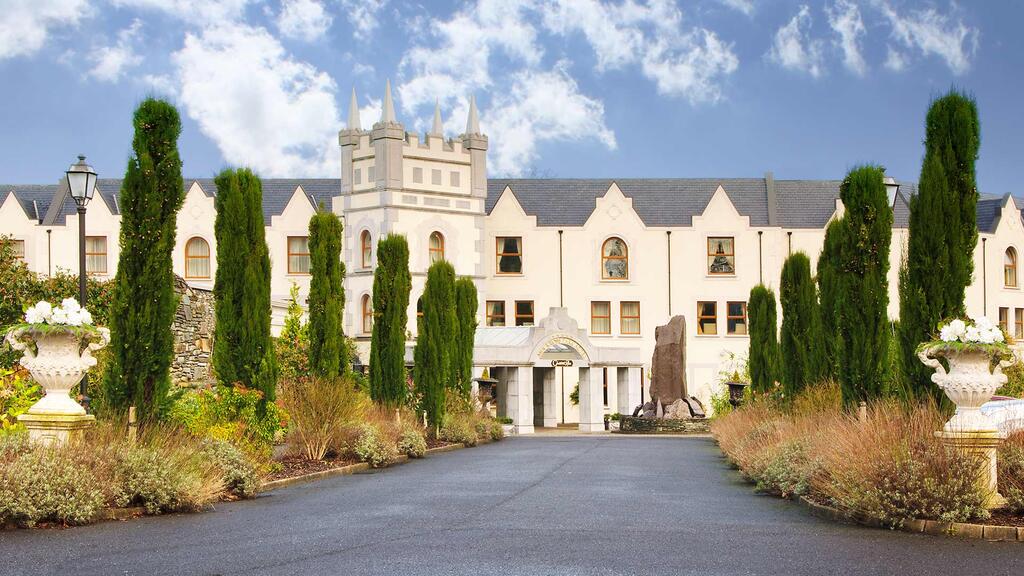 The Best Areas to Stay in Killarney, Ireland
1. Recommended area: Muckross
If you've been on this site before, you probably know that we would usually answer the question "where to stay in Killarney?" with a "Town Centre, duh!". However, in this particular case, the best area to stay sits 4 kilometres south of the centre, in an area known as Muckross.
This area of Killarney, the gateway to the biggest continuous portion of Killarney National Park sits on the Muckross Peninsula, on the shores of the namesake Lake.
Muckross, its name meaning "forest of pigs", is home to gorgeous local attractions such as Muckross House, Muckross Abbey and several Traditional Farms and estates.
This area is crossed by several hiking and walking paths leading to incredible natural wonders such as Muckross Lake or Torc Waterfall.
Muckross is home to several luxury B&Bs, lodges and hotels, many of which are refurbished farms and historical estates, which makes this area a paradise for those seeking tranquillity and great hospitality.
The Muckross area is also served by public transport. To reach it from the Town Centre, you can catch bus route KY03 from outside Killarney Train Station. The ride takes just over 5 minutes.
---
2. Killarney Town Centre
Killarney Town Centre is located on the shores of Lough Leane, right on the northern end of Killarney National Park.
This part of town concentrates most of the restaurants, bars and nightlife in Killarney. Most pubs are located on College and Plunkett Streets.
This is also the district where some of the more central monuments of the city, namely St. Mary's Cathedral, the Killarney Brewing Company, and the Killarney House and Gardens, are located.
This area is also home to some of the town's main shopping areas like Main Street Mall and Killarney Outlet Centre.
Killarney's main train station is located a 5-minute walk from the heart of the Killarney's town centre, on East Avenue.
Killarney Tourist Information Office is situated on Scotts Street. From here, you can take bus route KY2 to Ross Castle, Killarney's top tourist attraction.
---
Read in other languages: