Where to Stay in Mississauga – A Guide to This Greater Toronto City
Mississauga is the second-largest city in the Greater Toronto Metropolitan Area. Located on Lake Ontario, 24 km west of downtown Toronto and usually referred to simply as "Sauga," Mississauga is famous for being home to Toronto-Pearson International Airport and as an important commercial and financial hub in southeastern Ontario. In this post, we will explore the best areas to stay in Mississauga, ON.
Largely suburban, but with several commercial financial and industrial clusters, Mississauga is a popular shopping destination and a great (and cheaper) place to stay for visitors wanting to explore neighbouring Toronto.
The most popular tourist attractions in the centre of Mississauga include the Art Gallery of Mississauga, Kariya Park, Celebration Square, Jubilee Garden and the ultra-sleek avant-garde Absolute World Towers. However, arguably the most visited attraction in Mississauga is Square One Shopping Centre, the largest shopping centre in Ontario. See accommodation in Mississauga City Centre.
Other unmissable attractions in Mississauga, ON include Jack Darling Memorial Park, Credit River Park and Dundas Street.
Due to its location on the shores of Lake Ontario, Mississauga has a humid continental climate. Not unlike neighbouring Toronto, Mississauga experiences four very distinct seasons with great variations between winter and summer temperatures. Summers are usually warm, with temperatures typically ranging between 15 and 28 ºC. Meanwhile, winters are snowy and icy, with temperatures around -7 and 0 ºC. The best time to visit Mississauga is from spring to mid-fall (March through November). During these months temperatures are pleasant enough to enjoy outdoor activities and sightseeing.
To get to Mississauga by air, the city is home to Toronto Pearson International Airport (YYZ). Located 12 km northeast from Square One, this world-class hub offers flights to absolutely every corner of the country (including Vancouver, Montreal, Quebec City, Edmonton, Calgary, Halifax and St. John's, to name a few). YYZ is also connected to hundreds of destinations in the US (including New York City, Chicago, Orlando, LAX, San Francisco, or Seattle), Mexico and Latin America, Europe (London, Dublin, Paris, Madrid, Rome, Frankfurt), and other important hubs across the Middle East and Asia.
Mississauga is also well-connected to Toronto by train. The GO commuter train system offers several A and C-Line stations across town. For VIA Rail long-distance services, you'll have to make your way to Toronto Union Station or Oakville Station. See train routes, schedules & fares.
To move around town, Mississauga has a very efficient public transport system consisting of several bus routes and commuter GO train services to Toronto and other nearby cities and towns. Mississauga also offers regular taxis and mobile apps like Uber, and you can choose to rent a car during your stay.
The best area to stay in Mississauga is around Toronto Pearson International Airport. This area offers a great selection of budget accommodation and great connections to Downtown Toronto. See accommodation around Toronto Pearson.
If you're in town for shopping and sightseeing, then Mississauga's City Centre is the best district for you. This area is home to Square One Shopping Centre and the best nightlife and dining options. See accommodation in Mississauga City Centre.
Keep reading to find out more about the best location in Mississauga, ON.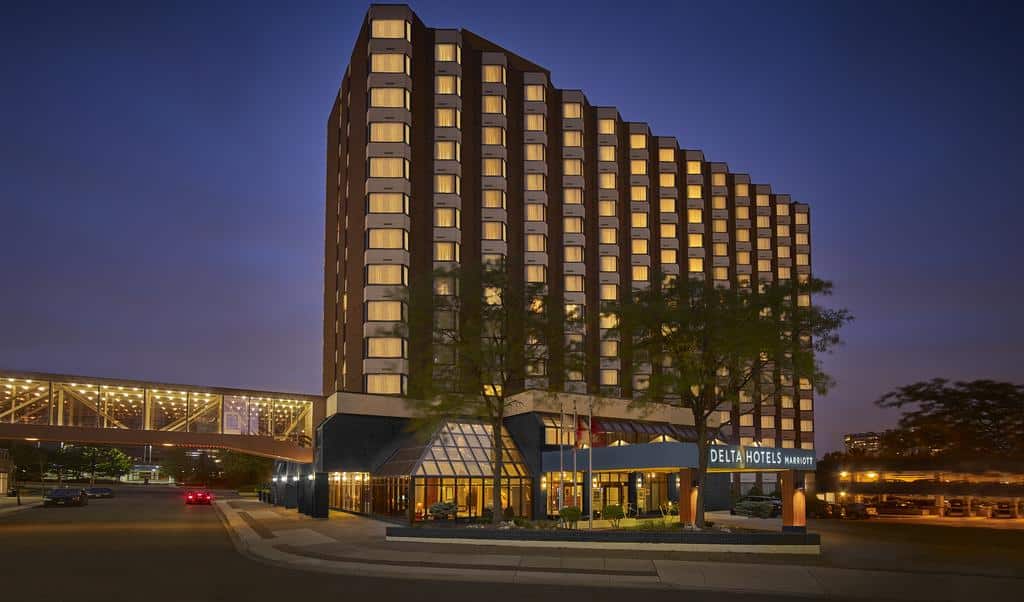 The Best Areas to Stay in Mississauga, ON
1. Recommended area: Around Toronto Pearson International Airport
Toronto International Airport is, by far, the busiest airport in Canada.
The main gateway to Canada for many international visitors, this major hub offers connections to almost every continent on Earth.
Located 12 km from central Mississauga and about 20 km from Downtown Toronto, the airport area is one of the best places to find budget accommodation in Canada's largest city.
Toronto Pearson is the main hub for the country's flagship carrier, Air Canada and WestJet, a major low-cost carrier.
Needless to say, this area is especially convenient for passengers in transit or those who need to be at the airport for an early departure.
Moving from the Pearson area to other districts in Toronto and Mississauga is quite straightforward. The terminal is connected by Express trains to Union Station and several bus lines.
As is to be expected from a major international hub, Pearson International is surrounded by a wide selection of accommodation options, including budget hotels, mid-range business chains and some tourist apartments.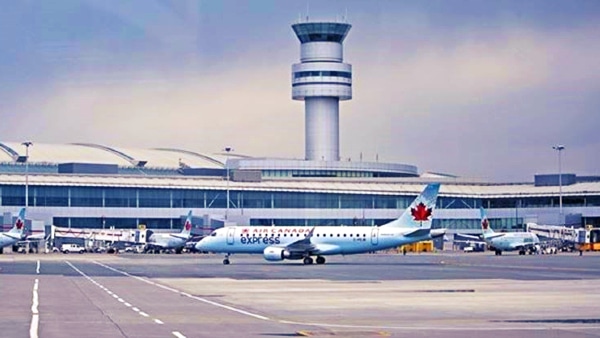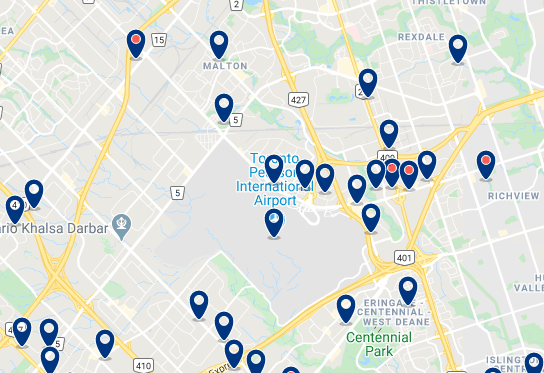 Why is this a recommended area to stay in Mississauga:
Toronto International airport
Good transport connections
Best area for business travellers
---
2. Mississauga City Centre
If you're travelling to Mississauga to visit Mississauga (not Toronto), then the best area to stay in is the city centre.
While most of Mississauga consists of suburban residential developments, its central core is home to several tourist and cultural attractions.
Mississauga City Centre is home to many modern condos, including the spectacular Absolute World towers, nicknamed "Marilyn Monroe" because of their hourglass shape.
Nearby, One Square Shopping Centre, the second-largest mall in Canada after West Edmonton, offers hundreds of shops, restaurants and attractions.
If you're interested in art, make sure not to miss the Art Gallery of Mississauga. This local museum offers an ever-changing display of contemporary art.
Likewise, the Living Arts Centre offers performances, temporary exhibitions and events.
For nightlife and dining, the Burnhamthorpe Road area offers a wide selection of eateries, fast-food restaurants, pubs and bars.
For some nature, the lovely Kariya Park offers serene Japanese-inspired gardens, paths and a pond.
Mississauga City Centre offers great transport connections to Downtown Toronto (via the GO commuter rail system) and Pearson International Airport (via buses).
---
Read this in other languages
|ES| Dónde alojarse en Mississauga y cerca del aeropuerto de Toronto, Canadá.