Where to Stay in Brampton – A Guide to "The Flower Town of Canada"
Brampton is a city in the Greater Toronto Metropolitan Area. Located 28 km west of downtown Toronto, Brampton is famous for its cultural diversity and as a major commercial and industrial hub in southeastern Ontario. In this post, we will explore the best areas to stay in Brampton, ON.
The most popular tourist attractions in the centre of Brampton include the Peel Art Gallery, Museum & Archives, Garden Square, St. Paul's United Church, Gage Park and the Lorne Scots Regimental Museum. See accommodation in Brampton City Centre.
Other unmissable attractions in Brampton, ON include Wet'n'Wild Toronto water park, Chinguacousy Park, Heart Lake, and Humber River.
Due to its location in southeast Ontario, Brampton has a humid continental climate. Similar to Toronto, Brampton experiences four distinct seasons with extreme variations between winter and summer conditions. Winters are typically snowy and icy, with temperatures between -8 and 0 ºC. On the other hand, Summers are hot, with temperatures typically ranging between 15 and 28 ºC. The best time to visit Brampton is from spring to mid-fall (March through November). During this time, temperatures are pleasant enough to enjoy outdoor activities and sightseeing.
To get to Brampton by air, Toronto Pearson International Airport (YYZ) is Located 12 km southeast of the city centre. This international hub offers domestic flights to every corner of the country, as well as hundreds of international destinations in the US, Mexico, Latin America, Europe, the Middle East and Asia.
Brampton is also well-connected to Toronto by train. The GO commuter train system offers connections on the Kitchener Line and VIA Rail long-distance services also link this city to Toronto Union Station and other places along the Toronto-Sarnia corridor. See train routes, schedules & fares.
To move around town, Brampton has a very efficient public transport system consisting of several bus routes and commuter GO train services to Toronto and other nearby cities and towns. Brampton also offers regular taxis and mobile apps like Uber, and you can choose to rent a car during your stay.
The best area to stay in Brampton is the city centre. This area offers the main historical and cultural sights in Brampton, as well as the best nightlife venues, dining options and top-rated hotels. See accommodation in Brampton City Centre.
Another great area to keep in mind when choosing where to stay in Brampton, ON is Steeles Industrial.
Keep reading to find out more about the best location in Brampton, ON.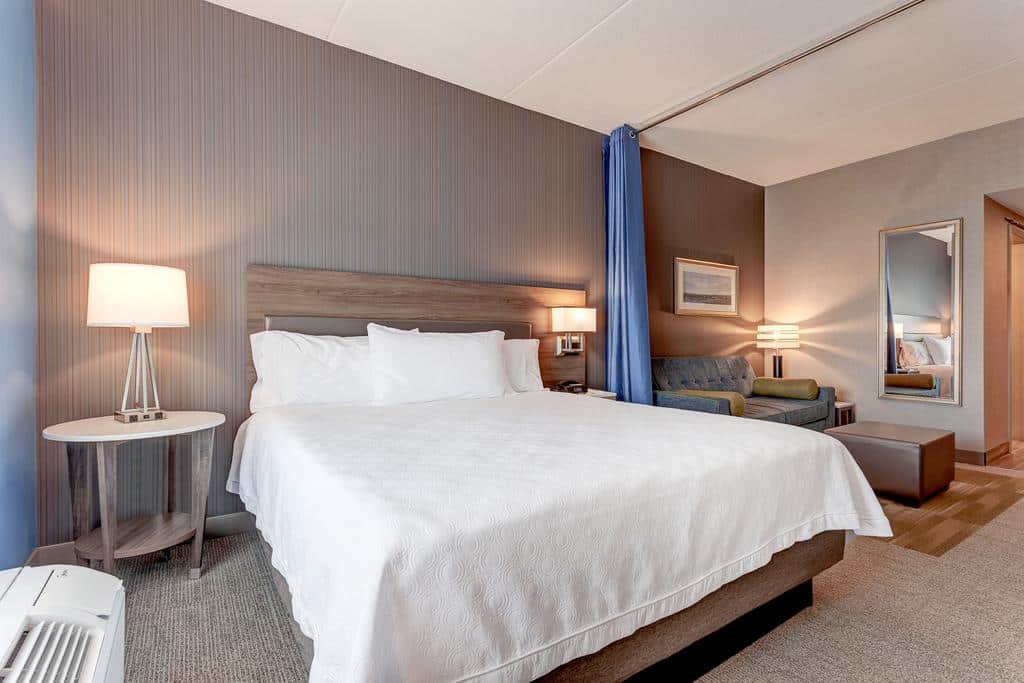 Home2 Suites By Hilton Toronto/Brampton, On

Situated in Brampton, Home2 Suites By Hilton Toronto/Brampton features accommodation with a fitness centre, free private parking, a shared lounge and barbecue facilities. The accommodation provides an indoor pool, free WiFi throughout the property and a 24-hour front desk.
The Best Areas to Stay in Brampton, ON
1. Recommended area: Brampton City Centre
Brampton City Centre is the heart of this ON city and the epicentre of its commercial and financial activities.
Perhaps the most important tourist attraction in Brampton is the Peel Art Gallery, Museum and Archives. This local museum, hosted in the 1866 Peel County Court House, showcases 12,000 historic artifacts and artwork covering the history of the region from 4000 BCE to the 21st century.
Nearby, the Rose Theatre Brampton is a local landmark. This important venue hosts frequent concerts, recitals and shows.
Gage Park, the city's oldest municipal park, features manicured gardens, a gazebo, a fountain and trails for rollerblading and jogging. The park also hosts summer evening concerts and a winter ice skating rink.
Brampton City Centre has efficient public transport to move to other areas in town, as well as the neighbouring cities of Mississauga and Toronto.
Brampton Train Station, located on Church Street, offers direct connections to Toronto Union Station and VIA Rail services.
Thanks to its proximity to Pearson Airport and great connections to Downtown Toronto, Brampton is a great area to stay for travellers wanting to explore Canada's largest city on a budget.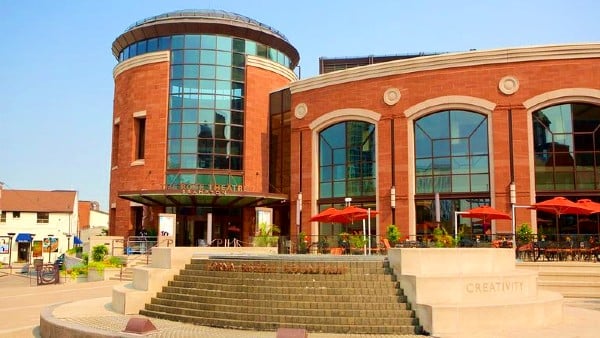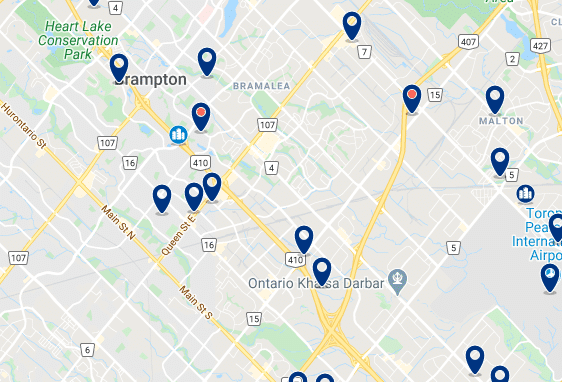 Why is this a recommended area to stay in Brampton:
Heart of the city
Best area to stay without a car
Best area for sightseeing
Restaurants and hotels of all kinds
Great public transport connections
Gage Park
---
2. Brampton East & Steeles Industrial
Steeles Industrial is a good area to stay in Brampton on a short visit.
The name of this area is due to the fact that it houses factories and offices, but it also has shopping centres and stores of all kinds.
Steeles Industrial is home to the Pearson Convention Centre, making it one of the best areas to stay in Brampton for business travellers as well.
Very close to Steeles Industrial is Bramalea City Centre, one of the largest shopping malls in Canada and a perfect place for shopaholics.
This area has the Bramalea train station and different bus stops to move to other areas of Brampton.
Steeles Industrial is also a cheap alternative, as it has many cheap hotels to stay in Brampton.
---
Read this in other languages