Where to Stay in Peoria – A Guide to the City on the Illinois River
Peoria is a city in Illinois. Located on the Illinois River and founded by the French in 1691, this city is famous for being the oldest European settlement in Illinois. In this post, we will explore the best areas to stay in Peoria, IL.
Peoria's center's main cultural attractions include the Peoria Riverfront Museum, Caterpillar Visitors Center, the Peoria Historical Society, and the Murray Baker Bridge. See accommodation in Downtown Peoria.
Other important attractions in Peoria include Par-A-Dice Hotel Casino, Wheels O' Time Museum, Pettengill-Morron House Museum, or the Northmoor Observatory.
Outdoorsy types and those traveling with kids will also enjoy attractions like the Wildlife Prairie Park, The Peoria PlayHouse, Peoria Zoo, Luthy Botanical Garden, and Forest Park Nature Center.
Due to its inland location, Peoria has a humid continental climate with hot summers and long, snowy winters. January temperatures typically range between 17°F and 33ºF (-8 to 0 °C). Meanwhile, in the summer, average temperatures hover around 65 – 86 °F (19 – 30 °C). The best time to visit Peoria is from late spring through early fall (April through October); temperatures are comfortable for outdoor activities and sightseeing during this time.
To get to Peoria by air, the city is served by General Wayne A. Downing Peoria International Airport. Located 5 miles west of Downtown Peoria, this airport offers domestic connections to a handful of destinations in the US, including Chicago, Dallas, Las Vegas, Orlando, Phoenix, and Charlotte.
No current passenger train services connect Peoria to other cities; however, Peoria is well-served by a network of long-distance buses with destinations in Illinois and other cities in the US Midwest. See bus routes, schedules & fares.
When it comes to moving around the city, Peoria has a public transportation system consisting of fixed-route buses operated by the Greater Peoria Mass Transit District. The city's riverside and downtown districts are easy to explore on foot, but the car is still the best way to reach the outlying areas. Peoria is served by Uber and Lyft services, and you can always choose to rent a car during your stay.
The best area to stay in Peoria, IL, is Downtown. This central area near the riverfront is home to the city's main historical and cultural attractions, nightlife, restaurants, and some of the town's best hotels. See accommodation in Downtown Peoria.
Another great area to keep in mind when choosing the best location in Peoria is East Peoria.
Keep reading to find more about the best areas to stay in Peoria, IL.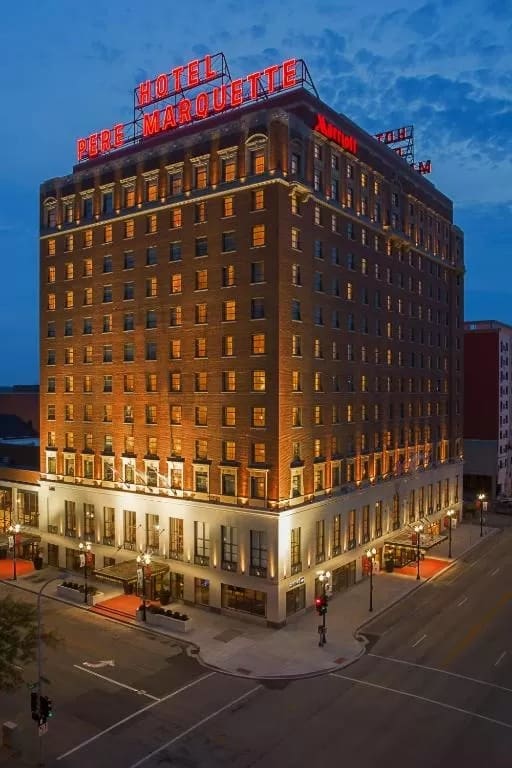 The Best Areas to Stay in Peoria, Illinois
1. Recommended area: Downtown Peoria (Civic Center)
Peoria Civic Center is located in the heart of the city, and it is the most entertaining and active area of the city.
The best events, concerts, festivals, exhibitions and congresses give life to Peoria Civic Center. Hence, it is the busiest district in the city.
The Civic Center consists of a stadium, an exhibition hall, a theater, ballroom and several meeting rooms.
Other attractions near the Civic Center of Peoria are the Renaissance Park, located on Main Street, Peoria Riverfront Museum on Washington Street and Caterpillar Visitors Center.
Washington, Jefferson and West 3rd avenues are well-supported by bus stations, although, the entire area near the Peoria Civic Center is ideal for walking to each attraction since it is very pedestrian-friendly.
It is the best area to stay in Peoria to remain close to the attractions and leisure of the city, and because it has the best hotels, ideal for those traveling for business, exhibitions, events, and congresses.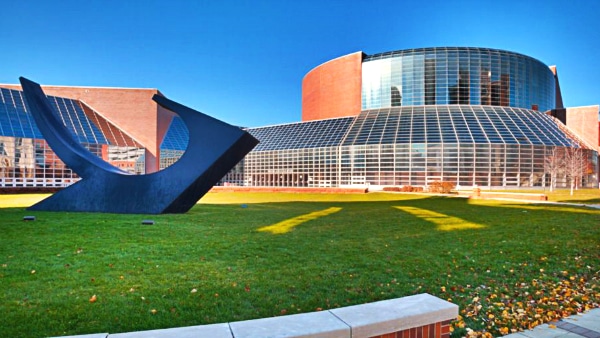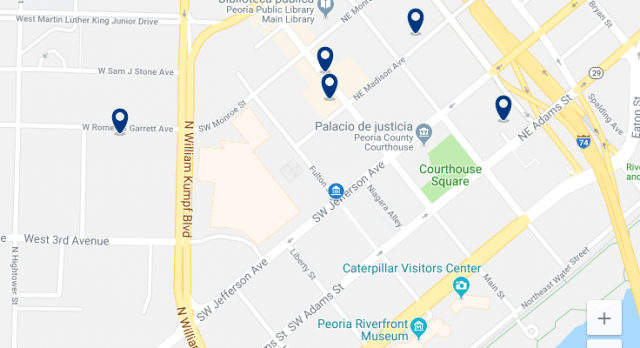 Why is this a recommended area to stay in Peoria:
Central location
Caterpillar Visitors Center
Peoria Civic Center
Best area for business travelers
Riverfront Museum
Best area to stay without a car
---
2. East Peoria
East Peoria is located across the Illinois River, on its east coast, as its name suggests.
Among its most popular attractions are some old Caterpillar factories, the Campus of the well-known Central College and the famous Par-A-Dice Hotel and Casino, a luxurious hotel that is also one of the most famous casinos in Illinois.
East Peoria offers a quiet environment compared to the city center, but it is ideal for family entertainment, thanks to its parks, golf courses and historic buildings such as the City Hall.
East Peoria is a seven-minutes drive from the city center.
Streets like West Washington have a number of bus stations that, in addition to facilitating the transfer through the district, allow visitors to reach the center of Peoria, easily.
The accommodation in this part of the city is made up of big brand and some three-star hotels, which makes it one of the best areas to stay in Peoria, due to its mixed accommodation for all types of budgets.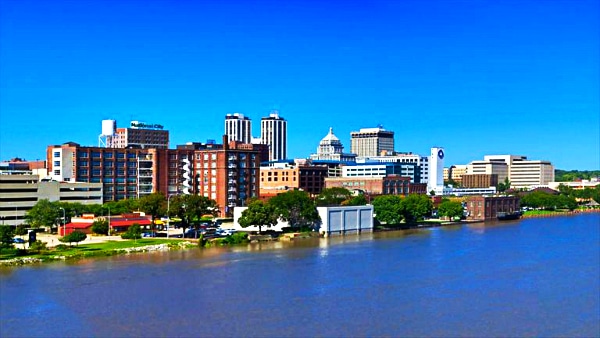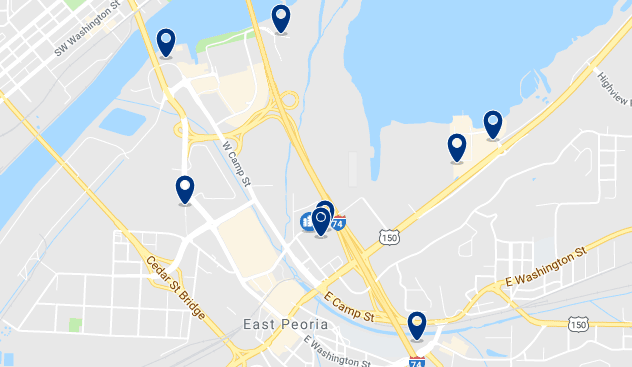 Why is this a recommended area to stay in Peoria:
Par-A-Dice Hotel and Casino
Mixed accommodation
Parks and green areas
Close to the city center
Peaceful area
Connected by public transport
---
Read this in other languages