Where to Stay in Brooklyn – A Guide to NYC's Coolest Borough
Brooklyn is one of New York's five boroughs and is considered the street art mecca of the "city that never sleeps." This district is famous worldwide because of its alternative vibe and, in this post, we will explore the best areas to stay in Brooklyn.
Among the most visited attractions in Brooklyn, you'll find Prospect Park, the Brooklyn Bridge, and buildings that showcase the city's industrial past. See accommodation in Brooklyn.
Thanks to its young, artistic community, Brooklyn is one of the coolest neighborhoods in New York. Here, you can visit museums and monuments, go shopping or have brunch on a rooftop overlooking Manhattan.
You can visit Brooklyn during any season, although you must consider that, due to its humid subtropical climate, it rains throughout the entire year. Like the rest of New York City, this district stands out for its hot and humid summers, thanks to the proximity of the Atlantic Ocean. On the other hand, temperatures can reach -12ºC during winter.
New York JFK Airport (JFK), located about 4,9 mil (8km) from the borough, is the closest to Brooklyn. This air terminal is one of the most important worldwide, with connections to the rest of the United States, Canada, Latin America, Europe, and Asia. Other nearby airports serving New York City include Newark Liberty International Airport and LaGuardia Airport.
Something to take into account during your stay is how to get from Brooklyn to other areas of New York. This borough has different types of transport, but, without a doubt, the most important is the subway system, so it would help if you bought a Metrocard.
You can also use the bus and the ferry, which provides direct access to other boroughs and taxis. Apps like Uber or Lyft can get you from Brooklyn to other parts of NY too.
Williamsburg is the best area to stay in Brooklyn because of its central location, striking architecture, and different types of restaurants. See accommodation in Williamsburg.
Other areas to keep in mind when choosing the best location in Brooklyn include Brooklyn Heights, Downtown Brooklyn, Bushwick, Bedford Stuyvesant, and Greenpoint.
Keep on reading to find out more about the best areas to stay in Brooklyn, NY.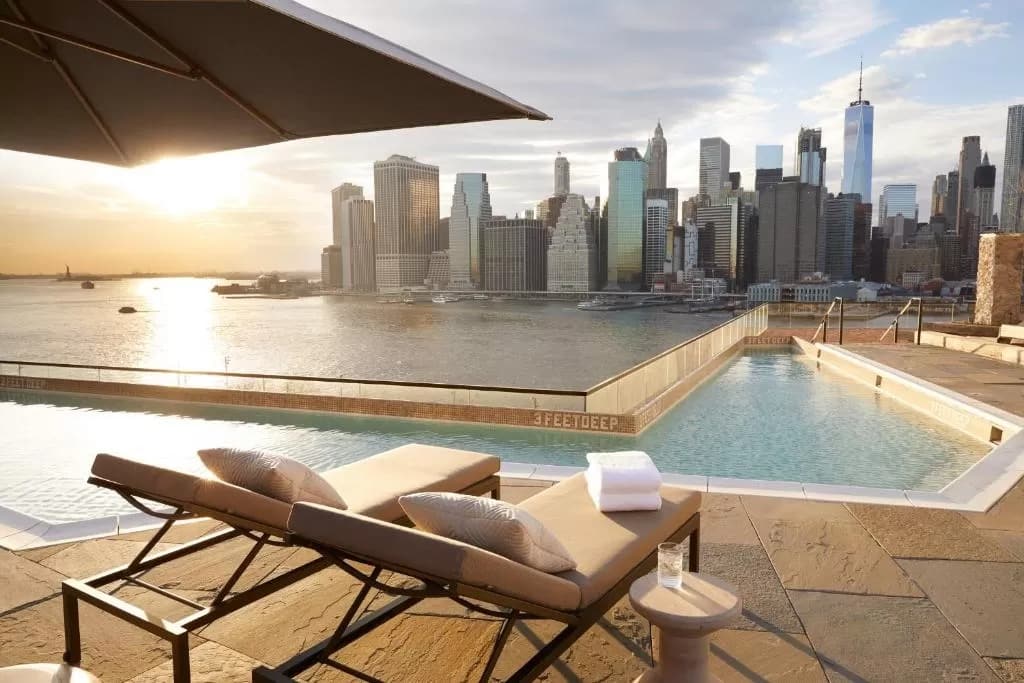 ---
Best Location in Brooklyn, New York: A Quick Guide
Below, you'll find a list of the best areas to stay in Brooklyn depending on your travel style and what you may be planning to do during your trip. Keep reading below to find all the specific information you need about each particular area mentioned here.
---
Best Hotels in Brooklyn, NY by Theme
Something more specific in mind? Here's a list of some of the best hotels in Brooklyn. No matter your reason for visiting the city or style, you'll find it here!
---
The Best Areas to Stay in Brooklyn, NYC
1. Recommended Area: Williamsburg
Williamsburg is in northern Brooklyn, between the Greenpoint, BedStuy, and Bushwick neighborhoods.
This neighborhood stands out for its industrial buildings and lofts.
This district is also one of the best areas to stay in New York for nightlife. Here, young travelers can choose between rooftop bars and clubs located in old factories that host all kinds of concerts and events.
Williamsburg is also among the best areas to stay in Brooklyn because of its vintage shops, markets, and eclectic atmosphere. This district is one of New York's hipster areas par excellence.
Some attractions in this neighborhood include the Williamsburg Bridge, malls, and, as we mentioned before, restaurants of all kinds.
Williamsburg has some of New York's best hotels, with avant-garde designs and exclusive services. Despite not being a cheap area to stay in Brooklyn, it is a place full of entertainment and less expensive accommodation than Manhattan.
You can get around Williamsburg through the many bus lines that serve the area. The neighborhood also has subway stations to travel to other districts and, of course, taxis.
---
2. Greenpoint
Greenpoint is in the heart of Brooklyn and is one of the most famous neighborhoods in Brooklyn because of its industrial architecture.
Moving around this district or from Greenpoint to other areas is easy. You can pick between the ferry or line G of the subway system, considering that this line does not cover the Manhattan area.
Among the attractions of this area, there's the Greenpoint Gallery, an art gallery located at 390 McGuinness Boulevard.
Greenpoint also has some of the best brunch options in Brooklyn, particularly on Bedford Avenue.
This area is the complete opposite of the typical hustle and bustle of New York; its quiet and modest lifestyle make Greenpoint one of the best places to stay in Brooklyn.
---
3. Brooklyn Heights
Brooklyn Heights is another recommended area to stay in Brooklyn, located between Atlantic Avenue, Clinton Street, and the East River.
This neighborhood is one of the firsts ever created in the United States and is currently one of the most exclusive Brooklyn areas, thanks mainly to its beautiful views of Manhattan.
Getting from Brooklyn Heights to other boroughs or areas is possible using the subway, through the stations: High St (lines A and C), Clark St (lines 2 and 3) Court St (lines N and R), and Borough Hall (of the lines 2, 3, 4 and 5).
This area stands out because of its brownstone houses, and you can see some of its facades from the promenade along the East River. Brooklyn Heights is one of the best areas to stay in Brooklyn if you want to be relatively close to Manhattan and look for tranquility during your stay in New York.
---
4. Downtown Brooklyn
Downtown Brooklyn is northwest of the city, east of Court St and west of Flatbush.
This district is the best area to stay in Brooklyn for business trips. This neighborhood has buildings that are home to office and business complexes, business-type hotels, and B&B.
Borough Hall (lines 2, 3, 4, and 5), Jay St-Borough Hall (lines A, C, and F), and Court St (lines M and R) stations connect the area with the rest of Brooklyn and New York.
This area is also an excellent place to stay in Brooklyn if you want to go shopping, as it has boutiques and stores of all kinds.
Downtown Brooklyn is one of the best areas to stay in Brooklyn because, compared to other districts, it turns out to be an inexpensive area.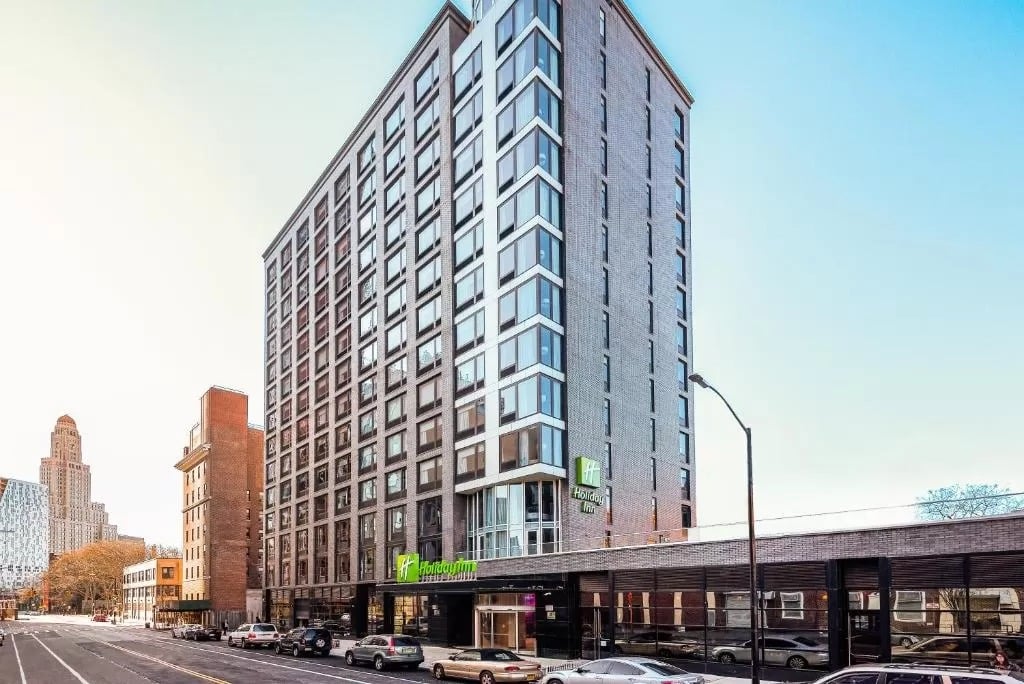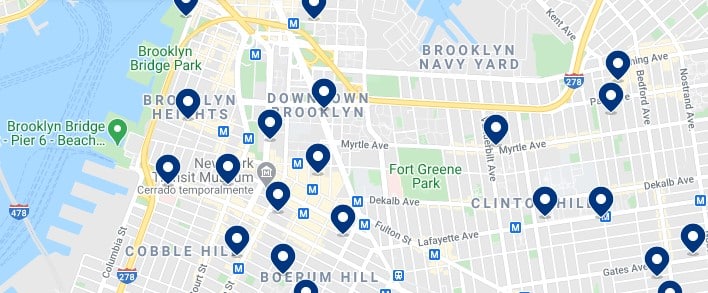 Why is this a recommended area to stay in Brooklyn, NYC:
Best area for shopping in Brooklyn
Business area in Brooklyn
Well-connected by subway
---
5. Bedford-Stuyvesant
Bedford-Stuyvesant, also called Bed-Stuy, is in downtown Brooklyn, near Flushing Avenue, Broadway, and Ralph Avenue.
Bed-Stuy is an area of ​​historic buildings, churches, and a quiet environment. This area is one of the best neighborhoods to stay in Brooklyn to escape New York's bustle.
Things to do in Bedford Stuyvesant include touring the Restoration Plaza, Fulton Shopping Street, Nostrand Avenue, and parks like Herbert Von King Park and the Prospect.
Depending on the area of ​​Bed Stuy you are staying in, you can use the A, C, or G subway lines to move to other Brooklyn or Manhattan areas.
Bedford-Stuyvesant is one of the best areas to stay in Brooklyn for its picturesque and peaceful vibe.
---
6. Bushwick
Bushwick is a neighborhood located northeast of Brooklyn and is a multicultural area that serves as home to a large Hispanic American community.
Some of the most famous street art murals in Brooklyn and New York are in Bushwick. Here, you will find photo-worthy places that you can post on your Social Media platforms.
Subway stations in the area include Jefferson St, DeKalb Av, Halsey St, and Central Av.
It is also possible to move to other neighborhoods via the Bushwick bus lines.
Bushwick has a bohemian atmosphere, with many cafes and some vintage shops where you can find good deals.
This area has many contemporary art galleries too.
Bushwick is one of the best areas to stay in Brooklyn because of its art, cultural diversity, and hotels of all kinds.
---
Read this in other languages
|ES| Dónde alojarse en Brooklyn, Nueva York.
---