Where to Stay in Dartmouth – A Guide to the City of Lakes
Dartmouth is a city in southeastern Canada, located east of Halifax
Dartmouth has 23 lakes and, due to its geographical location, is one of the industrial and commercial centres for Canadian maritime operations.
The city does not go through specific seasons, but rather through temperate or cold temperatures, so the ideal months to visit it are from June to September.Like the rest of the country, its climate is relatively cold, with temperatures between -7ºC (19ºF) and 24ºC (75ºF).
Halifax Stanfield International Airport is the main gateway to Dartmouth, with national and international connections, and it is located a 25 minutes drive from the Downtown area.
Dartmouth also has a bus and ferry system that are the best options for getting around between its areas, in addition to taxis.
Most of Darmouth's attractions are linked to its port roots, including several lakeside parks and, of course, museums.
As for the best areas to stay in Dartmouth, Downtown stands out for its proximity to tourist sites and its varied hotel offer. (See accommodation in Downtown Dartmouth).
Here's a guide with the best areas to stay in Dartmouth, Canada.
The Best Areas to Stay in Dartmouth, Canada
1. Our favourite area: Downtown Dartmouth
Downtown Dartmouth is located near the Alderney Gate Ferry Terminal, the second longest-running ferry terminal in the world.
Downtown is Dartmouth's business and financial centre, and, therefore it is home to many office complexes that create an interesting contrast alongside the area's lakes.
Around the ferry terminal, you'll find buildings of the Canadian administration, as well as the city's post office, some banks and the World Peace Pavilion.
Likewise, just a few metres away is the famous Alderney Landing market, where it is a tradition to buy locally produced food that is known for its freshness.
Downtown also has a wide variety of restaurants and cafes of different styles, making it one of the best areas to stay in Dartmouth for foodies.
This district, in addition to being very pedestrian-friendly, has excellent public transport connections with the rest of the city.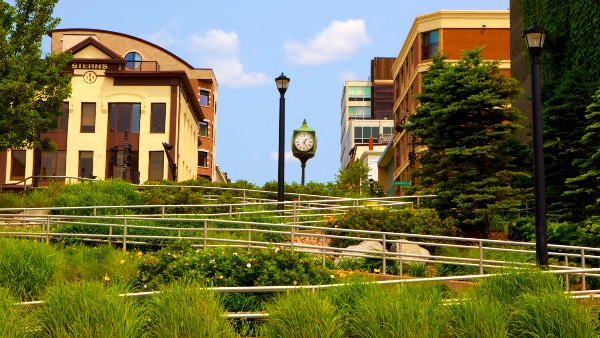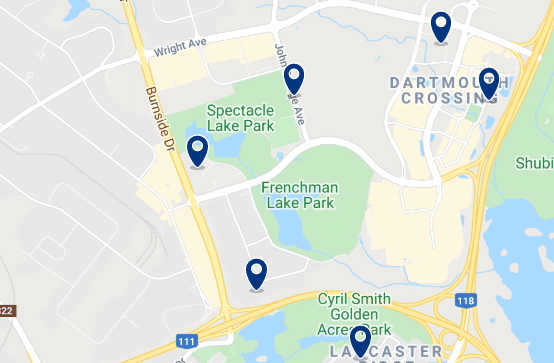 Why is this a recommended area to stay:
Near the ferry terminal
All kinds of hotels
Best area for sightseeing
Great food
Great public transport connections
Best area for business travellers
---
2. Near Bedford Institute of Oceanography
The Bedford Institute of Oceanography is located to the northwest of Dartmouth and, in its surroundings, you will find many shops and restaurants of different types.
The Bedford Institute of Oceanography is Canada's largest ocean research centre, and it is certainly a must-stop when visiting Dartmouth.
In this area, there are also a large number of parks and recreation centres, in addition to schools and universities that give it a youthful atmosphere.
The Mackay Bridge, one of the entry points to the city, is another attraction of this area.
Like the rest of Dartmouth, there are many lakes here that function as parks and are perfect for photographing.
This is one of the best areas to stay in Dartmouth, Canada, because, although it is not so central, it has hotels of all kinds and good public transport connections.
---
3. Near Mic Mac Mall
The surroundings of the Mic Mac freshwater lake is a recommended area to stay in Dartmouth
Here is the city's largest shopping centre and the second-largest shopping centre in the Canadian Atlantic, Mic Mac Mall, making it the best area to stay in Dartmouth for shopping.
In the surroundings of the shopping centre, there are a good number of restaurants and more shops.
Parks are also a part of this area, but the most outstanding is the Shubie Urban Park, which occupies 160,000 m², is ten minutes away and can be reached by buses that depart from the shopping centre every half hour, by taxi or car.
This is a very pedestrian-friendly place.
---
Read this in other languages