Where to Stay in Dartmouth – A Guide to the City of Lakes
Dartmouth is a former independent city now part of the Halifax Regional Municipality. Located in Nova Scotia, on the eastern shore of Halifax Harbour and nicknamed "The City of Lakes," Dartmouth is famous for its 23 lakes and as a major industrial centre in Nova Scotia and Atlantic Canada. In this post, we will explore the best areas to stay in Dartmouth, NS.
The most popular tourist attractions in Downtown Dartmouth include the Dartmouth Heritage Museum, Quaker House, Leighton Dillman Park, and Sullivan's Pond. See accommodation in Downtown Dartmouth.
Other unmissable attractions in Dartmouth, NS include Albro Lake, Shubie Park, Lake Banook, Lake Micmac, and the Cole Harbour Heritage Farm Museum.
Due to its coastal location in Nova Scotia, Dartmouth has a humid continental climate. Not unlike other parts of Halifax, Dartmouth experiences four distinct seasons. Both the Atlantic Ocean and the Gulf Stream moderate the temperatures and give this region climate conditions that are milder than inland places on the same latitudes. NS Winters are typically snowy and icy, with temperatures between -8 and 0 ºC. Meanwhile, summers are warm and humid, with temperatures typically ranging between 15 and 24 ºC. The best time to visit Dartmouth is from spring to mid-fall (March through October). During this time, the warm temperatures allow for outdoor activities and sightseeing.
To reach Dartmouth and Halifax by air, the best way is to fly into Halifax Stanfield International Airport (YHZ). Located 34 km north of downtown Halifax and 28 km north of central Dartmouth, this airport offers domestic connections to the main cities in Canada, as well as several international routes to places in the US, Mexico and Europe.
Downtown Halifax is well-connected to other cities in East Canada by train. VIA Rail's Ocean service connects Halifax to Montréal with stops at Moncton, Mont-Joli, and Quebec City. Halifax Station is located downtown near the waterfront, 5.5 road km away from downtown Dartmouth. See train routes, schedules & fares.
You can also get straight into Dartmouth via bus. Maritime Bus Station is located in Dartmouth's centre and offers long-distance bus routes to other places in Nova Scotia, New Brunswick and Quebec, and the US New England Region. See bus routes, schedules & fares.
To move around town, Dartmouth has a very efficient public transport system consisting of several bus routes, ferry services, taxis, mobile applications and car rental offices.
The best area to stay in Dartmouth is Downtown. This central district offers the main historical and cultural sights in Dartmouth, as well as the hottest nightlife venues, dining options and top-rated hotels. Staying in downtown Dartmouth can also be cheaper than staying in Halifax. See accommodation in Downtown Dartmouth.
Other great areas to keep in mind when choosing the best location for tourists in Dartmouth include the Bedford Institute of Oceanography area and around Lake Micmac.
Keep reading to find out more about the best areas to stay in Dartmouth, NS.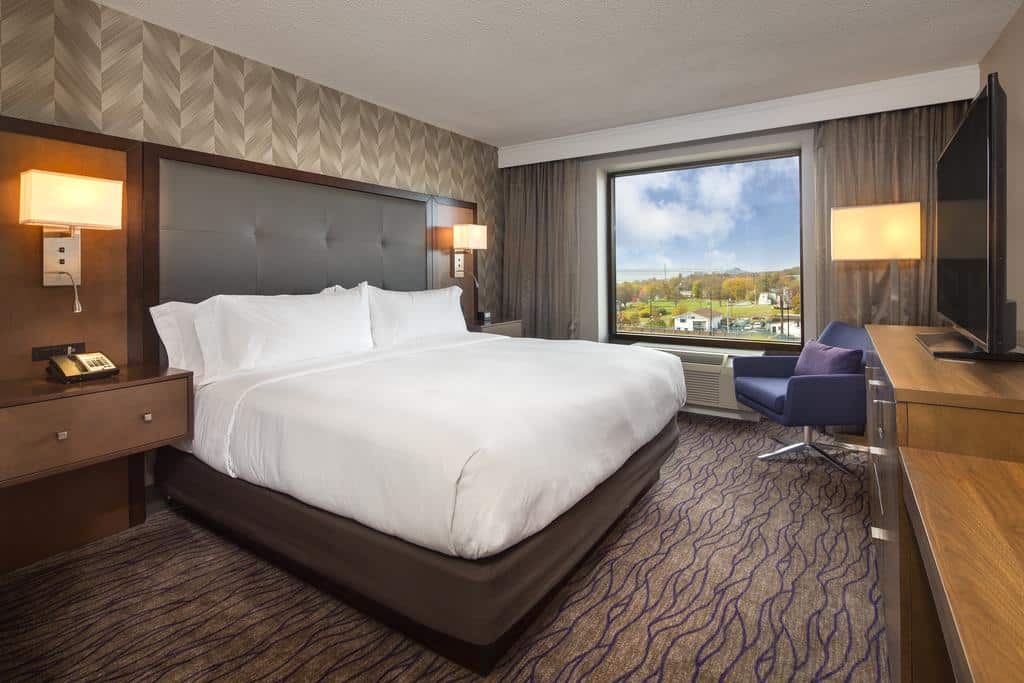 The Best Areas to Stay in Dartmouth, Halifax, NS
1. Recommended area: Downtown Dartmouth
Downtown Dartmouth is located near the Alderney Gate Ferry Terminal, the second-longest-running ferry service in the world and the oldest in Atlantic Canada.
Downtown is Dartmouth's is a business and financial centre, and, as such, it is home to many office complexes and high-rises, which creates an interesting contrast alongside the area's lakes and natural areas.
Around the ferry terminal, you'll find administrative buildings, as well as the city's post office, some banks and the World Peace Pavilion.
Likewise, just a few metres away is the famous Alderney Landing market. This iconic cultural landmark is at the same time an events centre, art gallery, marketplace, and theatre venue.
Not far, the Dartmouth Heritage Museum showcases the history, culture ans traditions of the former city of Dartmouth.
Downtown Dartmouth is also home to several lovely city parks offering breathtaking views of the harbour and Halifax including Ferry Terminal Park, the Dartmouth Commons and Sinnot Hill Park.
Portland, Queen and Ochterloney streets offer a great variety of restaurants and nightlife venues.
This district, in addition to being very pedestrian-friendly, has excellent public transport connections with the rest of the city via bus and ferry.
The ferry ride to downtown Halifax takes about 15 minutes and offers amazing views.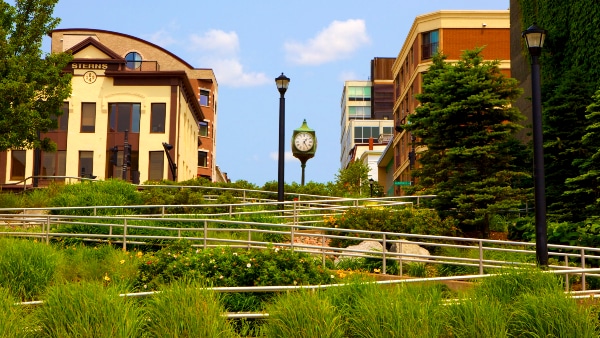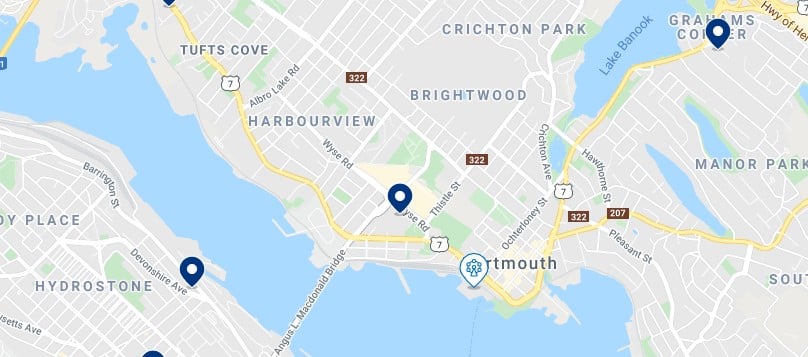 Why is this a recommended area to stay:
Near the ferry terminal
All kinds of hotels
Best area for sightseeing
Great food
Great public transport connections
Best area for business travellers
---
2. Near Bedford Institute of Oceanography
The Bedford Institute of Oceanography is located in northwest Dartmouth.
The Bedford Institute of Oceanography is Canada's largest ocean research centre, and it is certainly a must-stop when visiting Dartmouth.
In this area, there are also a large number of parks and recreation centres, in addition to schools and universities that give it a youthful atmosphere.
The Mackay Bridge, one of the entry points to the city, is another attraction of this area.
Like the rest of Dartmouth, there are many lakes here that function as parks and are perfect for photographing.
This is one of the best areas to stay in Dartmouth, Canada, because, although it is not so central, it has hotels of all kinds and good public transport connections.
---
3. Near Mic Mac Mall
The surroundings of the Mic Mac freshwater lake is a recommended area to stay in Dartmouth
Here is the city's largest shopping centre and the second-largest shopping centre in the Canadian Atlantic, Mic Mac Mall, making it the best area to stay in Dartmouth for shopping.
In the surroundings of the shopping centre, there are a good number of restaurants and more shops.
Parks are also a part of this area, but the most outstanding is the Shubie Urban Park, which occupies 160,000 m², is ten minutes away and can be reached by buses that depart from the shopping centre every half hour, by taxi or car.
This is a very pedestrian-friendly place.
---
Read this in other languages