Where to Stay in Virginia Beach – A Guide to this Coastal City
Virginia Beach is a city in the Commonwealth of Virginia. Located on the southeastern coast of the state, at the mouth of the Chesapeake Bay and the Atlantic Ocean, Virginia Beach is famous for being an important resort town with miles of beaches and an oceanfront promenade with restaurants, hotels, and attractions. In this post, we will explore the best areas to stay in Virginia Beach, VA.
For the most part, Virginia Beach is a largely suburban city. Its main urban core, where most sights are located, faces the coast. The main tourist attractions in Virginia Beach include the Virginia Beach Boardwalk, the Virginia Aquarium & Marine Science Center, the Virginia Museum of Contemporary Art, Neptune Statue, the Virginia Beach Surf & Rescue Museum, and the Atlantic Fun Park. See accommodation in Virginia Beach Oceanfront.
A few miles north of the city center lies First Landing State Park, a 2,888-acre natural and historical area with marshes and canoe trails offering a wide range of activities. Here you can go swimming, hiking, boating, or fishing. This natural preserve is also home to Cape Henry Lighthouse.
Other impressive protected areas in the Virginia Beach area include False Cape State Park and Back Bay National Wildlife Refuge.
Whale and dolphin-watching are old-time favorite activities for travelers visiting Virginia Beach. Whale season in Virginia takes place in the winter months (December through March), and you can see humpback and fin whales. Summertime, on the other hand, is great for spotting dolphins. Check out the best dolphin and whale-watching tours in Virginia Beach.
Due to its coastal location on the Chesapeake Bay, Virginia Beach has a humid subtropical climate with hot summers and mild winters. January temperatures typically range between 30 and 49 ºF (-2 to 9 °C). Meanwhile, in the summer, average temperatures hover between 69 – 88 °F (19 – 29 °C). The best time to visit Virginia Beach is during the summer (June through September); temperatures are ideal for the beach, dolphin sighting, outdoor activities, and sightseeing during this time of the year.
To get to Virginia Beach by air, the city is best served by Norfolk International Airport. Located 18 miles west of the oceanfront area, this airport offers domestic connections to several destinations in the US, including Atlanta, Orlando, Phoenix, New York, Baltimore, Philadelphia, and Chicago.
Virginia Beach is indirectly connected by train. Amtrak services reach both Newport News and Norfolk from the US Atlantic Coast's main cities like Washington DC, Baltimore, Philadelphia, New York, and Boston. You can catch Amtrak's Thruway connecting bus links to Artic Avenue, right in the Oceanfront from either station. See train routes, schedules & fares.
When it comes to moving around the city, Virginia Beach's public transportation system, operated by ​​​​​​​​​​​​​​​​​​​​​​Hampton Roads Transit (HRT), consists of several bus routes. The city's beaches and main Oceanfront core are easy to explore on foot, but the car is still the best way to reach the outlying areas and natural sites. Virginia Beach also has Uber and Lyft services, and you can always choose to rent a car for your trip.
The best area to stay in Virginia Beach, VA, is the oceanfront. This central area near the beach is home to the city's main tourist attractions, hottest nightlife, and top-rated restaurants. Virginia Beach Oceanfront is also where the best hotels in town, budget to luxury, are located. See accommodation in the Virginia Beach Oceanfront.
Another great location in Virginia Beach, especially for families, is the city's North End.
Keep reading to find more about the best areas to stay in Virginia Beach, VA.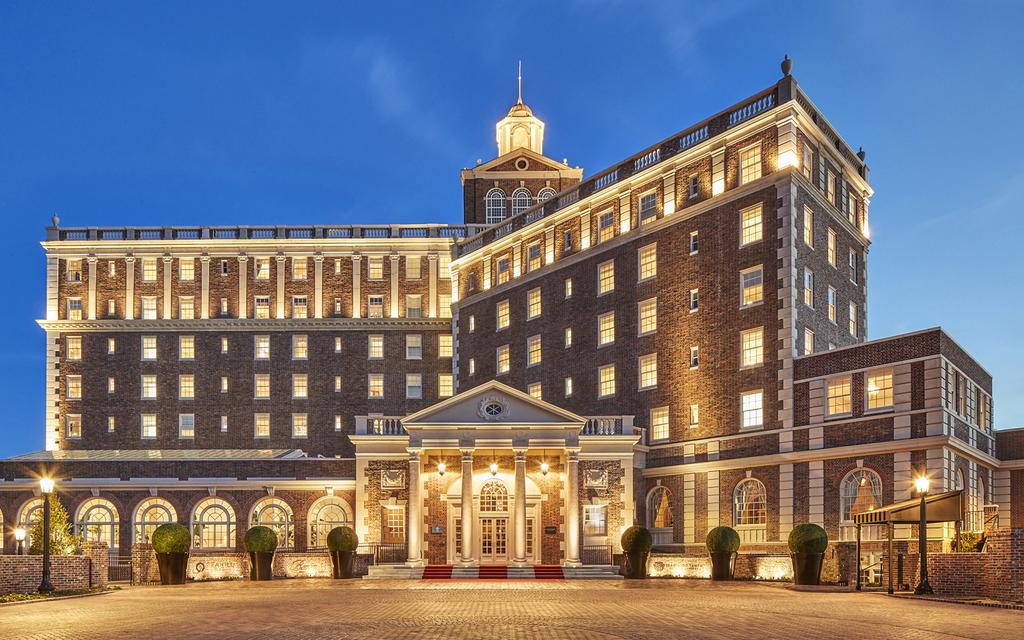 The Cavalier Virginia Beach, Autograph Collection

Set in Virginia Beach, 0.7 mi from Virginia Beach, The Cavalier Virginia Beach, Autograph Collection offers accommodations with a restaurant, private parking, a fitness center, and a bar. Among the facilities at this property are a 24-hour front desk and room service, along with free WiFi throughout the property. The hotel features an indoor pool, hot tub, and a business center.
The Best Areas to Stay in Virginia Beach, Virginia
1. Recommended area: Virginia Beach Oceanfront
As it couldn't be any other way, the Oceanfront District is packed with hotels for all tastes and budgets. Here, you have your run-of-the-mill inexpensive chains like Days Inn, big-brand hotels like the Marriott Virginia Beach Oceanfront, and luxurious design properties like The Cavalier Virginia Beach.
The Oceanfront district is considered Virginia Beach's downtown area.
Because this resort town is especially famous as a beach destination, we couldn't think of a better area to stay in to enjoy whole days on the beach, play in the sand and enjoy the sea views.
The most important attraction in the heart of Virginia Beach is the city's Boardwalk, a seaside promenade featuring live-music shows, craft kiosks, restaurants, cafés, and a variety of bars.
Perhaps the main sight on the boardwalk is King Neptune, a 12-ton bronze sculpture guarding the beach.
For art lovers, there is the Boardwalk Art Show and the Virginia Museum of Contemporary Art, located on Parks Avenue, near the coast.
Nearby, you'll find the ViBe Creative District, a hipster-friendly area offering street art, galleries, cafés, and shops.
For nightlife and dining, the 3-mile-long promenade is packed with restaurants ranging from inexpensive eateries to the most refined seafood places; bars, nightclubs, and pubs.
Virginia Beach is also a great area for shopping. The boardwalk is dotted with all kinds of retailers, from high-street stores to upmarket boutiques. Additionally, this area is home to a few malls like 31Ocean and Linkhorn Shoppes.
The best way to get around the Oceanfront and beach area is by bike or on foot. If you arrive in the city by car, there are several parking places in the area.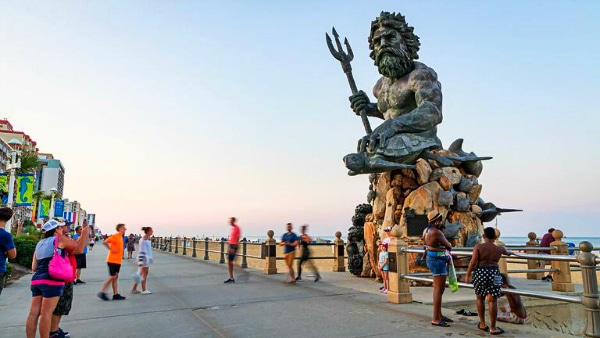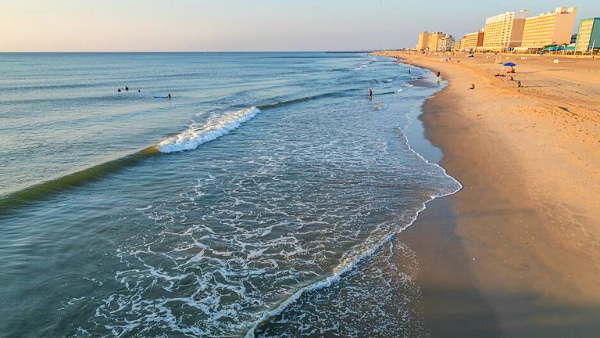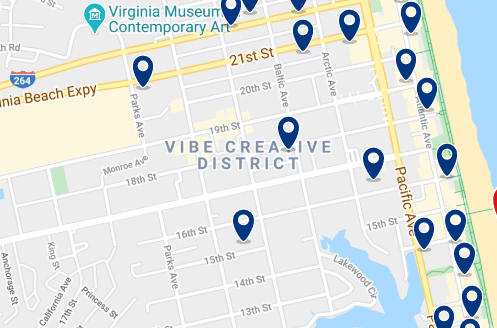 Why is this a recommended area to stay:
Hotels with views
Museums and galleries
Best area for sightseeing
Best area for nightlife
---
2. North End & Chesapeake Beach
North Virginia Beach is rife with tourist apartments, holiday homes, and a few hotels, including Travelodge by Wyndham Virginia Beach Bay Beach.
North from the Oceanfront District, you'll find the North End beaches. This mainly residential district offers the quieter, less crowded face of the Virginia seaside resort town.
With a more suburban atmosphere, the North End is probably the best area to stay in Virginia Beach for travelers looking for a peaceful and quiet vacation.
Keep moving north and you'll come across the First Landing State Park and Fort Story.
First Landing State Park, Virginia's first planned state park, is situated at Cape Henry. A perfect mix between nature and history, this park occupies the site of where British colonists first landed in 1607. The park includes cabins and camping sites, a public beach for swimming and boating, and over 19 miles of hiking trails.
Fort Story is home to a naval base and the Cape Henry Lighthouse.
Nearby Chesapeake Bay is home to Chick's Beach, a more local and laid-back area with calmer waves and several restaurants and bars.
Because of its calm waters, Chesapeake Bay is the best area to stay in VA Beach for families.
---
Read this in other languages