Where to Stay in Ann Arbor – A Guide to the City of the University of Michigan
Ann Arbor is a city in the state of Michigan, in the United States. This city is an hour's drive from Detroit and is known for its university community, nightlife, festivals, and football matches.
Ann Arbor has a love for arts and is home to a fun-filled, pedestrian-friendly Downtown where you can enjoy a coffee, shop at upscale stores or experience the city's vibrant cultural movement.

As for the weather, this city is divided into hot summers and icy, windy winters. Therefore, the best time to visit Ann Harbor and see most of its attractions is during the summer. As it is a small city, Ann Arbor is easy to get around, admiring the works of its art galleries or visiting its parks and green areas that are ideal for the whole family.
Ann Arbor is a small, charming city that allows you to enjoy a quiet time, away from the characteristic hustle and bustle of the great cities of the United States.
Traveling to Ann Arbor allows you to enjoy activities such as soccer games, shopping, and dining on East Liberty Street, enjoying a show at the Michigan Theater, visiting the Nichols Arboretum and more.
Ann Arbor also stands out for being the seat of the University of Michigan and, therefore, for its youthful atmosphere.
Ann Arbor can be reached by Amtrak train from cities such as Detroit and Chicago. In addition, the city has a small municipal airport, but when it comes to flights, the best option is to get there from Detroit International Airport, located 30 minutes away by car.
The transportation system within the city consists of buses that run through its main avenues.
The best area to stay in Ann Arbor is Kerrytown , an ideal neighborhood for walking and where there are hotels of all kinds. (See accommodation in Kerrytown).
Here's a guide with the best areas to stay in Ann Arbor, Michigan.
The Best Areas to Stay in Ann Arbor, Michigan
1. Our Favorite Area: Kerrytown
Kerrytown is an area surrounded by trees and full of historical places.
It is the most important neighborhood in Ann Arbor for being the seat of the prestigious University of Michigan.
This historic district, with its brick buildings, includes Main Street, one of the city's most important shopping streets, making this one of the best areas to stay in Ann Arbor for shopaholics.
Several iconic sites such as the Ann Arbor Farmers Market, the Kerry Concert House, and the Ann Arbor Hands-On Museum, a children's science museum, are located in Kerrytown.
This area is popular for being the scene of festivals in support of the LGBT community, as well as parades and events every year.
For lovers of good food, Kerrytown is the best area to stay in Ann Arbor, with its wide range of restaurants of all kinds.
Shopping lovers will love the Kerrytown Market & Shops, a mall, as well as Found, one of the area's most upscale stores that have its own art gallery.
Kerrytown is the best area to stay in Ann Arbor because it is pedestrian-friendly, it has hotels of all types and it is close to the Amtrak station that connects with Chicago and Detroit.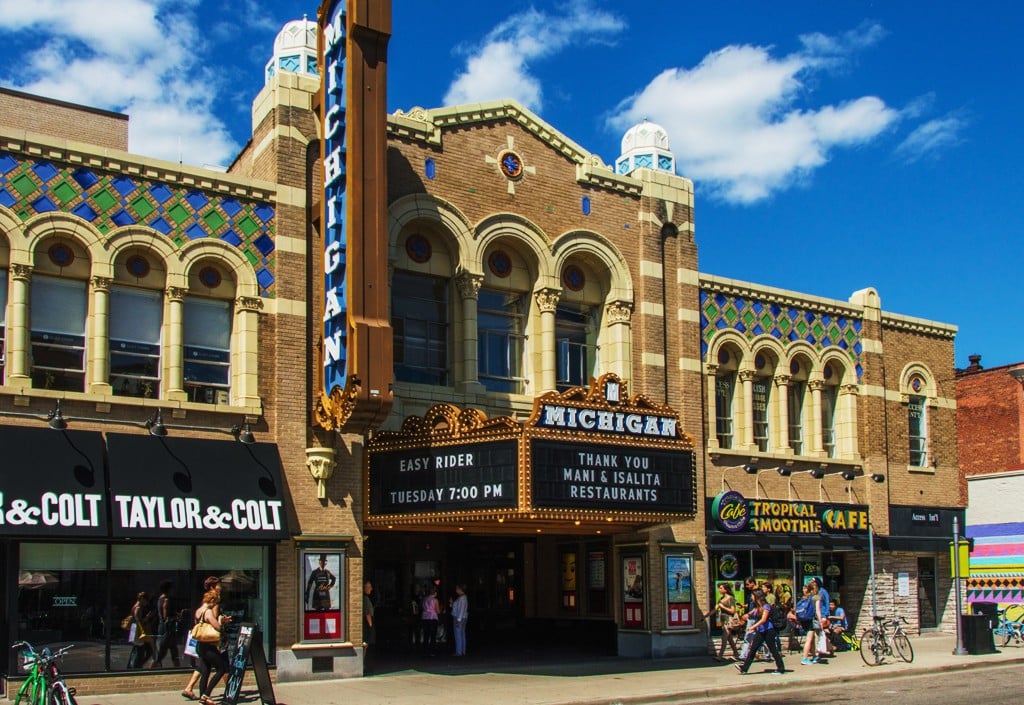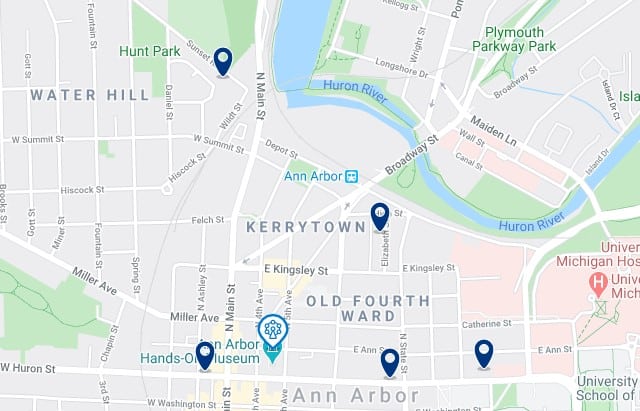 Why is this a recommended area to stay in Ann Arbor:
Best area for sightseeing
Heart of the city
Ann Arbor Amtrak station
Great restaurants
Ann Arbor Hands-On Museum
Pedestrian-friendly
---
Read this in other languages