Where to Stay in Chihuahua – a Guide to this Historic Mexican City
Chihuahua City is the capital of the namesake state. Located in the northwest of Mexico, not far from the United States border, Chihuahua is known for its colonial architecture and for being a business, industrial and economic center in Northern Mexico. In this post, we will discover the best areas to stay in Chihuahua City.
The main cultural attractions in Chihuahua's center include the Metropolitan Cathedral of Chihuahua, Centro Cultural Universitario Quinta Gameros, Casa Chihuahua, and the Palacio de Gobierno. See accommodation in Chihuahua Centro.
Other important attractions in Chihuahua include the Museo Histórico de la Revolución, the Colonial Aqueduct, Plaza del Sol Shopping Center, Lerdo Park, or Museo Semilla.
Outdoorsy types, nature lovers, and those traveling with kids will enjoy attractions like Nombre de Dios Caves, Museo Botánico del Cactus, Museo del Mamut, and the amazing sights in the Copper Canyon area in the nearby Sierra Madre Occidental.
Due to its location in the desertic region of Northern Mexico, Chihuahua has a semiarid climate. Winters are mild and especially dry, with temperatures that typically range between 2 and 18 ºC. Meanwhile, during the summer, average temperatures usually hover between 19 and 32 °C but can sometimes reach 40 ºC. The best time to visit Chihuahua is during the spring and autumn (March to June and again October to December) as temperatures are still pleasant enough to enjoy outdoor activities, and you get to avoid the summer's scorching heat.
To get to Chihuahua by air, the city is served by the Chihuahua International Airport. Located 17 kilometers northeast of the City Center, this airport offers domestic connections to several destinations in Mexico and a handful of international services to cities in the US.
Chihuahua is also connected by the Ferrocarril Chihuahua Pacifico (CHEPE) railway line and a well-developed network of long-distance buses to most Mexico cities. See bus routes, schedules & fares.
Chihuahua's public transportation consists of a rapid bus network known as Metrobus Chihuahua, several traditional bus lines, taxis, and rental cars. To reach the outlying districts and the great natural areas around the city, the best way to enjoy Chihuahua is by car. You can rent a cheap car in Chihuahua here.
The best area to stay in Chihuahua is the City Center. This historic and well-connected district is home to the city's main cultural landmarks, best hotels, and nightlife. See accommodation in Chihuahua Centro.
Keep reading to find out more about the best location for tourists in Chihuahua, Mexico.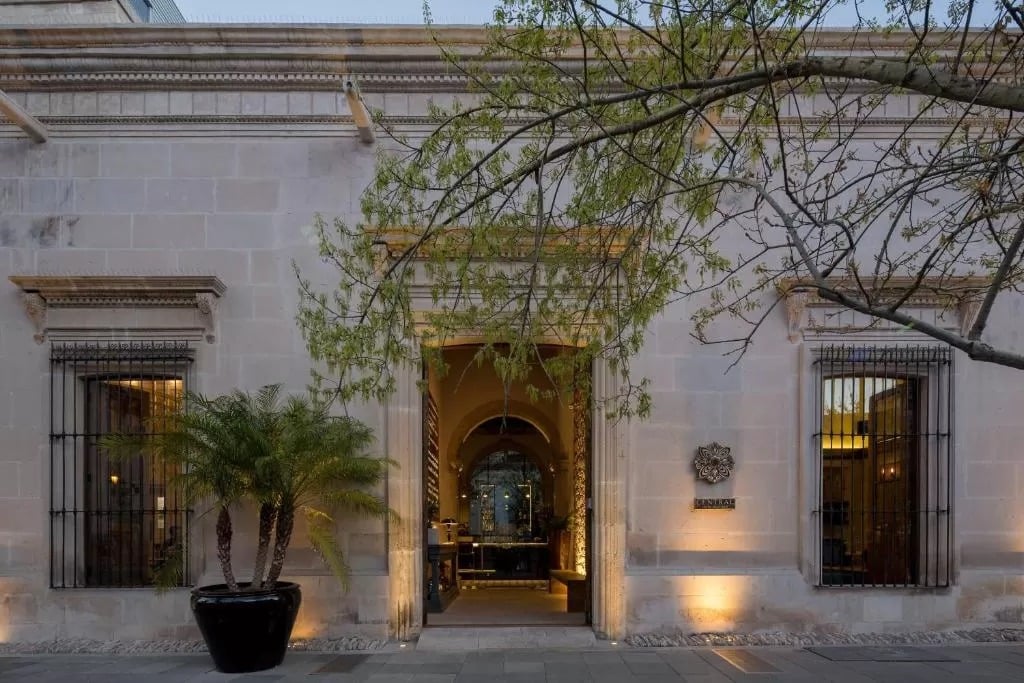 Central Hotel Boutique

Located in Chihuahua, a few steps from Catedral de Chihuahua, Central Hotel Boutique provides accommodations with a garden. Boasting a 24-hour front desk, this property also provides guests with a restaurant. Museo Casa Chihuahua is less than 0.6 mi from the hotel.
The Best Areas to Stay in Chihuahua, Mexico
1. Recommended area: Historic Center
Chihuahua City Center is where most of the historical landmarks in the city are located.
Some of the most iconic attractions are the Cathedral, the Revolution Park, and the many museums.
Chihuahua Center is also the best neighborhood to stay in Chihuahua for family trips, especially for its manicured city parks, full of beautiful trees, including the Parque de la Revolución or Revolution Park.
The Mammoth Museum is located here and, in it, you can see ancient fossils from various species of extinct animals.
Another place that is worth a visit here is the Quinta Gameros University Cultural Center, with one of the most beautiful in Chihuahua.
The Cathedral, with an American Baroque-style facade, has a cross-shaped niche with the image of the Christ of Mapimí, a symbol of the city.
Similarly, Libertad Street, with its many restaurants, clothing stores, and bars, is a must-see in Downtown Chihuahua.
Chihuahua City Center is, without a doubt, the best area to stay in Chihuahua as it also has hotels of all kinds for every traveler's budget.
In addition, this is one of the best areas to stay in Chihuahua because of how pedestrian-friendly it is.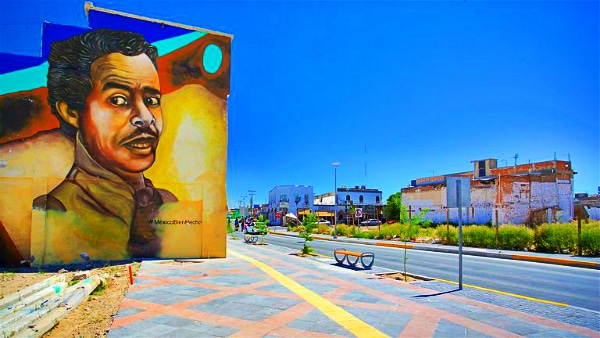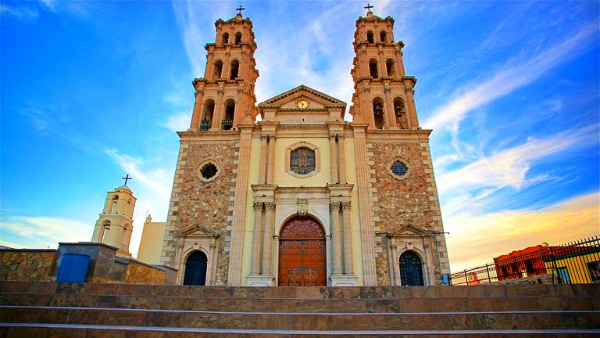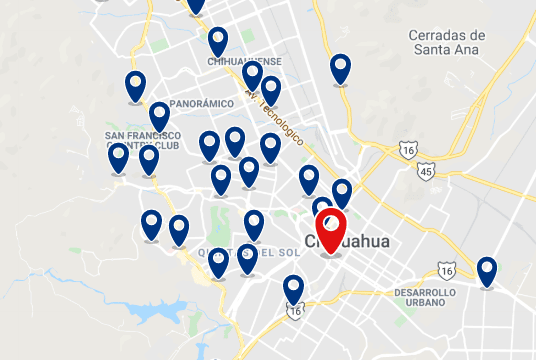 Why is this a recommended area to stay in Chihuahua:
Heart of the city
Great transport connections
Best area for sightseeing
Cathedral and museums
---
Read this in other languages