Where to Stay in Evansville – A Guide to This City in Indiana
Evansville is a small city located in the state of Indiana, next to the Ohio River, in the United States.
Often referred to as "the river city," this destination is home to the University of Evansville and the University of Southern Indiana, which gives a youthful atmosphere to the city.
Places to visit during a stay in Evansville include Wesselman Woods, the oldest urban forest in the United States, located in the Downtown area. This tourist attraction is especially recommended in the fall.
The best time to visit Evansville is from May to September when the weather is nice and ideal for outdoor activities.
Another park to visit is Burdette, located on the west side of the city. Nearby this attraction, you will find accommodation options including cabins and chalets.
The Fall Festival, an Evansville tradition with over 100 years of history, is one of the city's most popular events, with food, games and live entertainment for all audiences.
Evansville has a regional airport, which connects to nearby cities.
Getting around Evansville by car is easy since parking spots are available in several areas, especially Downtown.
However, buses and taxis are also good options when moving around Evansville.
The best area to stay in Evansville is Downtown because it is where the events of the city take place, as well as where the best accommodation is (See accommodation in Downtown Evansville).
Here's a guide with the best areas to stay in Evansville, Indiana.
The Best Areas to Stay in Evansville, Indiana
1. Our Favorite Area: Downtown Evansville
Downtown Evansville is a renovated area, with things to see around every corner, hotels of all kinds, convention centers, and entertainment.
Downtown Evansville is an area full of high-quality gastronomy, with restaurants that will satisfy the most demanding foodies.
Getting around Downtown Evansville is easy as it is a very pedestrian-friendly area, but it also has bus lines that connect it to other districts.
Plus, there are plenty of parking spaces here, making it a good area to stay in Evansville with a car.
Among the attractions of this area is the Ohio River, bordered by a path full of trees that are very scenic when you take a bike tour around this district.
Classic Victorian architecture is also part of Downtown, which can be seen in places like the Reitz Home Museum, churches, and some residential buildings.
Among the museums that are part of Downtown Evansville are the Children's Museum, the Art Museum, the Transportation Museum, and the African American Museum.
Downtown Evansville is the best area to stay Evansville for mixing culture with nature and business.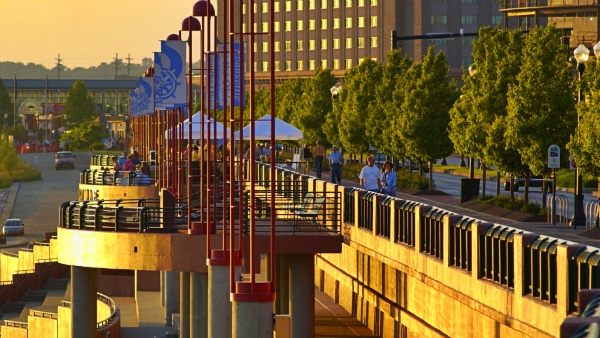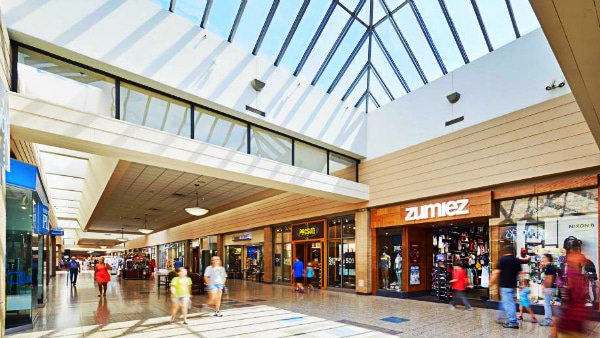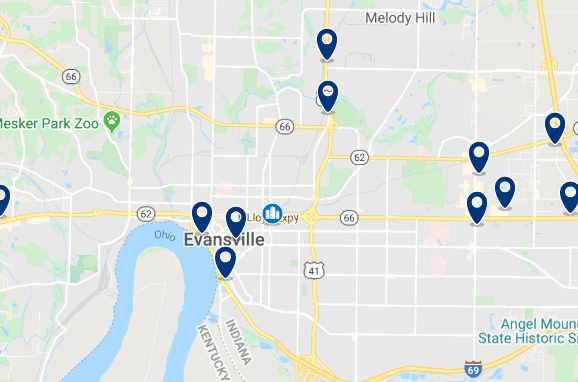 Why is this a recommended area to stay in Evansville, IN:
Best area for business travelers
Museums and festivals
Pedestrian-friendly
---
Read this in other languages