Where to Stay in Louisville – A Guide to Derby City
Louisville is the largest and most populated city in Kentucky. Located on the Ohio River, along the border between Kentucky and Indiana, Louisville is famous for the Kentucky Derby horse race, for being Muhammad Ali's birthplace, and serving as headquarters to many important American companies KFC. In this post, we will explore the best areas to stay in Louisville, KY.
The main attractions in Louisville's City Center include the Muhammad Ali Center, Waterfront Park, the Louisville Slugger Museum & Factory, the Cathedral of the Assumption, KMAC Museum, the Thomas Edison House, and The Frazier History Museum. See accommodation in Downtown Louisville.
A couple of miles south lies charming Old Louisville, with old mansions and tourist sights like Central Park, the Conrad-Caldwell House Museum, or The Filson Historical Society. See accommodation in Old Louisville.
For horse racing fans, Louisville is home to Churchill Downs, famous for hosting the annual Kentucky Derby.
Other important attractions in Louisville include Louisville Zoo, The Speed Art Museum, and Cave Hill Cemetery.
Due to its location on the Ohio River, Louisville has a humid subtropical climate. That means that winter temperatures typically range between 27°F and 43ºF (-3 to 6 °C). Meanwhile, in the summer, average temperatures hover around 69 – 88 °F (20 – 31 °C). The best time to visit Louisville is from late spring and into the fall (March through November), as temperatures are comfortable for outdoor activities and sightseeing during this time.
To get to Louisville by air, the city is served by the Louisville Muhammad Ali International Airport. Located 6 miles south of Downtown Louisville, this major airport is the second-busiest in Kentucky (after Cincinnati) and offers domestic connections to several US cities like Chicago, Los Angeles, Dallas, Atlanta, Orlando, and Miami.
Louisville doesn't have active passenger rail services, but a network of long-distance buses connects it to destinations in Kentucky, Ohio, Indiana, and other US Midwest cities. See bus routes, schedules & fares.
When it comes to moving around the city, Louisville has a public transportation system consisting of fixed-route buses operated by TARC. That said, cars are still the best way to get around town. Louisville is also served by Uber and Lyft services, and you can always choose to rent a car during your stay.
The best area to stay in Louisville, KY is the Waterfront Park area. This riverside section of Downtown Louisville is home to the city's main cultural attractions, nightlife, restaurants, and some of the best hotels in town. See accommodation in Waterfront Park.
Other great areas to keep in mind when choosing the best location in Louisville are Old Louisville, Downtown, and Louisville East.
Keep reading to find more about the best areas to stay in Louisville, KY.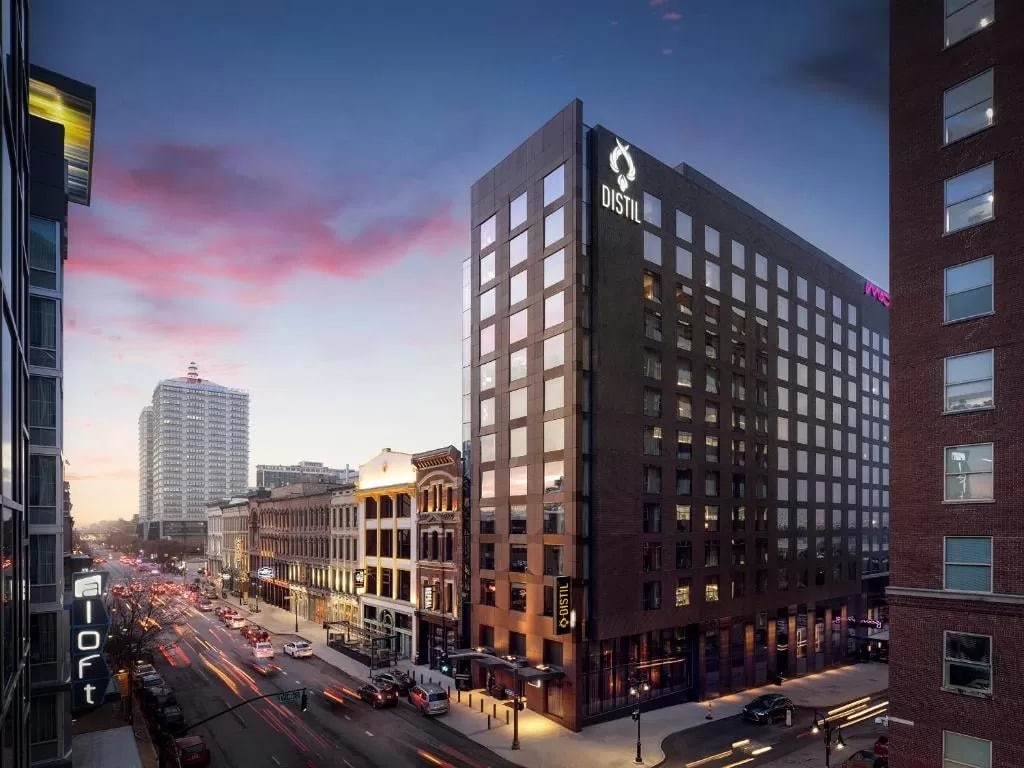 ---
Best Location in Louisville, Kentucky: A Quick Guide
Below, you'll find a list of the best areas to stay in Louisville depending on your travel style and what you may be planning to do during your trip. Keep reading below to find all the specific information you need about each particular area mentioned here.
---
Best Hotels in Louisville, KY by Theme
Something more specific in mind? Here's a list of some of the best hotels in Louisville. No matter your reason for visiting the city or style, you'll find it here!
---
The Best Areas to Stay in Louisville, Kentucky
1. Recommended area: Waterfront Park
Located on the banks of the Ohio River and occupying the north end of the Downtown District, Waterfront Park is the best area to stay in Louisville.
Some of the accommodations located in Waterfront Park offer breathtaking views of the city and the Ohio River.
Some of the most visited sites in Louisville are in this neighborhood, including the Thomas Edison House and the Muhammad Ali Center.
The Belle of Louisville riverboat is an 1914 steamboat harbored next to the Riverfront Plaza. It holds the all-time record in its class for miles traveled, years in operation, and places visited.
The best thing about staying near Waterfront Park is that it is home to great restaurants, shops, as well as several Bourbon distilleries offering tastings and special activities.
Getting around this area is easy, you can use a bicycle, as it boasts several bike lanes, or walk on its pedestrian-friendly streets.
To move to other parts of the city, you can take a bus, taxi, or Uber.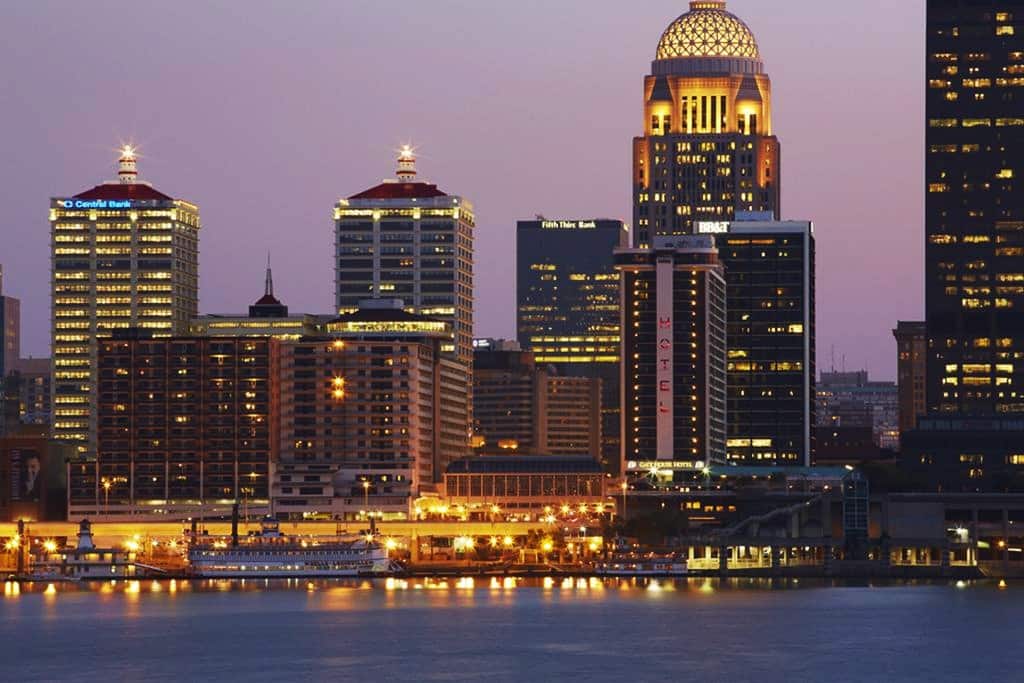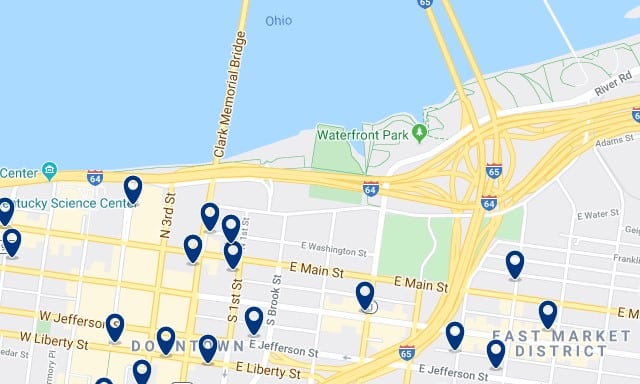 Why is this a recommended area to stay in Louisville, KY:
Best area for sightseeing
All kinds of hotels
Great views
Pedestrian-friendly
Best area for shopping
---
2. Old Louisville
Old Louisville is one of the most visited areas in the city.
Located south of the downtown district, this lovely area has the largest collection of restored Victorian homes in the United States.
Originally built as a suburb in the 1850s, Old Louisville has nearly 48 blocks of Victorian houses, many of which offer accommodation.
The beautiful Old Louisville neighborhood has attractions like St. James Court and parks like Central Park.
Old Louisville is an easy area to get around on foot, so renting a car or taking the bus will only be necessary if you want to get to another neighborhood.
This is also home to Whiskey Row, the largest whiskey-producing company in Kentucky, as well as fashion stores and upscale restaurants.
Old Louisville is a recommended area to stay in Louisville.
---
3. Downtown Louisville
Downtown is one of the best areas to stay in Louisville for its shops, cuisine and excellent hotels, as well as for hosting some gay-friendly bars.
Downtown Louisville is located north of Old Louisville and next to Waterfront Park, making it the area with the best public transport connections in the city.
Places to see in Downtown are the Kentucky Science Center, the Kentucky International Convention Center, and the Louisville Slugger Museum & Factory.
If you have time, it's good to visit fashion stores and boutiques and sample southern flavors at restaurants in the are, or even head to Waterfront Park for a boat ride.
Like the previous areas, Downtown is easy to explore on foot, especially when the sun goes down and its bars are full of locals and tourists looking to try the best Bourbon in the area.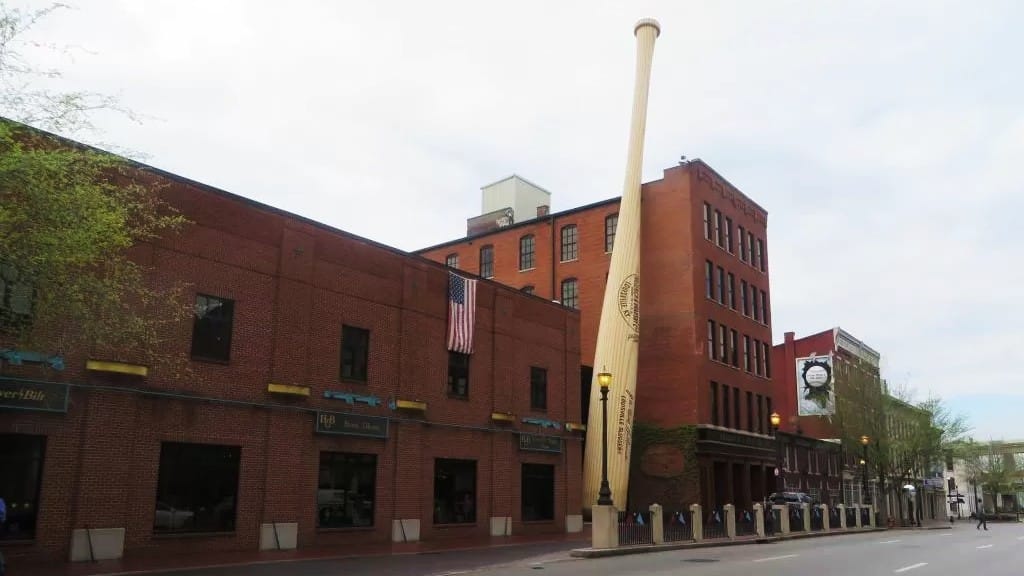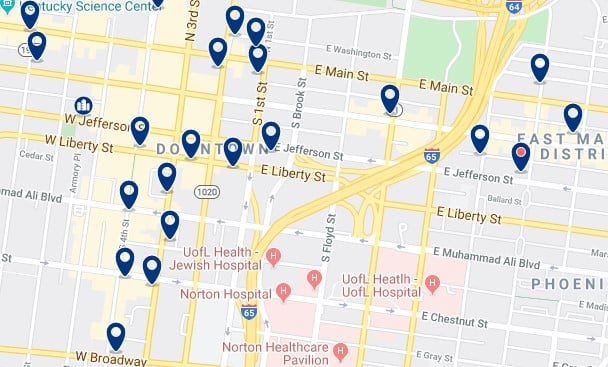 Why is this a recommended area to stay in Louisville, KY:
Best area for nightlife
Kentucky International Convention Center
Kentucky Science Center
---
4. Louisville East
Louisville East is a quiet area to stay in Louisville that, being far from the main tourist attractions, offers cheap accommodation in Louisville.
Staying in Louisville East allows you to experience the best of the southern gastronomy.
East Louisville is home to some major neighborhoods like Butchertown, an area with huge fashion stores, coffee shops offering artisan chocolate, and more.
Cherokee Park is also located in eastern Louisville, one of the most beautiful parks in the city, designed by Frederick Law Olmstead.
Visiting the park during the summer is a good idea since the pleasant climate allows you to visit the Hogan Fountain, have a picnic, bird watch and learn about the variety of plants that in the place.
The Louisville East area is a bit far from the rest of the city, but it has bus connections.
---
Read this in other languages