Where to stay at Niagara Falls – A guide to this natural wonder
The iconic Niagara Falls are one of the 7 Natural Wonders of the World and a destination that should, definitely, be visited on the border between Canada and the United States.
Visiting this famous tourist attraction is possible throughout the year, although, during the winter, the waterfalls offer photogenic landscapes that, given the extreme weather conditions, require proper clothing.
In the winter, many activities in the Falls are suspended due to the weather. However, hotels offer great discounts to attract travelers during that season.
Spring and fall are the best times to visit Niagara Falls since, during the summer, a wave of tourists arrives at the Falls and outdoor activities are available and, therefore, accommodation prices are higher..
Transportation options at Niagara Falls include buses and rental cars.
The closest airports to the area are Buffalo, Toronto or Rochester, where buses or taxis are available to move to the Falls.
Niagara Falls is surrounded by districts full of attractions and hotels. However, the main area to stay is Fallsview because it is the centre of events. See accommodation in Fallsview.
Here's a guide with the best areas to stay in Niagara Falls, Ontario, Canada.
The best areas to stay in Niagara Falls, Ontario
1. Our favourite area: Fallsview
Fallsview consists of a boulevard in the area of Niagara Falls with a wide range of accommodation and entertainment options for all kinds of travellers, whether they are on a romantic getaway, family trip or solo adventure.
This modern district offers its visitors the best restaurants and breathtaking views of the Falls, as well as shopping centres with large stores.
Fallsview is located a few minutes from one of the three waterfalls: The Horseshoe Falls.
The boulevard has a large number of souvenir stores and movie theatres, as well as spaces for skydiving and a whale aquarium, to name just a few attractions.
Walking this area on foot is easy, but to move to other places around Niagara Falls, you can take a bus or taxi.
Fallsview is one of the best areas to stay in Niagara Falls for its variety of accommodation, views, shops, wine tasting cellars and entertainment.
---
2. Downtown Niagara Falls
Downtown Niagara Falls is the financial district of the city.
This district is full of offices, large companies and government buildings, making it the best area to stay in Niagara Falls for business travellers .
The Downtown includes important commercial areas in Niagara Falls, like the low part of Bridge Street, Erie Avenue and River Road.
Due to its central location, the Downtown connects with other neighbourhoods through buses and car rentals, which makes it the best-connected area of Niagara Falls.
A benefit of staying in Downtown Niagara Falls is that it has a wide variety of hotels to suit all tastes and is located close to the main attractions of the city.
Downtown is recommended as one of the best areas to stay in Niagara Falls, for its contribution to Canadian culture, as it has several museums.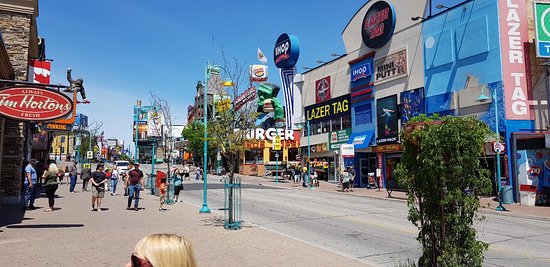 Why is this a recommended area to stay in Niagara Falls:
Great transport connections
Best area for business trips
All kinds of accommodation
---
3. Lundy's Lane
Lundy's Lane is a neighbourhood of Niagara Falls, Ontario , full of a vibrant atmosphere, no matter the time you visit, whether the summer heat fills the air or the coldest days of winter arrive.
This district has golf courses, water parks, theatres, bars with live music and many shops.
The culinary scene at Lundy's Lane is notable for its restaurants with meals ranging from delicious seafood, wines or Mediterranean dishes to traditional Canadian flavours
This area is also near the falls and offers a large number of souvenir shops and fashion stores, so it is one of the best areas to stay in Niagara Falls for shopping.
The Lundy's Lane area is recommended as one of the best areas to stay in Niagara Falls due to its wide variety of hotels and entertainment venues.

---
4. Clifton Hill
Clifton Hill is located on a famous avenue, in the area known for its locals as the "street of fun" in Niagara Falls.
This street is popular thanks to its attractions, restaurants and gift shops. In addition, it also has a cultural offer that includes museums, theatres, entertaining haunted houses and casinos.
Along Clifton Hill, there are many hotels with different costs, from luxurious rooms to the most comfortable, yet affordable accommodations.
Other sites that deserve a visit in Clifton Hill are the gigantic Skywheel and the Water Park.
Clifton Hill can be explored on foot, but the area also has buses and taxis to travel to other districts.
The fun in this district does not end at sunset, for those seeking nightlife, in Clifton Hill, there are bars and clubs with live music and tasty cocktails.
Clifton Hill is another of the best areas to stay in Niagara Falls for being the main centre of entertainment in the city.
---
Read this in other languages
|ES| Dónde alojarse cerca de las Cataratas del Niágara, Canadá