Where to stay in Niagara Falls – A Guide to the Canadian Side
Niagara Falls is a city in southern Ontario. Located on the western bank of the Niagara River, on the border with the US state of New York, this transnational community is famous, as it couldn't be otherwise, for Niagara Falls, a group of three 50-metres-tall waterfalls, the biggest in North America and one of the most visited natural sites on the continent. In this post, we will explore the best areas to stay in Niagara Falls, ON.
While you can get a great view of Niagara Falls from both sides of the border, the Canadian is arguably better. The Ontario side offers an excellent panorama of both the Niagara and the impressive Horseshoe Falls. Furthermore, Niagara Falls, ON, is described by visitors as slightly more classy and less touristy than its New Yorker counterpart. The great news is that, if you come from the US side, both communities are linked through the International Rainbow Bridge, and you can easily walk, bike or drive to the other side.
Perhaps unsurprisingly, most people travelling to this corner of Ontario come to admire the gorgeous Niagara Falls. That said, this region is also home to several other natural, cultural and tourist attractions. Other sights in the Niagara Falls district of Fallsview include Horseshoe Falls, Journey Behind the Falls, the Skylon Tower, the Fallsview Casino Resort, Fallsview Boulevard and Queen Victoria Park. See accommodation in Fallsview.
Clifton Hill, located directly north of Fallsview is also very lively and home to many family-friendly attractions including the Niagara SkyWheel, the Nightmares Fear Factory, the Niagara Speedway, Movieland Wax Museum Niagara Falls, Dinosaur Adventure Golf, Ripley's Believe It or Not! and Zombie Attack Niagara Falls. Needless to say, Clifton Hill is the best area to stay in Niagara Falls with kids or teenagers. See accommodation in Clifton Hill.
Other unmissable attractions in Niagara Falls include the Whirlpool Aero Car, the Butterfly Conservatory and Niagara Glen Nature Centre.
Due to its location in the southeast of Ontario, Niagara Falls has a humid continental climate. Weather conditions are moderated by the Great Lakes and the area experiences four distinct seasons. Summers are warm and prone to heatwaves. Average temperatures in July typically range between 14 and 26 ºC. Meanwhile, winters are cold but milder than other places in Canada. January temperatures usually stay between -7 and -1 ºC, but sometimes reach positive levels. The best time to visit Niagara Falls is from mid-spring to late fall (May through November) when temperatures are pleasant enough for outdoor activities and sightseeing. Additionally, during the summertime, the fall's water flow reaches its peak.
To get to Niagara Falls by air, the city is best served by the Buffalo Niagara International Airport. Located 70 km central Niagara Falls (ON), on the US side, this airport offers connections throughout the US and some international flights to Mexico. For domestic Canadian connections and a wider range of international flights (including long-haul flights from Latin America, Europe and Asia), the best way to reach Niagara Falls is through Toronto Pearson International Airport, located 125 km away.
Niagara Falls is also connected by train. Niagara Falls Station, located in the city centre, offers GO commuter train connections to Toronto Union Station on the Lakeshore West line. Additionally, the Maple Leaf international train connects the city to Toronto (via St. Catharines) and New York (via Niagara Falls, NY, Buffalo and Albany). See train routes, schedules & fares.
You can also get to Niagara Falls via long-distance buses. Companies like Megabus and Greyhound offer Canadian and international connections. See bus routes, schedules & fares.
To move around town, Niagara Falls has a very efficient public transport system consisting of regular bus routes and tourist shuttles. This city also offers taxis, mobile apps like Uber, and you can choose to rent a car for your trip.
If you're travelling without a car, the best way to move and reach the incredible natural spaces in the region is by booking tours and activities with transportation. You can check out the top-rated guided tours, activities and excursions here.
The best area to stay in Niagara Falls is Fallsview. This lively central area is the closest to Niagara Falls. Fallsview offers great restaurants, nightlife venues and top-rated hotels, some of which offer breathtaking views of the falls. See accommodation in Fallsview.
If you're visiting the city with kids or teenagers, the Clifton Hill area north of Fallsview is home to the best family-friendly attractions. See accommodation in Clifton Hill.
Other great districts to keep in mind when choosing the best location in Niagara Falls for tourists include the City Centre, Lundy's Lane and the American side.
Keep reading to find out more about the best areas to stay in Niagara Falls, ON.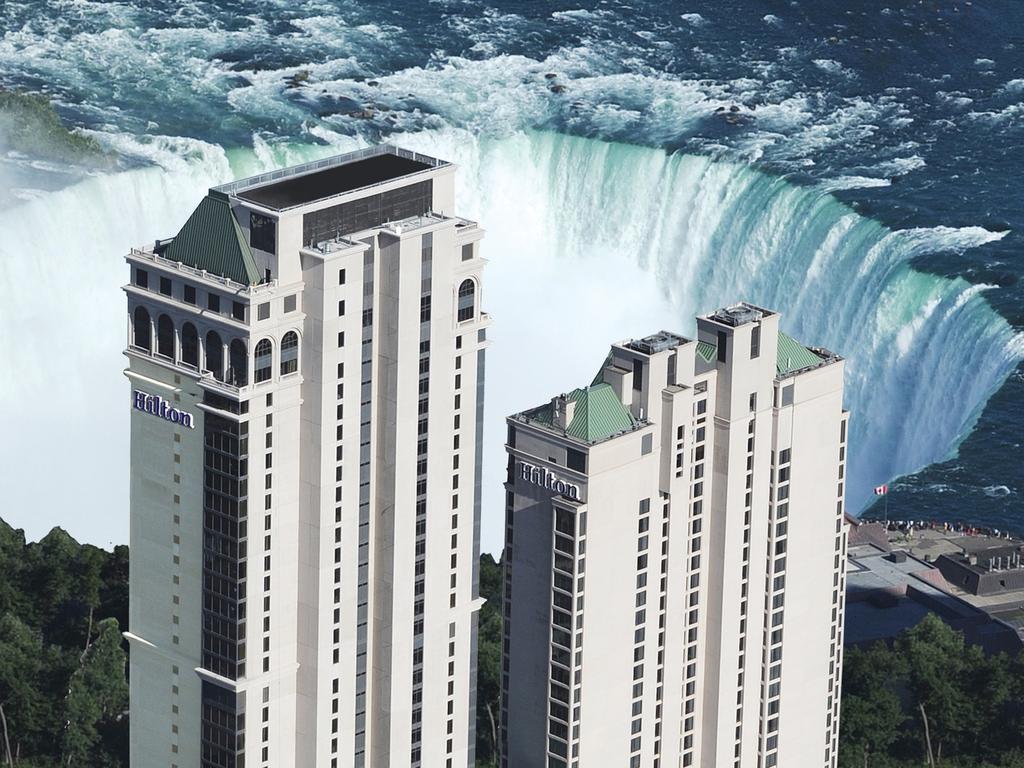 Hilton Niagara Falls/ Fallsview Hotel and Suites

Connected to the Fallsview Casino's Entertainment Centre by a heated and air-conditioned indoor glass walkway, this hotel boasts an indoor pool and 3 on-site restaurants. Many area attractions, including Journey Behind the Falls, can be found within 15 minutes' walk.
The Best Areas to Stay in Niagara Falls, Ontario
1. Recommended area: Fallsview
The appropriately named Fallsview Tourist District is home to this Canadian City's best hotels. For the best views of Niagara Falls try the Hilton Niagara Falls/ Fallsview Hotel and Suites, the Niagara Falls Marriott Fallsview Hotel & Spa or The Oakes Hotel Overlooking the Falls.
Fallsview lives up to its name.
This riverside neighbourhood offers the best panoramic views of the falls, especially Horseshoe Falls, the largest and most impressive of the three waterfalls.
This district is centred around Fallsview Blvd, a buzzing tourist strip flanked by cafés, restaurants, bars and attractions.
Located on the boulevard, the Fallsview Casino Resort is a tourist complex offering hotels, restaurants, bars and a full-service casino complete with hundreds of slot machines, table games and poker rooms.
Nearby, 158-metre high Skylon Tower features incredible panoramic views of Niagara Falls and a revolving restaurant.
Lively seasonal fireworks brighten the Niagara Falls skies and the falls themselves light up every evening with colourful illumination displays inspired by nature.
One of the greatest attractions in this area is Journey Behind the Falls, where you can see the falls from below via a series of tunnels and observation decks.
Not far, the historic Queen Victoria Park offers a Victorian garden with seasonal flower displays.
Being the commercial and tourist heart of Niagara Falls, Fallsview is also one of the best-connected areas in town.
Several bus lines have stops along the area's main thoroughfares such as Fallsview Boulevard, Murray St and Stanley Avenue. Taxis are also widely available and most hotels offer shuttle services to the main attractions.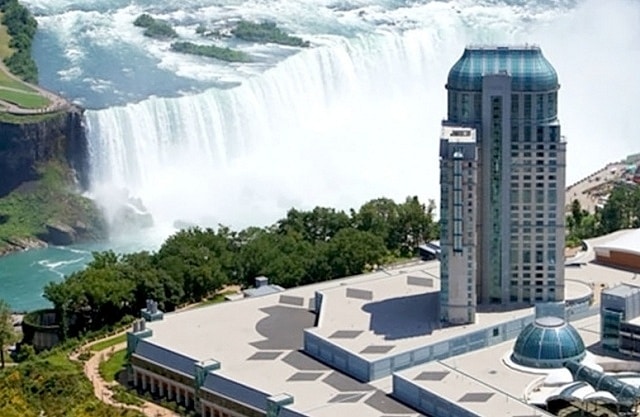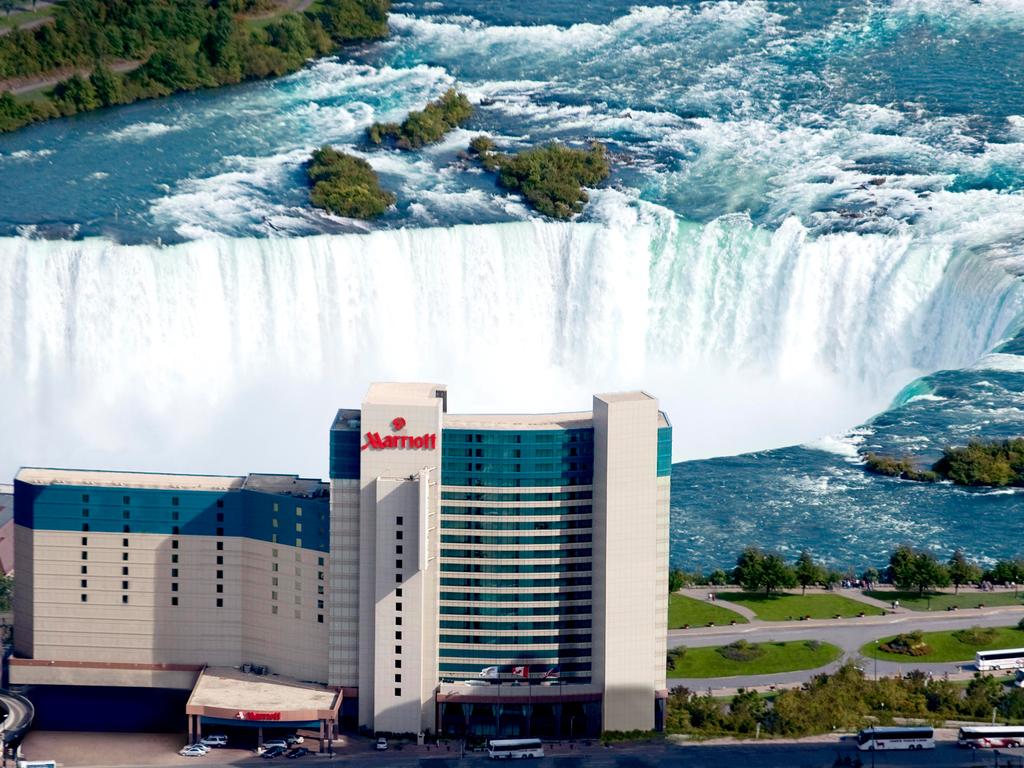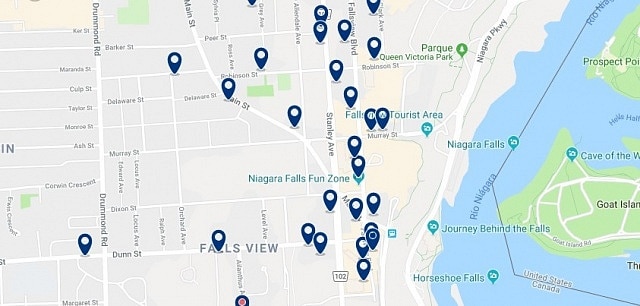 Why is this a recommended area to stay in Niagara Falls:
Best views of Niagara Falls
Best area for sightseeing
Casinos and attractions
Great restaurants
---
2. Clifton Hill
Clifton Hill is arguably the most family-friendly tourist destination north of Orlando. This lively entertainment district offers a wide selection of hotels ranging from budget and mid-range chains like Travelodge by Wyndham or Country Inn & Suites by Radisson to some upscale options like the Crowne Plaza Niagara Falls-Fallsview.
Clifton Hill is located directly north of Fallsview Boulevard.
Featuring an enormous amount of kid and teenager-friendly attractions, this major tourist promenade is the best area to stay in Niagara Falls for families.
Perhaps the most popular tourist attraction in Clifton Hill is the Niagara SkyWheel. This 53-metre-tall observation Ferris wheel offers panoramic views of the falls and the city.
The Fallsview Indoor Waterpark, opened in 2006, is home to several water attractions including high-speed water slides, an Atlantis-themed aquatic play area, an indoor wave pool and six swimming pools.
Some other themed attractions in the Clifton Hill area include the Nightmares Fear Factory haunted house, Ripley's Moving Theater, Louis Tussaud's Waxworks, the Upside Down House, Zombie Attack Niagara Falls, Niagara Speedway, Dinosaur Adventure Golf and The House of Frankenstein.
For some adult fun, Casino Niagara offers over 1,300 slots 40+ table games.
This area is well-connected by the city's public transport system and is close enough to Fallsview and Niagara Falls that you can just walk around.
---
3. Lundy's Lane
Lundy's Lane's proximity to the main highways in the city means this area offers a wealth of accommodations ranging from cheap motels like the Niagara Inn & Suites to mid-range options like the Best Western Plus Cairn Croft Hotel and some gorgeous boutique B&Bs including A Moment in Time Bed and Breakfast.
Located 3 kilometres west of Fallsview, Lundy's Lane is a buzzing commercial district in Niagara Falls, ON.
Lundy's Lane itself is one of the liveliest entertainment, dining and nightlife strips in Niagara Falls. Here you can find all kinds of restaurants, from cheap ethnic eateries and chains to gourmet bistros. Likewise, many bars, pubs and nightclubs can be found here.
The main tourist attraction in this area (and one of the only truly cultural sights in Niagara Falls) is Lundy's Lane Battlefield and Drummond Hill Cemetery, a historic site where one of the bloodiest battles of the War of 1812 was fought.
Several bus lines, including direct shuttles to the falls, have stops along Lundy's Lane and other important thoroughfares like Drummond Road.
---
4. Downtown Niagara Falls (Ontario)
Niagara Fall's City Centre is the best place to find budget accommodation in this Ontario City. This area is home to budget hotels like the Ramada by Wyndham Niagara Falls by the River and backpacker-friendly alternatives like Hostelling International Niagara Falls.
Located a couple of kilometres north of Fallsview, the City Centre is the administrative and financial heart of Niagara Falls.
With a shopping and nightlife cluster centred around Queen Street, Downtown Niagara Falls offers a more local and far less touristy atmosphere than Fallsview or Clifton Hill.
While the actual Niagara Falls are located 2 km south of the City Centre, this area is close to the Whirlpool Rapids and the Niagara Gorge.
The Whirlpool Rapids Bridge connects the Canadian and American sides, but it's only open to NEXUS Trusted Traveler Program cardholders. Alternatively, the White Water Walk offers great views from an elevated boardwalk.
The Niagara Military Museum, located nearby, is a small museum showcasing uniforms, artillery and artifacts.
To move from this area to the falls you can use one of the many bus stop located on Victoria Avenue or any of the area's main roads.
The Niagara Falls Railway Station and the main bus terminal are located on Bridge St. From here, you can reach several other places in Ontario and the state of New York.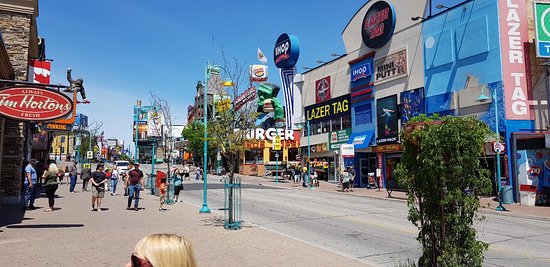 Why is this a recommended area to stay in Niagara Falls:
Great transport connections
Best area for business travellers
Cheap hotels in Niagara Falls
---
5. Downtown Niagara Falls (American Side)
Downtown Niagara Falls, NY has a great variety of accommodations for all tastes and budgets. Here, you can find luxury properties like the Seneca Niagara Resort & Casino, mid-range chain hotels like the Hyatt Place Niagara Falls and inexpensive properties like the Quality Hotel & Suites At The Falls.
We already established that, when it comes to views of Niagara Falls, the Canadian side is much better than the American side.
That said, there are certain advantages to staying on the US side of the border.
For example, Niagara Falls, NY is closer to the main commercial airport serving the falls area (Buffalo Niagara International Airport). It is also more convenient for tourists visiting from the USA, especially those who don't have a passport or want to cross an international border.
The American side is also home to some unique natural sights such as Goat Island, Bridal Veil Falls and the Cave of the Winds.
When it comes to manmade attractions, Niagara Falls USA also offers a unique selection, including the Niagara Falls Observation Tower, Old Falls Street, the Seneca Niagara Resort & Casino, the Aquarium of Niagara and the Church of St. Mary of the Cataract.
The Niagara Falls State Park offers fall views, boat tours and several restaurants.
The best views of the falls, as well as most attractions and hotels on the American side, are located in Downtown Niagara Falls, an area connected to Fallsview (on the Canadian side) through the Rainbow International Bridge.
---
Read this in other languages
|ES| Dónde alojarse cerca de las Cataratas del Niágara, Canadá.