Where to Stay in Saguenay – A Guide to this Québec City
Saguenay is a city in Québec. Located on the Saguenay River, Saguenay was formed in 2002 by merging the cities of Chicoutimi and Jonquière and the town of La Baie. In this post, we will explore the best areas to stay in Saguenay, QC.
Because three separate settlements form the city of Saguenay, each core has its own distinct flavour and attractions.
The largest area is Chicoutimi. This borough is considered the City Centre of Saguenay, home to the Centre historique des Sœurs de Notre-Dame du Bon-Conseil. Some of the main tourist attractions in Saguenay, such as La Pulperie de Chicoutimi museum, Le Musée de la Petite Maison Blanche, Saint-François-Xavier Cathedral and the port. See accommodation in Chicoutimi.
Around 15 kilometres west lies Jonquière, home of Sir William Price History Center. Meanwhile, La Baie, located east of Chicoutimi, is famous for the Musee du Fjord, Pyramide Des Ha Ha
and Mont Belu Ski Centre.
Like many places in Canada, Saguenay has a humid continental climate. Temperatures greatly vary between the warm summers (11 to 23ºC) and the freezing winter (-20 to -10 ºC). The best time to visit Saguenay to practice outdoor activities is during the summer (June through early September). November to February is also recommended for those wishing to practice winter activities like skiing and snowboarding.
To reach Saguenay by air, this city is served by Saguenay-Bagotville Airport. Located 8 km of La Baie, this small airport offers flights to Montreal, Quebec City and other places in Québec.
To move between the three Saguenay boroughs, Société de transport du Saguenay operates local and interurban bus routes.
The best area to stay in Saguenay is Chicoutimi. This central borough is considered the city centre and offers the widest variety of accommodation, places to eat and shop. It is also home to several attractions and very well-connected to the other smaller boroughs. See accommodation in Chicoutimi.
Other areas to keep in mind when choosing the best location in Saguenay include La Baie and Jonquière.
Keep reading to find out more about the best areas to stay in Saguenay, Canada.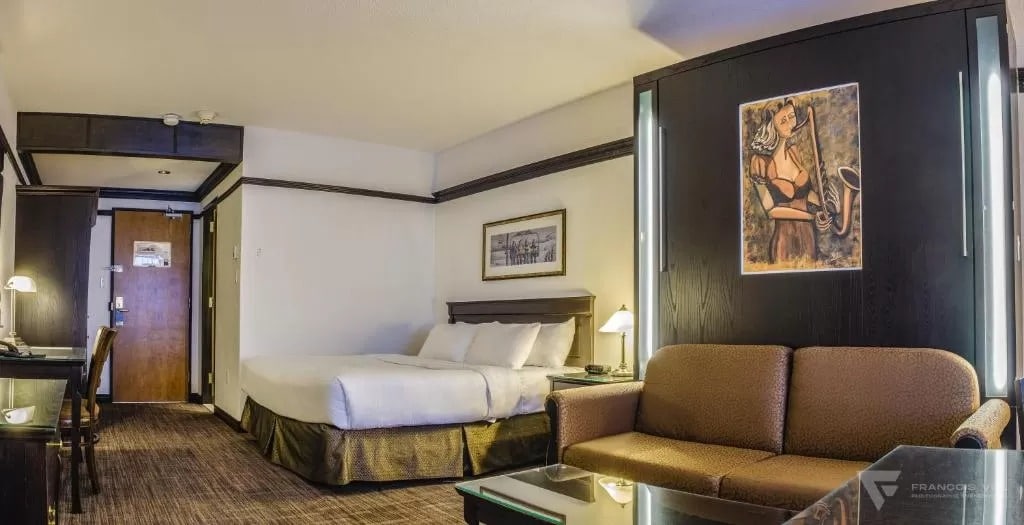 The Best Areas to Stay in Saguenay, QB
1. Our Favourite Area: Chicoutimi
Chicoutimi is located at the confluence of the Saguenay and Chicoutimi Rivers.
It is considered the best area to stay in Saguenay thanks to being the city's administrative and commercial centre.
This area has various attractions, such as the Musée de la Petite Maison Blanche (Little White House Museum) and the Chicoutimi Pulperie Regional Museum.
Another sight in this borough is the Moulin-Rivière Park. It has trails and fishing areas.
Chicoutumi comes alive every summer, when concerts and festivals light up the town's port area.
This vibrant district is home to most of Saguenay's accommodation offer. Here, you can find everything from budget and luxury hotels to inns and tourist apartments.
Chicoutumi is also the best area to stay in Saguenay thanks its transport connections and pedestrian-friendly streets.
---
2. La Baie
La Baie is one of Saguenay's three boroughs.
It is located 16 km east of Chicoutimi, on the bank of the Ha! Ha! Bay.
La Baie the first colony founded in the Saguenay-Lac-St-Jean region.
This small picturesque town is home to the Musée du Fjord, a scientific museum focusing on the Saguenay Fjord's natural and historical heritage.
The Ha! Ha! Pyramid commemorates the Saguenay flash floods of 1996.
Nearby Centre De Ski Mont Belu is a popular winter travel destination among ski and snowboarding enthusiasts.
La Baie is very close to Saguenay-Bagotville Airport and is connected to Chicoutimi and Jonquière via the city's bus network.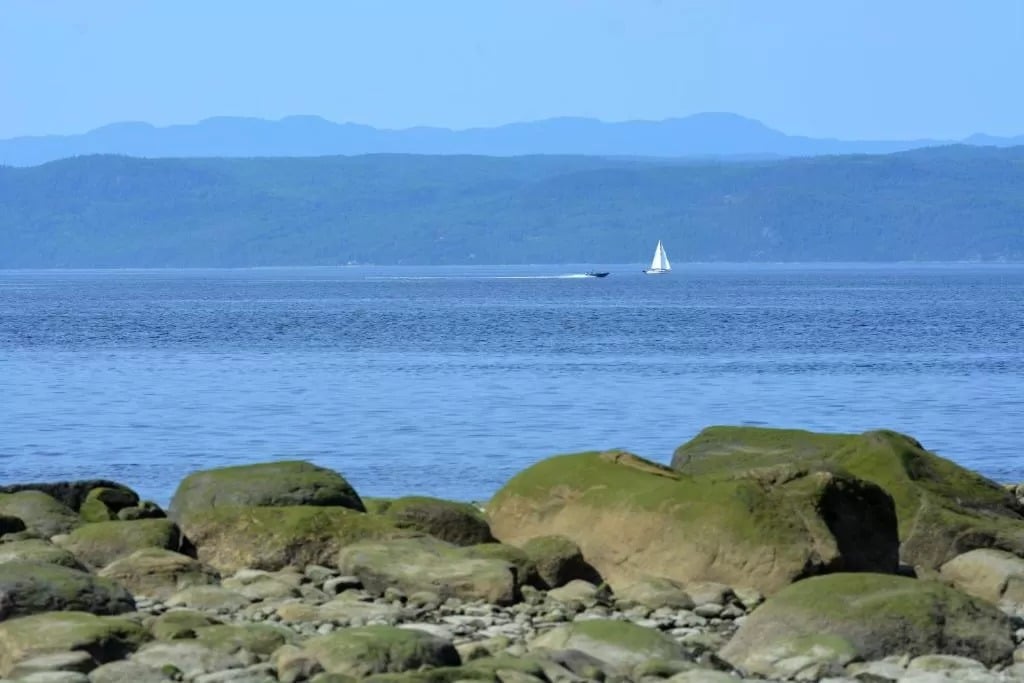 Why is this a recommended area to stay in Saguenay:
Musee du Fjord
Best area for skiing
Pyramide Des Ha Ha
---
3. Jonquière
Jonquière is an important commercial and industrial district in Saguenay.
This area has attractions such as the Museum Centre d'Histoire Sir-William-Price, where it is possible to learn about the colonization of Saguenay and the paper industry.
The Parc Rivière aux Sables is another attraction of this area. This park is great for fishing and sailing during the summer. In the winter, it becomes a big ice skating rink.
The Eglise Saint-Dominique en Jonquiére with its neo-Byzantine style façade is also a must-see in this area.
One of the main advantages of staying in this borough is that Jonquière is connected by the Montreal–Jonquière regional train.
Jonquière station is located on Rue Saint-Dominique, in the central area of the borough.
Jonquière is one of the best areas to stay in Saguenay due to its transport connections and natural attractions.
---
Read this in other languages