Where to Stay in St. Augustine – A Guide to the Oldest City in the United States
Saint Augustine is a city located in northeast Florida. It was founded by Spaniards in 1565, which makes it the oldest city in the United States. It is famous for its Spanish colonial architecture and its beaches such as St. Augustine Beach and Crescent Beach. In this post, we will explore the best areas to stay in Saint Augustine, Florida.
Saint Augustine's main Spanish heritage attractions include the Castillo de San Marcos, the Ponce de León Fountain of Youth, the Old Jailhouse, and the colonial-era and colonial-inspired houses around the Old Town.
Other important tourist sights in town include the Lightner Museum, the old Lighthouse, and the St. Augustine Alligator Park.
The Northeast Florida Regional Airport, located 4 miles from town is Saint Augustine's official airport. However, there are barely any scheduled flight services operating in and out of it, The good news is that Saint Augustine is one hour short away from Jacksonville and less than two hours from Orlando, which means that if you're arriving in the city by plane, you can use either of those, far busier, airports.
Once in the city, the best way to move around is by car. You can rent a cheap car in St. Augustine here.
The best area to stay in St. Augustine is the Central Historic District. This lively area is home to colonial architecture, tourist attractions, restaurants, nightlife, and some of the best hotels in town. See accommodation in Saint Agustine's Historic District.
Another great area to keep in mind when choosing the best location in St. Augustine is Vilano Beach.
Here's a guide with the best areas to stay in Saint Augustine, Florida.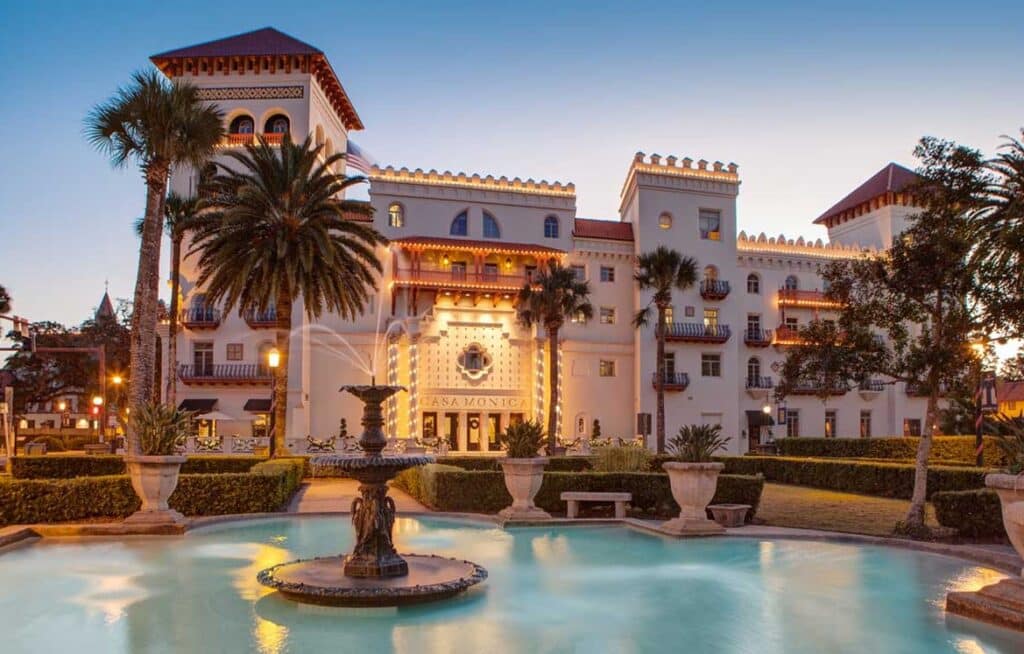 ---
Best Location in Saint Augustine, Florida: A Quick Guide
Below, you'll find a list of the best areas to stay in Saint Augustine depending on your travel style. Keep reading this post to find all the information you need about each particular neighborhood.
---
Best Hotels in Saint Augustine, FL by Theme
Something specific in mind? Here's a list of some of the top hotels in Saint Augustine. No matter your reason for visiting the city, we got you covered!
---
The Best Areas to Stay in St. Augustine, Florida
1. Recommended area: Historic District & Colonial Quarter
The Historic District is the heart of St. Augustine, with most restaurants, hotels, and shops in the city.
This area has a colonial atmosphere, thanks to its historic and neocolonial buildings dating back to the eighteenth century.
In addition to shopping, gastronomy, culture, and entertainment, this neighborhood has some of the best views of the bay.
The area is full of attractions that showcase the history of the city, such as the Lightner Museum and the historic Castillo de San Marcos.
This charming area is best explored on foot. However, if you don't have a car and need to get to other areas in town, the Historic District has taxi stands and a few bus routes.
The Historic District is recommended as the best area to stay in Saint Augustine, especially because of its streets, carriages, forts and comfortable hotels that follow the theme of the area.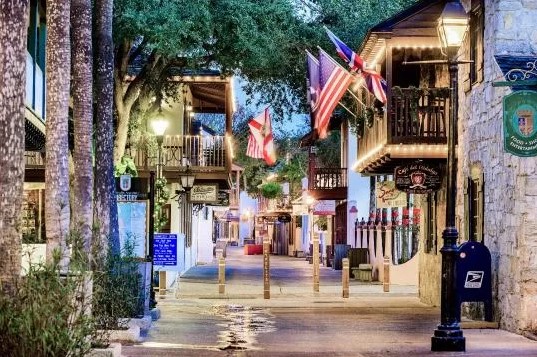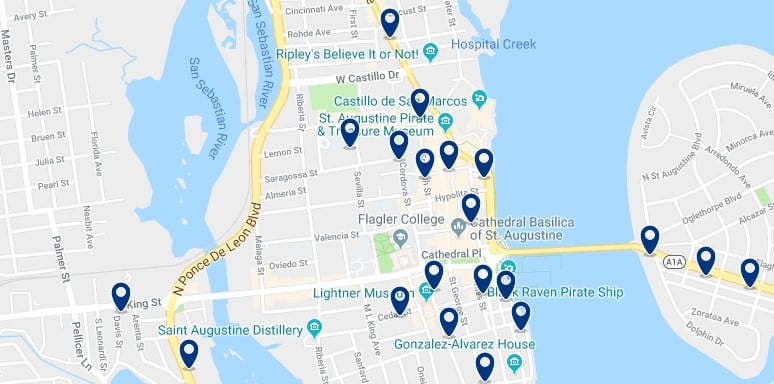 Why is this a recommended area to stay in Saint Augustine:
Best area for sightseeing
Wide variety of hotels
Best area to stay without a car
Charming streets
---
2. Vilano Beach
Vilano Beach is located north of the Historic District and is one of the best areas to stay in Saint Augustine.
Its residential atmosphere and long stretches of beach offer tranquility and relaxation throughout the entire year.
This beach area has great waves and is a meeting point for surfers and lovers of water sports during the summer. Similarly, you can also go fishing in some of its areas.
Those staying at Vilano Beach hotels will enjoy affordable costs and impressive sunrise and sunset views.
The Vilano Beach pier is also ideal for romantic walks or to visit the souvenir shops.
Vilano Beach is one of the best areas to stay in St. Augustine because it allows you to take a break from the everyday life of big cities and its hotels are affordable.
---
Read this in other languages