Where to Stay in Knoxville – A Guide to the University City of Tennessee
Knoxville is located in a valley between the Smoky Mountains and the Tennessee River. It is the third most populous city in the state after Nashville and Memphis and it's famous for being the home of the flagship campus of the University of Tennessee. With its small-town charm mixed with its big-city fun, Knoxville is an ideal destination for all types of visitors. In this post, we will discover the best areas to stay in Knoxville.
Some of the most famous tourist attractions in Knoxville include the Sunsphere observation tower, the Knoxville Museum of Art, the McClung Museum of Natural History & Culture and the Knoxville Zoo. Lovers of the outdoors will also enjoy the many natural areas around the city, such as the Ijams Nature Center or Little River Park.
When it comes to must-see areas of the city, no visit to Knoxville is complete without seeing its historic district and sampling its many beer types on the Knoxville Ale Trail or wandering around Market Square. Festivals such as the Big Ears Festival, Dogwood Arts Festival, honoring local art, and Rossini Festival are held annually in the city.
The best time to travel to Knoxville is from May to September, especially if you enjoy outdoor activities, thanks to its pleasant weather and clear skies.
Knoxville is an easy city to walk around. However, you can also move between neighborhoods using the Knoxville Trolley (a free shuttle service connecting the university and the downtown area), the bus system, and taxis. If you wish to explore beyond the city center, the best way to explore the natural wonders around Knoxville and reach every corner of the city is by car. You can rent a cheap car in Knoxville here.
The best area to stay in Knoxville is Downtown. This lively district is the commercial and entertainment epicenter of the city. See accommodation in Downtown Knoxville.
Other areas to keep in mind when choosing the best location in Knoxville include the area around the University of Tennessee and, if you plan to move around by car, West Knoxville, North Knoxville, or East Knoxville.
Keep on reading to find out more about the best areas to stay in Knoxville, Tennessee.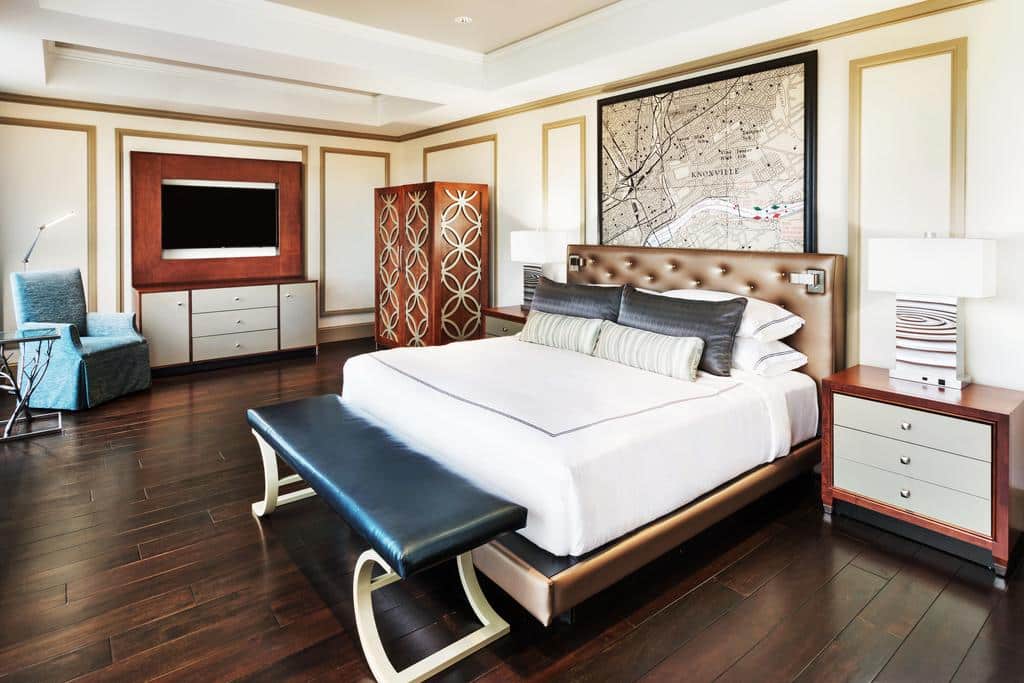 ---
Best Location in Knoxville, Tennessee: A Quick Guide
Below, you'll find a list of the best areas to stay in Knoxville depending on your travel style. Keep reading this post to find all the information you need about each particular area.
---
Best Hotels in Knoxville, TN by Theme
Something more specific in mind? Here's a list of some of the best hotels in Knoxville. No matter your reason for visiting the city or style, you'll find it here!
---
The Best Areas to Stay in Knoxville, Tennessee
1. Recommended area: Downtown Knoxville
The Downtown area is Knoxville's commercial and business district par excellence, housing most of the offices and shopping centers, as well as the oldest buildings in the city.
Among the main attractions in Downtown Knoxville, you'll find Market Square, where you can buy souvenirs and plenty of fresh local food.
An important meeting point in Downtown is Gay Street, which runs through the heart of the Downtown area and was developed in the 1970s as a financial and commercial thoroughfare for Knoxville.
Gay Street has many shops, terrace bars, cafes, and nightclubs where you can hang out, making Downtown one of the best areas to stay in Knoxville for nightlife.
In Downtown, there's also the Bijou Theater, a must-see for those interested in the cultural movement of the city.
Downtown has expanded to include a portion of the University of Tennessee campus, making it also a good area to stay in Knoxville, Tennessee, for young travelers.
Downtown Knoxville is the best area to stay in Knoxville as it is easy to explore on foot, with the option of public transportation and many tourist attractions.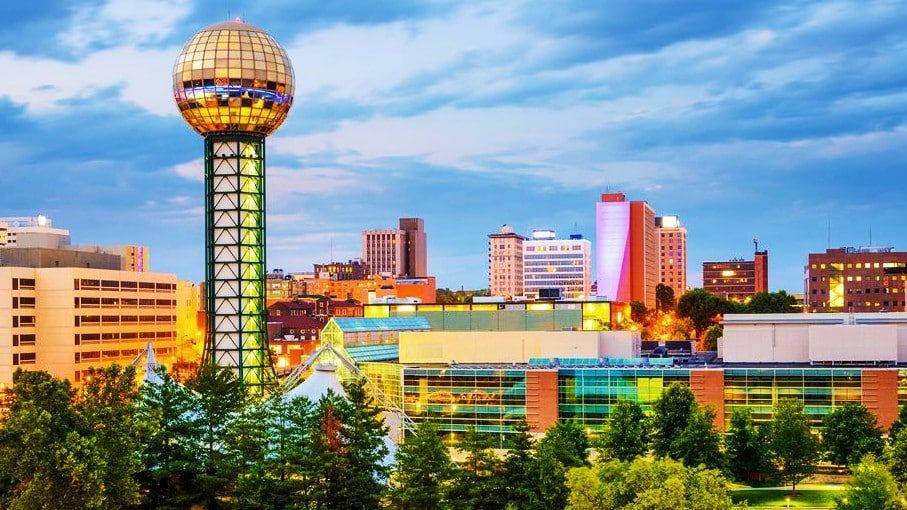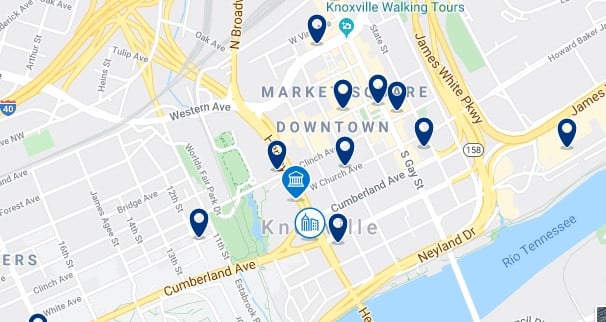 Why is this a recommended area to stay in Knoxville, TN:
Best area for sightseeing
All kinds of hotels
Good public transport connections
Best area for nightlife
Best area to stay without a car
Best area for business
---
2. Near the University of Tennessee
The surroundings of the University of Tennessee are a good area to stay in Knoxville for young travelers since it has plenty of bars and restaurants.
The University of Tennessee is a major study house that is located west of Downtown, which is why it shares attractions and part of its campus with some central areas.
The area hosts Three Rivers Rambler, a tourist train that takes passengers from Downtown to the Tennessee River, with a station near the university campus.
Surrounding the University of Tennessee you can find museums such as the Frank H. McClung Museum, and theaters like the Clarence Brown Theater.
Moving to other neighborhoods from the University of Tennessee is possible through the trolley, buses, or taxis.
This is one of the best areas to stay in Knoxville, Tennessee, thanks to its tourist attractions and good transport connections.
---
3. West Knoxville
West Knoxville is a large district encompassing several neighborhoods like Sequoyah Hills, Lyons View, Forest Hills, Bearden, West Hills, Westmoreland Heights, Cedar Bluff, and Ebenezer.
As its name implies, it is located west of downtown Knoxville.
This affluent area mixes quiet suburban residential streets with retail corridors and office buildings.
West Knoxville is home to the city's premier shopping centers and malls, including Western Plaza, West Town Mall, and Turkey Creek.
Kingston Pike, West Knoxville's main commercial thoroughfare is home to dozens of international restaurants, cafés, bars, and dance clubs.
Although this area is partly covered by Knoxville's bus network, West Knoxville is best enjoyed if you have a car.
Most hotels in this area are located along Kingston Pike and Interstate 40.
Accommodation here includes budget and mid-range hotels from popular hotel chains, as well as few upscale options.
---
4. North Knoxville
North Knoxville lies north of the city's downtown area.
This up-and-coming district encompasses some of the city's most impressive historic neighborhoods like Oakwood-Lincoln Park and the Old North Knoxville Historic District.
Oakwood-Lincoln Park was developed in the early 20th century and is home to several historical mansions.
On the other hand, the Old North Knoxville Historic District was established in the late 18th century and is on the National Register of Historic Places. Some of the styles represented in the Old North district include Queen Anne, Victorian, and Colonial, Tudor, and Neoclassical Revival.
Although North Knoxville is relatively compact and central, it has a laidback and suburban atmosphere.
North Knoxville is connected to Downtown Knoxville through a few bus lines.
Accommodation options in this area include a few chain hotels in the far north end of the district, as well as some quaint tourist houses in the historical quarters closer to downtown.
---
5. East Knoxville
East Knoxville is a mainly residential district.
Located, you guessed it, east of downtown, East Knoxville is home to a few family-friendly attractions like Zoo Knoxville, the Knoxville Botanical Garden and Arboretum, and Chilhowee Park.
Some other attractions in this area include the Beck Cultural Exchange Center, dedicated to African-American history and culture, and the Women's Basketball Hall of Fame.
Some parts of East Knoxville, particularly aound Magnolia Avenue, have long been considered no-go areas for tourists. However, recent community initiatives have been focusing on revitalizing and improving this district.
Most of the hotels in this district are located along or around Interstate 40.
Accommodation in this area includes budget hotels and motels, as well as some independent tourist apartments in the central neighborhoods.
---
Read this in other languages