Where to stay in Lubbock – A guide to the "Hub City"
Lubbock is a city in the northwestern part of Texas. Located in the center of the South Plains, Lubbock was nicknamed "Hub City" for being one of the state's economic, educational, and medical centers. In this post, we will explore the best areas to stay in Lubbock, TX.
Lubbock's city center is home to some of the main Lubbock tourist attractions, including the Buddy Holly Center, the Caviel Museum of African American History, McPherson Cellars Winery, Lubbock Memorial Civic Center, and Cactus Theater. See accommodation in Downtown Lubbock.
Other tourist sights in Lubbock include Joyland Amusement Park, American Windmill Museum, National Ranching Heritage Center, Silent Wings Museum, and the Museum of Texas Tech University.
Due to its geographical location, in the center of the South Planes region, Lubbock has a cool semiarid climate. Low temperatures can reach 10 °F (−12.2 °C) in the winter, and high temperatures can reach 90 °F (32 °C) in the summer. The best time to visit Lubbock is during the spring and fall to avoid extreme temperatures and enjoy outdoor activities.
To get to Lubbock by air, the city is served by the Lubbock Preston Smith International Airport. Located 6 miles north of Downtown Lubbock, this small airport offers short-haul and domestic connections to Houston, Dallas, Denver, and Phoenix.
No active passenger train services currently connect to Lubbock. However, there is a network of long-distance buses linking Lubbock to other cities in Texas, Oklahoma, Colorado, and beyond. See bus routes, schedules & fares.
When it comes to moving around the city, Lubbock has some bus routes but still remains an all-car town. That said, the city also has Uber and Lyft services and you can choose to rent a car during your stay.
The best area to stay in Lubbock is the Downtown area. This lively district offer the best options in accommodation, nightlife, and attractions. See accommodation in Downtown Lubbock.
Another area to keep in mind when choosing the best location in Lubbock is West Lubbock.
Keep reading to find more about the best areas to stay in Lubbock, TX.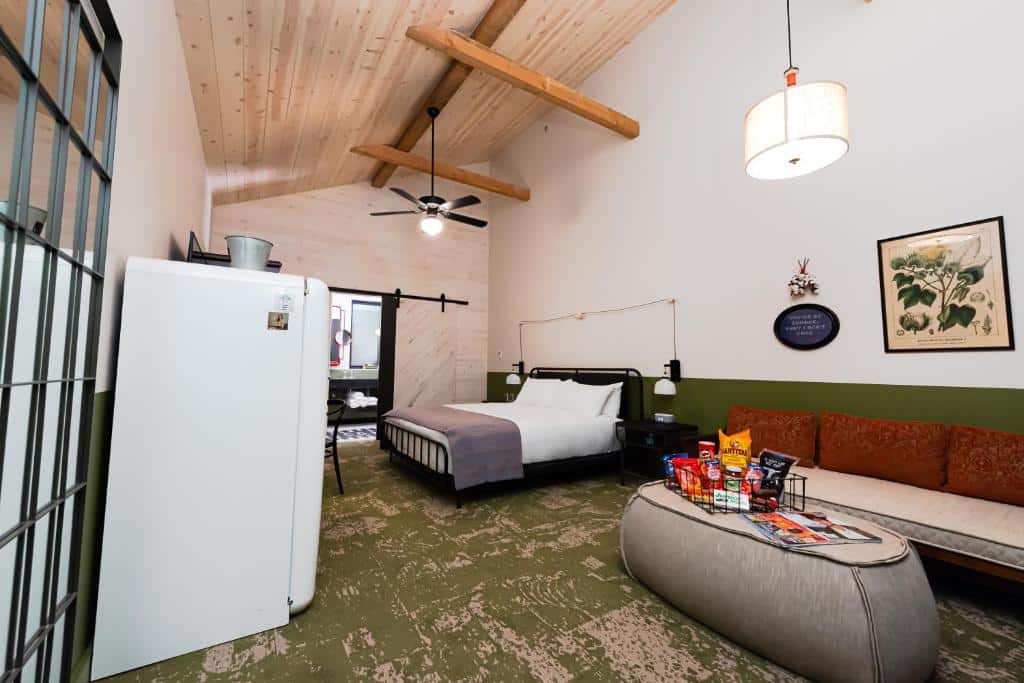 Cotton Court Hotel , by Valencia Hotel Group

Set in Lubbock, 1.2 mi from Jones AT&T Stadium, Cotton Court Hotel, by Valencia Hotel Group offers accommodations with a restaurant, free private parking, a fitness center, and a bar. This 4-star hotel offers a 24-hour front desk, room service, and free WiFi.
The Best Areas to stay in Lubbock, Texas
1. Recommended area: Downtown Lubbock
Downtown Lubbock is the shopping and financial district of the city.
One of Downtown Lubbock's main areas, the Depot District, is an area devoted to music, nightlife, and gastronomy. Depot District is located near the old railway station of Lubbock.
The Depot District has theaters, luxury restaurants, hotels, and cultural attractions. There are also many shops, boutiques, pubs and nightclubs where you can enjoy the city's nightlife.
Downtown Lubbock is connected to other areas of Lubbock by different bus stops located in the district's main streets and avenues.
Downtown Lubbock is one of the best areas to stay in Lubbock.
---
2. West Lubbock
Lubbock's west side is also one of the best areas to stay in Lubbock thanks to its quiet environment and leisure offer.
West Lubbock houses Wayland Plaza and Canyon West shopping centers, with hundreds of shops and food venues, these malls offer a great variety in shopping, nightlife, and food options.
West Lubbock has good public transport connections, thanks to the bus routes in the area, giving easy access to Downtown and the city's airport.
Despite being a largely commercial area, West Lubbock offers a residential and quiet environment to stay in, with parks and trails.
This area has bars and pubs, so it is also a good place to stay for nightlife.
West Lubbock is one of the best areas to stay in Lubbock, as it also offers budget accommodation.
---
Read this in other languages