Where to Stay in Lexington – A Guide to the Horse Capital of the World
Lexington is a city of Lafayette County, in Kentucky. It is the second-most important city in the state and it's located 69 miles east from Louisville. It's known as the "Horse Capital of the World". It is one of the main agricultural, industrial, and commercial cities in the region. In this post, we will talk about the best areas to stay in Lexington.
Lexington's main attractions include the famous Kentucky Horse Park, The Red Mile and Keeneland race courses, Rupp Arena, Transylvania University, and the University of Kentucky.
This city also has good nightlife, great food, events and attractions for all tastes.
With regards to climate, the summers in Lexington are warm and humid (with high temperatures of around 85°F / 30ºC), while the winters are very cold and wet and snowfall is frequent, low temperatures tend to hover around 26°F (3ºC). It is cloudy year-round.
To enjoy outdoor activities, the best time to visit Lexington goes from May to September, when the weather is warm and rainfall is low.
Bluegrass Airport, located north of Lexington, offers connections to other cities in the United States.
To get around Lexington, you can walk or bike around Downtown and the University, but you can also take a bus or rent a car in the city to move to other areas. You can rent a cheap car in Lexington here.
The best area to stay in Lexington is Downtown as it is home to the city's historic buildings, high-end restaurants, galleries, and hotels. See accommodation in Downtown Lexington.
Here's a guide with the best areas to stay in Lexington, Kentucky.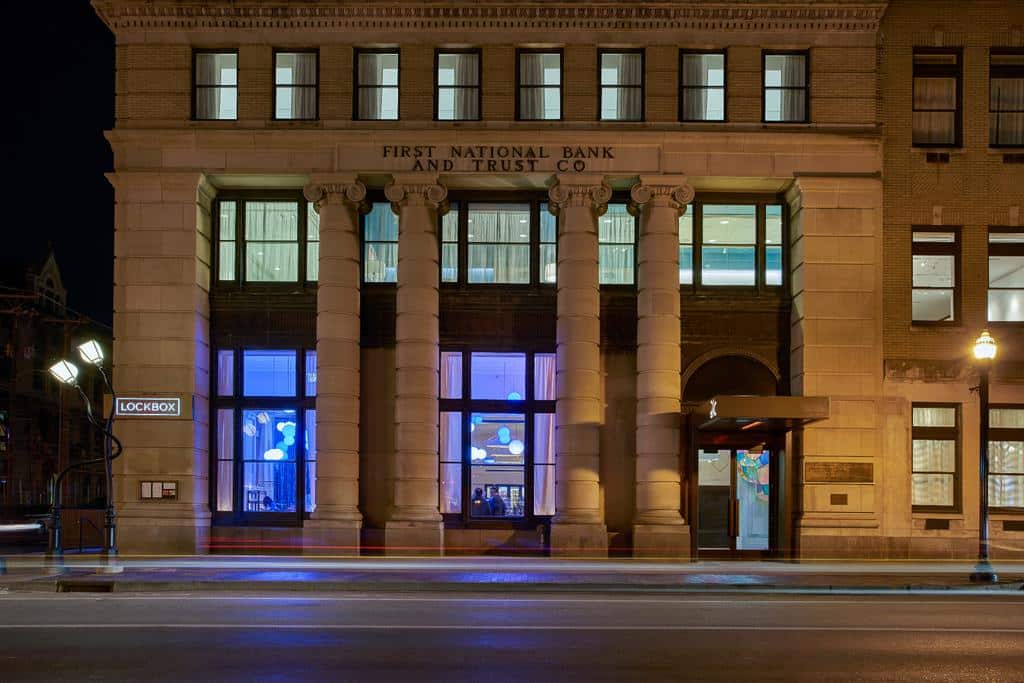 21c Museum Hotel Lexington

Set in Lexington, 0.2 mi. from Hunt-Morgan House, 21c Museum Hotel Lexington has a fitness center and a bar, as well as free WiFi. Boasting a 24-hour front desk, this property also provides guests with a restaurant. The property is 400 m from Lexington Convention Center.
The Best Areas to Stay in Lexington, Kentucky
1. Recommended: Downtown Lexington
Downtown is one of the most beautiful areas of Lexington and it's home to attractions such as the Fountain of Youth and Gratz Park, an ideal place for picnics or simply enjoy nature.
In this district, you can admire beautiful 19th-century buildings, offices, churches, and enjoy the best restaurants, shops, and art galleries in the city.
Many tourists traveling to Lexington for business choose Downtown for its wide variety of business hotels.
Downtown has many bars and clubs that offer shows and live music throughout the year, making it the best area to stay in Lexington for nightlife.
Many historic buildings have been converted to upscale restaurants, making it a good place to stay in Lexington for foodies.
Downtown is also home to the best stores in the city for shopping lovers.
The Downtown area houses different architectural and cultural treasures such as the Hunt Morgan House, the Headley-Whitney Museum, and the Mary Todd Lincoln House.
Downtown is one of the best areas to stay in Lexington, Kentucky, as it is home to hotels of all kinds.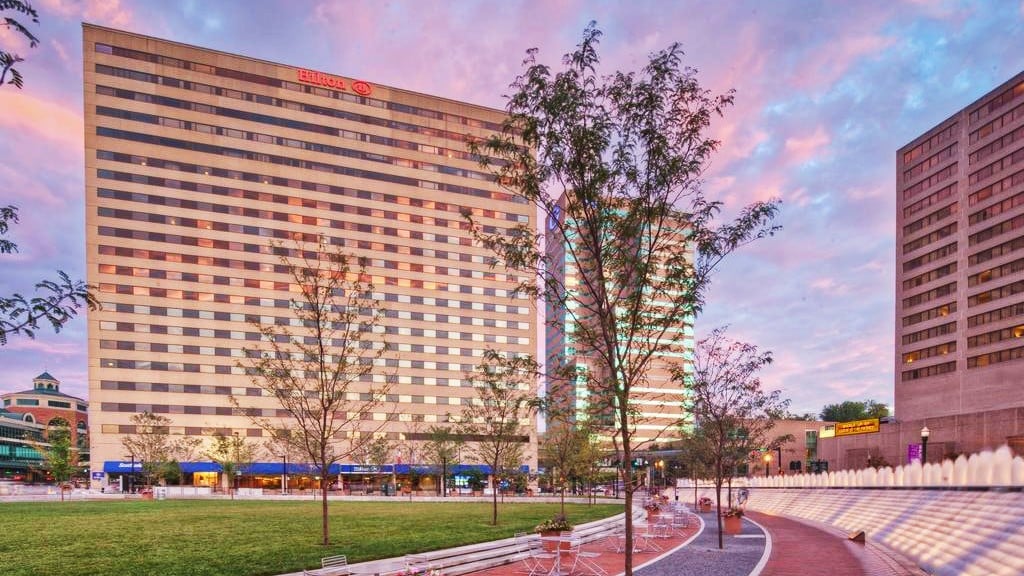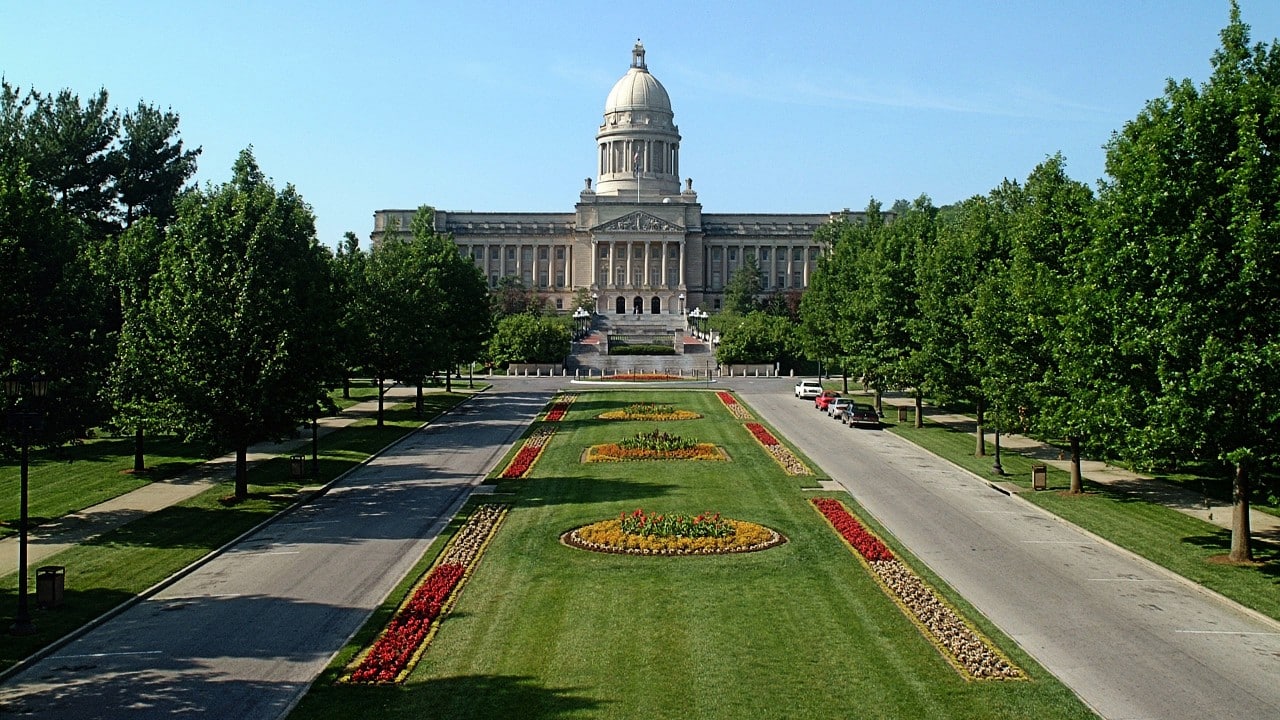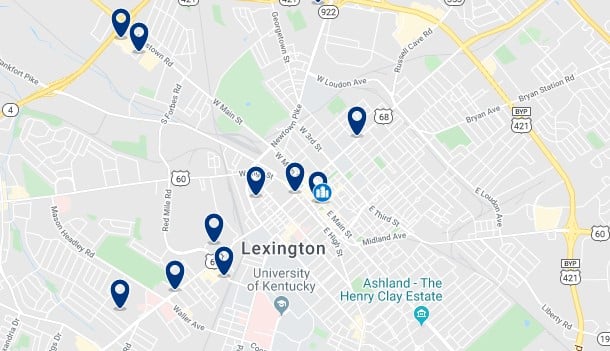 Why is this a recommended area to stay in Lexington, KY:
Best area for sightseeing
Hotels of all kinds
Best area for nightlife
Pedestrian-friendly
Best area for shopping
Good food
---
Read this in other languages